Bindi Irwin made an exciting announcement on her Instagram page Tuesday morning, exclaiming "Baby Wildlife Warrior" is on the way in 2021.
The daughter of late crocodile hunter Steve Irwin posed proudly next to husband Chandler Powell, as the couple held up a mini matching shirt fit for a newborn zookeeper.
The announcement comes just a little over 4 months after 22-year-old Irwin and 23-year-old Powell tied the knot in a small ceremony this March.
"I married my best friend. There are no words to describe the amount of love and light in my heart right now," wrote Bindi of the momentous occasion. "We've planned this beautiful day for nearly a year and had to change everything, as we didn't have guests at our wedding," she added, explaining how Covid had changed their original plans.
"Today we celebrated life and reveled in every beautiful moment we shared together in our Australia Zoo gardens… LOVE WINS!" she shared alongside a gorgeous wedding photo of her kissing Chandler on March 25th.
And her announcement, made today, carries the same notes of love, enthusiasm and gratitude for the next stage in her journey: motherhood!
"Chandler and I are proud to announce that we're expecting!" penned Bindi in the Instagram post that has now been liked by nearly a million fans. "It's an honour to share this special moment in our lives with you. Though I'm still in my first trimester, we really want you to be part of our journey from the beginning of this new life chapter. We couldn't wait to share the news as this beautiful little being has become the most important part of our lives. Your support means the world to us. Please let me know your best advice and send good vibes & prayers to our little sweetheart. Love & light."
Hubby Chandler equally shared his wife's beaming excitement, also posting his proud papa-to-be sentiments to the social media site:
"We're going to be parents!! We have a baby Wildlife Warrior on the way coming in 2021. Becoming a dad is the highlight of my life. I cannot wait to embark on this new adventure and life chapter with my gorgeous wife, @bindisueirwin. Bee, you're going to be the most amazing mother."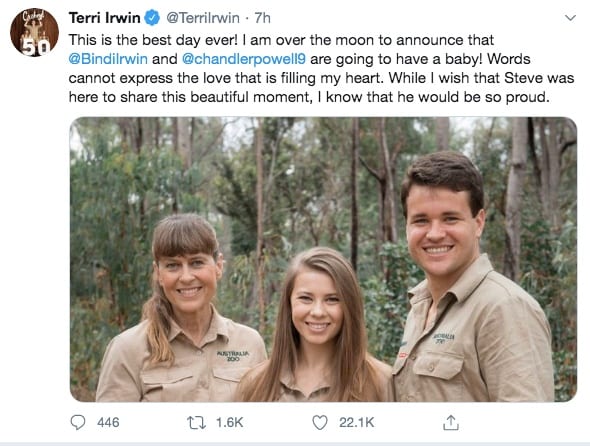 Bindi's mom, Terri, is "over the moon" about the news as well, chiming in on Twitter: "This is the best day ever!
Though she wishes Steve was there to share in the beautiful moment, Terri says she knows "he would be so proud."
Congrats to this lovely young couple and their little Wildlife Warrior!