After joking with Conan O'Brien last month about potential baby names (his suggestion, Hawkeye, since he hails from Iowa, was wisely shot down by his wife!), actor Ashton Kutcher welcomed his second child with actress Mila Kunis this past Wednesday, November 30th. A statement on Kutcher's website, A Plus, provided some details in a statement, saying:
Today, A Plus is happy to announce that Dimitri Portwood Kutcher was born at 1:21 a.m. on November 30, weighing 8 pounds and 15 ounces. Dimitri is the couple's second child, after having their daughter Wyatt in October of 2014.
The couple, who met many years ago when Kunis was just a teen and they were co-starring on That 70s Show as BF/GF duo Jackie and Kelso, became a couple in 2012 and have been married since July 2015.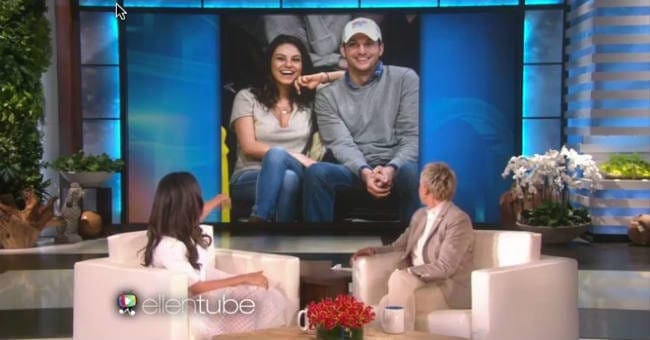 Now, I am not really a fan of "unique" baby names, but I like this one.  Why? A) Dimitri is Russian, and Kunis is originally from the Ukraine, having immigrated with her parents to the United States when she was a young child, so that name is clearly a nod to her heritage. (Her given name, incidentally, is Milena Markovna Kunis.) B) "Portwood" to be sounds like a family name — who knows, maybe it's the maiden name of somebody's grandmother or another well-loved friend or family member's surname — but I love family names and I think naming your child after someone you love is a great legacy. UPDATED TO ADD: A reader informed me that Kutcher's stepfather's name is Mark Portwood. I did some fact-checking and indeed it is. What a great way to honor his stepdad! Kinda love it!
So – that's my opinion of the latest celebrity baby moniker! I have to admit the Kutcher/Kunis duo is one of my favorite celebrity couples, and I wish them and their little family all the best!
What do you think of little Dimitri Portwood's name?