October is Pregnancy and Infant/Child Loss Awareness Month, and I've been honored to share some powerful stories from moms who have lost babies and want to make their lives known, as well as let other moms know they are NOT alone.
One such mom is Alyssa Young, who just last month was joyfully expecting, along with her husband Justin, her first child, a girl they had already named Scarlett. Alyssa's pregnancy was considered high risk because she had cerebral palsy and type 2 diabetes, so she went for checkups more often than most. At 19 weeks, all was going along fine.
Alyssa told LittleThings.com, "On September 28th I had routine ultrasound. Scarlett was perfect. Weighing in at 14 ounces and heart rate of 131, she was so chunky and so perfect. I was 19 weeks 6 days and she was just my pride and joy."
Though the ultrasound showed that Scarlett was growing and healthy, immediately after the appointment, Alyssa found herself in a lot of pain, much more than she had experienced with the pregnancy before.
"Being pregnant, it is very hard to diagnose pains with everything physically changing. Friday rolled around and I just couldn't take this pain anymore… Sunday, October 2, I was taken to the Emergency Room in my hometown because I was still in pain and having minor bleeding… Scarlett was perfect, so they sent us home. My husband and I were so relieved. We thanked God our girl was fine. Monday approaches, and I call my Obstetrician back… .I was told that everything I was experiencing was normal. Every doctor I had talked to so far didn't seem worried, so I had trusted in them. I knew everything was going to be fine. I prayed everything would be. I prayed harder than I ever have in my entire life."
But sadly, everything was far from normal. The doctors were wrong, and Alyssa's mother's intuition that something was off was right. On October 3, Alyssa and Justin rushed to the hospital. There, after an exam, she was finally diagnosed with incompetent cervix, meaning her cervix could not longer hold baby Scarlett in. If they condition had been found earlier, they could have performed a procedure to correct it, but now, or Alyssa and Scarlett, it was too late. Despite medication given to stop her from dilating, Alyssa's cervix continued to progress and there was no way to keep baby Scarlett safely in he womb. Alyssa explains what happened next:
"I don't really remember what time they came in to check on me, but I know it was early. The ultrasound showed I was dilated to 5 centimeters and Scarlett was basically on her way to meet us…I felt like I had failed. I felt like I failed him and our daughter. All I could spit out was "I'm sorry. I'm so sorry." I must have repeated that a dozen times. We both cried and prayed, prayed and cried. We called our family and close friends to tell them the news. We told them that it'd be a good idea to come to the hospital. We were surrounded by so much love that day. So many prayers, and so much love filled that hospital room."

Alyssa and Justin Young with baby Scarlett shortly after her birth. Credit: Alyssa's mom, "Scarlett's HaHa"
Alyssa describes Scarlett's birth, and her brief, precious life outside the womb:
"As I held her, she gasped for breath. I told her that I was so sorry. I told her I loved her. I told her it was okay to let go. Seeing your child dying and knowing that there is nothing you can do to save them, it's a terrible feeling. You're helpless. Everyone took their turns and held her. Everyone got to love her. That's all she ever experienced was love."
Scarlett survived peacefully with her loved ones for two hours before she passed away.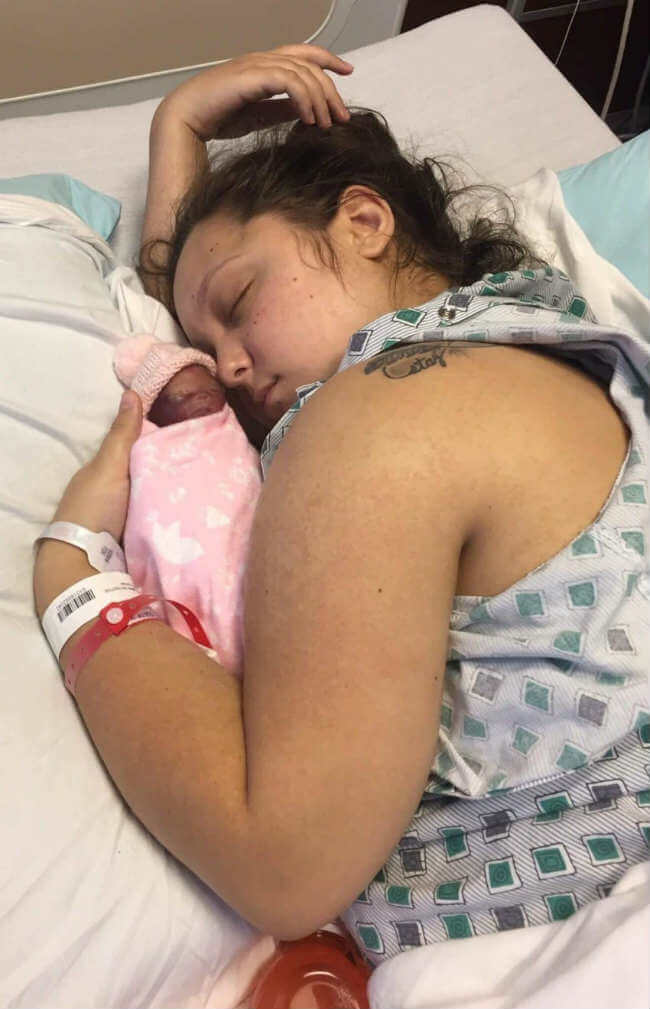 Alyssa wants to give her baby's life a bigger purpose by encouraging other women to speak out about miscarriage, stillbirth, infant loss, and incompetent cervix awareness. Her hope and prayer is that by raising awareness, more women will be diagnosed with incompetent cervix earlier, in time to save their perfectly healthy babies.
Baby Scarlett, your life mattered! Please share Scarlett and Alyssa's story for Infant Loss Awareness and Incompetent Cervix Awareness.