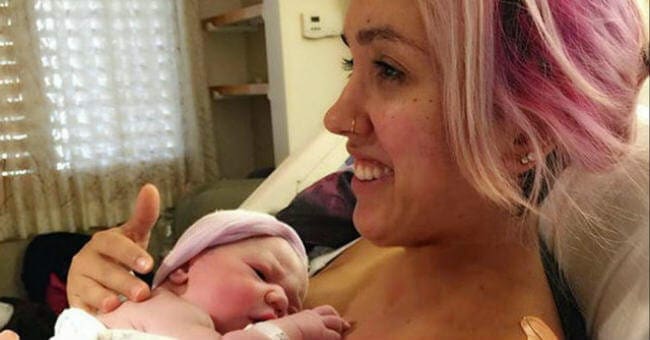 Photo: Ariel Matthews
Ariel Matthews is a California mom to a 3-year-old son, Noah—and incredibly, also to three angel babies: one miscarried, one stillborn, and one newborn, Ronan, who died in October at just 11 days old. Ronan was born with heart defects and suffered two strokes after death, which irreversibly damaged his brain. Unbelievably, Ronan's loss came just 13 months after his older brother, Cayden, was stillborn.
After the loss of both boys, Matthews channeled her grief into something incredible: giving life to other babies. Though she did not have her sons to hold in her arms and feed, Matthews pumped her breastmilk her body made and donated it to others.
Matthews told  People that since Cayden was born early, her body didn't make much milk, and she was "only" able to donate about 530 ounces. This time, since Ronan was full-term, she knew she would pump and donate again, and she set her goal higher, at 1,000 ounces.
"I decided right away to donate it, because I knew he wasn't going to make it," Matthews told People.
Then, she hit that 1,000 ounces and kept going, pumping and donating an astounding 2,370 ounces of breast milk during and after Ronan's sweet, precious life. That equals an amazing 18 gallons plus—or about 148 pounds of breast milk.
Matthews told People that it felt good to donate the milk and help other babies. She said it went to two babies whose mothers couldn't make milk and one who was adopted.
"They would send me pictures of the babies right after drinking my milk, all passed out and full. So that was really cool," Matthews told People. She said  her faith in God, along with her son Noah, are helping her through her losses, including her miscarriage between Cayden and Noah's births.
Wow, I don't know about you, Mamas, but I am BEYOND inspired by Matthews' strength and willingness to help others in the midst of her grief. While others might see their breast making milk for a baby who is no longer living as "adding insult to injury," this strong mom used her body to give others life when she couldn't nourish her own sweet boys.
Thank you, Ariel, for inspiring me today. I am so glad you have your faith and Noah to hold on to, and I pray for your sweet heart as you continue to heal and move on.