The Gift Of Family"It's not flesh and blood, but the heart that makes us father and son." – Friedrich Schiller. Try not to cry, cry a lot. Merry Christmas to all!"

#LoveWhatMatters

Credit: Janelle Rice

Posted by Love What Matters on Monday, December 26, 2016
Studies have shown us over the years that you can't place a value on the presence of a father in a child's life—time and time again, psychologists have concluded that kids who have an involved dad are simply happier, more stable, and successful. Some kids, like 11-year-old Landon Rice, of Norman, Oklahoma, know that that dad doesn't even have to be related to you by blood.
You see, Landon's been parented by his mother's husband, Daniel Rice, since he was just 5 months old. Even though he's not his biological dad, he's been a great one. When Landon was just 5 years old, he told his mom Janell that he wanted to "marry daddy like I did" so they could all have the same last name. The desire to be TRULY, legally, his father's son was strong.
This Christmas, Landon found out that dream was coming true. Watch his emotional reaction as he opened a very special gift – a certificate announcing that his legal adoption by his dad Daniel Rice would be finalized in February 2017.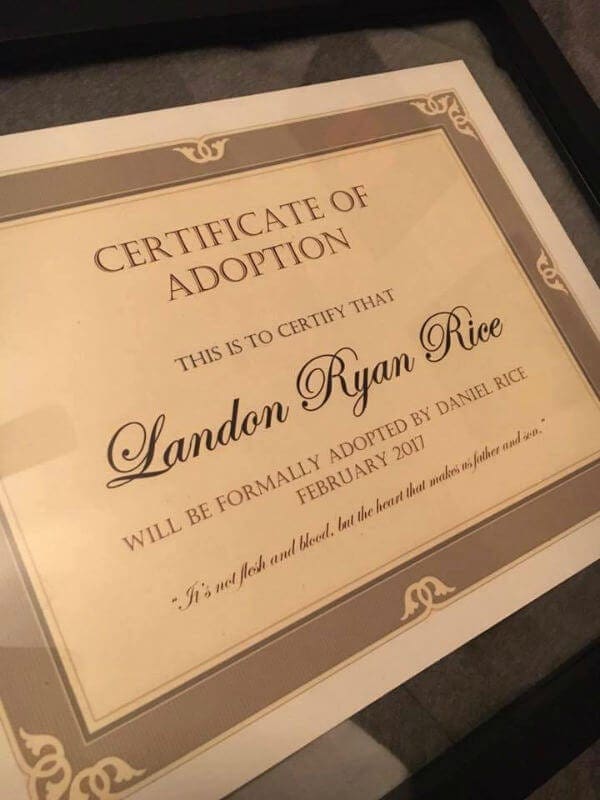 I don't know about you, but when a child cries tears of joy over getting adopted, I DO TOO! This beautiful story truly warmed my cynical heart. How wonderful his mom must have felt in that moment—not to mention the man who had won his heart as a dad! Now Landon, Janell, Daniel, and their two other kids will all officially, legally share a last name, even though they are already a family. I sure can't think of a better Christmas gift—can you?