Safyre Terry lost her dad and 3 siblings in an act of arson two years ago. Their New York home was burned down, and Safyre was the sole survivor.
Her dad David was found lifeless on top of his daughter. He attempted to shield her from the fire, but little Safyre still suffered burns over more than 75% of her body.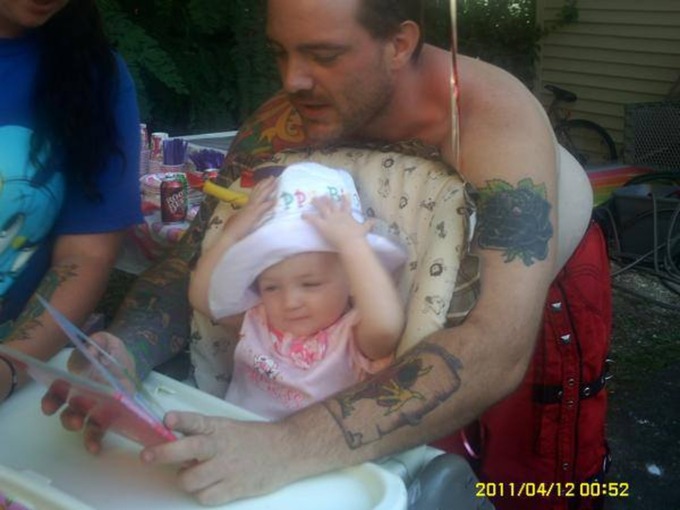 She's now living with her aunt and has undergone more than 50 surgeries to try to repair the damage.
Amidst the operations, she also lost her right hand and her left foot.
Safyre's aunt, Liz Dolder, added that her niece has chronic issues with her mouth as the scar tissue continues to tighten.
But the tragic loss of her family and the monstrous scarring she has suffered have not been able to steal her Christmas spirit.
Now Safyre has just one wish for Christmas. She wants to get cards from people all over the world.
As she stands next to an empty Christmas card tree, she has one plea: that you may fill it for her.
The young girl has asked the Internet to help make her wish come true through a Facebook page created by her aunt, and her online appeal has since gone viral.
An Imgur post reads: "Let's make this little girl's Christmas wish come true. She wants to fill up her card tree. Please take a few minutes and send a Christmas card her way, she will love receiving cards from all over the world."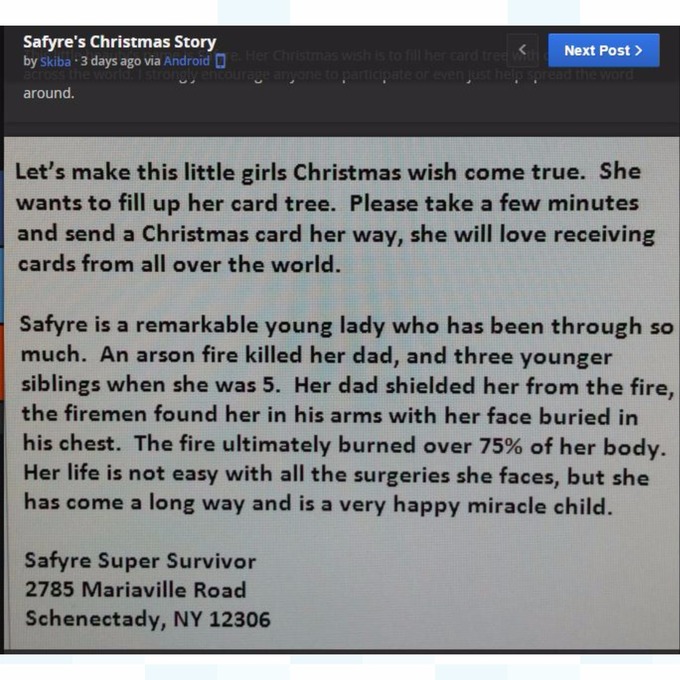 If you'd like to send a card to Safyre, her address is P.O. Box 6126 Schenectady, NY 12306 USA
Help us give this little girl the merriest Christmas ever. In the absence of her family, let us be her family. Let's fill that tree with more cards than it can handle!!
Merry Christmas, Ms. Safyre! Scars or no scars, you are forever beautiful—inside and out.