Arkansas parents Dawn and Brad Bailey never had any intention to adopt a child.
They already had two daughters in college and one still at home, and they were getting ready to enjoy her last few years with them before she too flew the nest. In fact, Dawn admits that she used to say "The day I adopt will be the day that Jesus ascends from heaven and TELLS me to adopt…it was not something that I EVER considered doing."
Well, things didn't get THAT dramatic, but Dawn and Brad say, before they even met him, God was sending some pretty clear signals to them that they were the family for Chase, a then 15-year-old who had been in foster care since he was eight, and was longing for a family. After Chase was featured on a local news story about kids in foster care who were adoption-eligible, friends begin texting the Baileys telling them about the boy. Within 24 hours, they'd received three different messages from close friends about Chase, and they knew they had to at least watch the feature about him. Through that news story, God began writing Chase's adoption story—and fast.
Watching the TV spot and looking up his adoption profile on the web was all it took. They Baileys decided to do WHATEVER it took to adopt him.
Haley Casey, Chase's adoption specialist with the Arkansas Department of Human Services was skeptical when Dawn Bailey called her about Chase. She'd received a few calls over the years, but usually when people heard about what he'd been through and what he needed, they backed off.
This time, Casey was pleasantly surprised. "The moment Dawn told me she wasn't afraid of the effort needed to help Chase," said Haley, "I knew she was the momma I was looking for."
Soon, Chase agreed. After meeting the Baileys, he called Casey and said "I think they're the one."
Chase describes his time in foster care as "a long road," and says that anyone who has spent time in foster care will probably have "a bad story." But now that he's found the family God hand-picked for him, he is filled with hope and gratefulness. "Every kid needs a chance, even if they're a teenager or not, to be in a home," he says.
The happiness he's found with his forever family is easily seen on his face. HIs smile and his eyes are full of joy that comes from, he says, knowing that the Baileys are "not going to let you go, no matter what…knowing that fact that you're not going anywhere, it kind of reels you in and helps you understand that they're not here to hurt you and they're here to help you."
On Chase's adoption day earlier this month, even the judge got teary-eyed as she made it official that Chase's last name is now Bailey. And the smile that spread across that kid's face when she said those words? Man, it brought me to tears.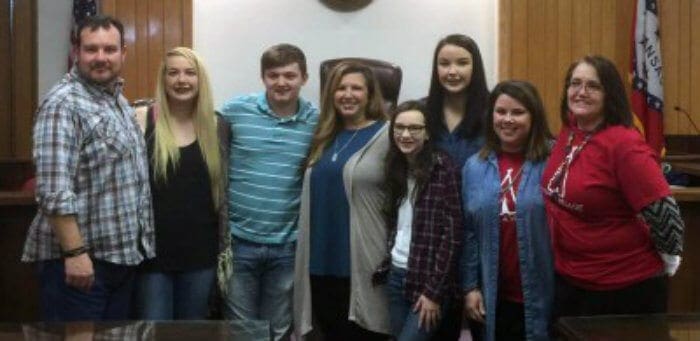 Photo: The Bailey family on Chase's adoption day, Arkansas Department of Human Services
Chase's dad Brad sums it up well. After 2,310 days in foster care, "He didn't choose us. We didn't choose him. God's the one that chose it." Mom Dawn adds, "We may have missed 15 years of his life, but he's got SO many more that we're going to share with each other."
All I can say to that is AMEN, and praise the Lord for His work in this beautiful family!