Photo:
GoFundMe
Sophie Skiles was a regular, happy toddler when she began having breathing problems earlier this spring. She had even been hospitalized for it, needing breathing treatments and steroids. But after yet another episode, everything changed: with this hospitalization, Sophie was, according to a GoFundMe page set up for her medical expenses, "diagnosed with T-Cell lymphoma and a tumor on her heart that is the size of a baseball."
In short, she has aggressive cancer.
On Sophie's Facebook page, Sophie the Brave, her mom Shelby has been detailing Sophie's fight. And you can't go more than a few words without realizing that Sophie's family has a deep, deep faith in Jesus. Despite their daughter's fight and the agony of watching her go through hard treatments and a hard disease, they seem to be always praising Jesus. In one post, after she encountered another pediatric cancer parent who was asking "What did I do to cause this?" Shelby says,
How do people do this without Jesus? 

I can say with complete peace that God didn't allow this or cause this to punish us. He is using it though to show us just how much HE LOVES US and how good he truly is. Each step of this journey has been planned and laid out before the world was formed. He has carried us this far and no matter how good or bad or scary the next steps are, we are fully trusting that he will continue to carry us and lift us when we need it. 

He is enough. He is bigger. 
In post after post on her Facebook page, Sophie's family's faith will blow you away and ENCOURAGE you. And now, a lFacebok post Shelby wrote for Sophie's nurses is encouraging countless people, nurses and parents alike. She wrote a letter to the amazing nurses who care for sick children, and it's since been shared almost 15,000 times. She posted a picture of Sophie being lovingly cared for by one of her pediatric nurses, and wrote: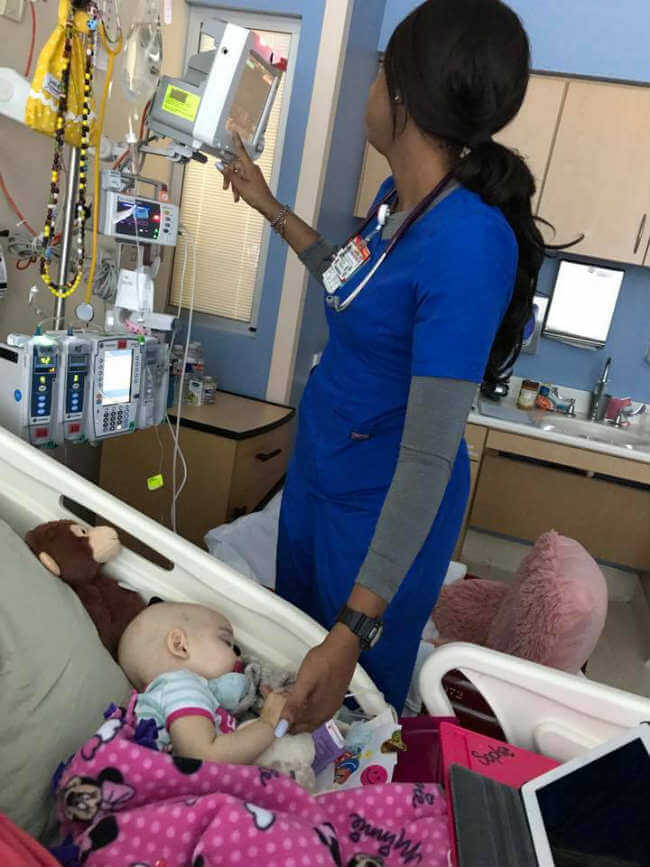 Dear Peds Nurses,
(And incredible nurse techs!)