My youngest child starts second grade in a few weeks, and my oldest starts (gulp) high school the same day. Honestly I am really not ready for summer to be over yet, partially because it forces me to think about the passage of time. My kids are growing up, and fast. Although I've enjoyed them at every stage and I know I'll enjoy them as adults, the truth is I do wish I had a *bit* more time to savor. Or maybe, I just wish I had lived a slower-paced life.
Yesterday we drove by our old speech therapist's house (she works out of her home) and I thought about how, between two of my kids, I saw her weekly for the better part of five years, and now I haven't seen her in almost two. She was such a huge part of our life, and now she's just a part of the past.
It got me thinking about the unsung heroes of my children's lives.
There are many people who are just with us for a season, for many reasons. There are multiple people who I only had contact with during a certain season of my motherhood, based on my children's ages or needs, people who are gone from my life, but are forever part of it. These are people who, though paid to do a job, put their hearts into it and went above and beyond. These actions on their part had a huge impact on my kids. They are unsung heroes to me.
One of these people is our speech therapist, Kristen. Though I paid her weekly, I am forever indebted to her.
Another is their preschool teacher, Miss Miller. She is an intervention specialist and I had two kids who needed a dedicated and caring one. When they had development and learning issues, I prayed that the Lord would send the right people to us who could help them in the areas where I could not. Miss Miller was an answer to prayer.
When my son Jonah needed even further help in the first grade, but didn't fit into any particular "box" and passed all the school psycholgists' test, I turned to the Brain Balance Centers for help, and he and I both received it in heaping amounts. The therapy and exercises he did there were hard, hard work, three hours a week there and every day at home, and yet my seven year old loved every minute. This is because every member of the staff there he encountered chose to invest in him instead of just checking off the boxes of their job duties. They made his time there so much fun that it didn't even seem like hard work to him, and even in the times when it was hard, he still wanted to do it, to the best of his ability.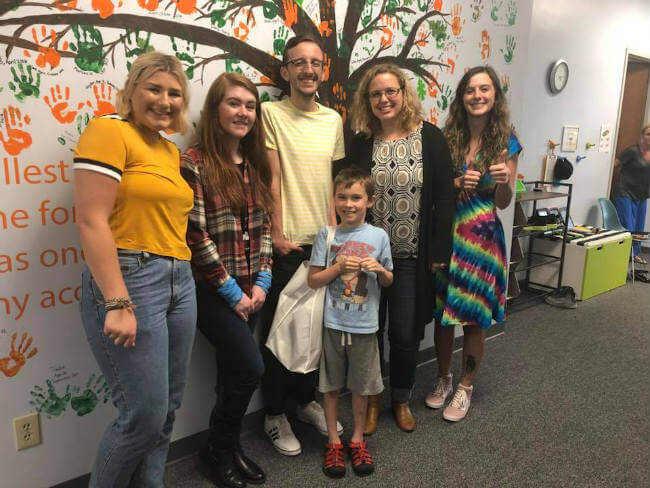 Unsung heroes go above and beyond out of love, and not because they have to.
Don't even get me STARTED on the unsung heroes at church. From the nursery to the youth group camp bus, there are unsung heroes all over your church's children's ministry. And a lot of them don't get paid, but even the ones that do aren't in it for the money. I think of the sweet lady named Miss Dorothy who taught my daughter's three-year-old Sunday school class. Sophie was not that fun as a three-year-old, and group settings were pretty much her worst environment. But Miss Dorothy loved her and did her very best to make church a place where Sophie was comfortable and involved. I know for a fact that was not as easy task.
I think of the 18-year-old high school graduate who takes the time to mentor my son and a small group of other 8th grade boys. Certainly he could be doing more "fun" things with his life and he could be hanging out with people who are more his peer level. But he has decided to disciple younger kids, and if that doesn't make a mother's eyes well up with tears of appreciation, I don't know what will.
There's the youth leader that has five kids of his own and a full-time job, who pours into your kids anyway. There's the children's pastor who knows just what upsets your child, and is always prepared to deflect or work around that.
Let  me say it again, your church's children's ministry is flooded with unsung heroes.
Unsung heroes don't need the recognition that so many of us crave.
Public accolades are not the unsung hero's love language. But appreciate expressed privately may just be the fuel they need to keep on keepin' on. Your thanks may be the impetus for them to help just one more child, to go that extra mile just another time or two.
If you're a lucky mom or dad, there are plenty of unsung heroes in your children's lives. So far  between teachers, therapists, adult friends of the family, and church staff, my kids are swimming in unsung heroes.
It's up to me and you to let them know how thankful we are for their contributions to our kiddos' lives, even if it was only for a short season. I challenge you as parents to sit back and think for a few minutes about the mentors, teachers, and leaders in your children's lives and ask you to dash off a quick email or note to them. Chances are, they may not know how you feel, and chances are, today is the exact day that they need to be reminded that their work matters.