The quest to curate a healthy home is a crucial ingredient in feeling happy, comfortable, and at peace (especially after a long day). After all, your home should be your sanctuary —  the place where you feel most comfortable and are reminded of what really matters.
According to a recent survey, Americans are increasingly concerned about how your home can impact your family's health. So how do you create a healthier indoor living environment? For many homeowners, the solution is tackling home remodeling projects — more specifically, "healthy home remodeling" projects.
Since your home environment impacts your overall health and wellbeing, it's wise to make appropriate upgrades and enhancements over time that support a healthier home and lifestyle. To get you started, here are four remodeling project ideas that will enhance your living space and help you live a healthier life at home.
4 Remodeling Projects for a Healthy Home Environment
1. Get Out(side)
An outdoor living area is an excellent way to create a healthier home. Whether you choose to create a brand new area or revamp your current patio space, many benefits come with investing in outdoor living. If home entertaining is your thing, creating a place outside to host parties and other get-togethers with loved ones is a no-brainer.
Fill your outdoor space with items that reflect your style and support a healthy lifestyle. A yoga trapeze is perfect for building your core and strengthening your spine, and it's a fun activity to practice outside. Installing a hanging chair is an ideal alternative if you prefer a more relaxing outdoor activity, like catching up on some good reads.
The best part? Being outside improves your mood, reduces stress, boosts your immune system, and contributes to many other health benefits. An outdoor retreat is a perfect addition to your home and can help encourage your family to bond and spend more time in the natural world.
2. Wellness Upgrades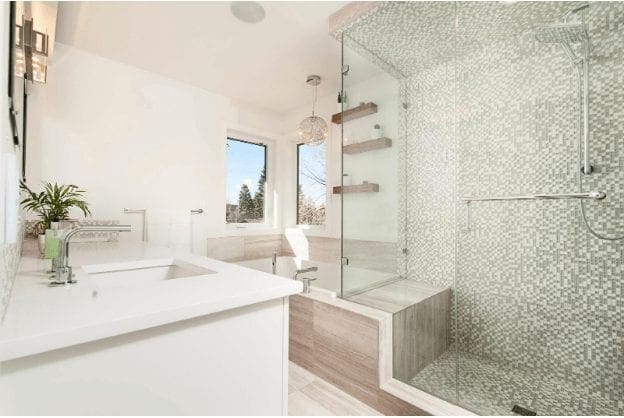 Your bathroom is a great place to maintain your physical and mental health. Upgrading your current bathroom design and features is an excellent opportunity to improve both the health of your home and the planet.
If you have the guts to take on a full bathroom renovation, be sure to take your time thoughtfully planning out the design. Look into water-saving and energy-efficient toilets, showerheads, and faucets to improve your home's eco-footprint. When designing your bathroom, consider the elements that make up a spa. Mimic this by creating a functional space that suit's your family's needs and promotes a relaxing environment where you can de-stress and unwind.