The quest to curate a healthy home is a crucial ingredient in feeling happy, comfortable, and at peace (especially after a long day). After all, your home should be your sanctuary —  the place where you feel most comfortable and are reminded of what really matters.
According to a recent survey, Americans are increasingly concerned about how your home can impact your family's health. So how do you create a healthier indoor living environment? For many homeowners, the solution is tackling home remodeling projects — more specifically, "healthy home remodeling" projects.
Since your home environment impacts your overall health and wellbeing, it's wise to make appropriate upgrades and enhancements over time that support a healthier home and lifestyle. To get you started, here are four remodeling project ideas that will enhance your living space and help you live a healthier life at home.
4 Remodeling Projects for a Healthy Home Environment
1. Get Out(side)
An outdoor living area is an excellent way to create a healthier home. Whether you choose to create a brand new area or revamp your current patio space, many benefits come with investing in outdoor living. If home entertaining is your thing, creating a place outside to host parties and other get-togethers with loved ones is a no-brainer.
Fill your outdoor space with items that reflect your style and support a healthy lifestyle. A yoga trapeze is perfect for building your core and strengthening your spine, and it's a fun activity to practice outside. Installing a hanging chair is an ideal alternative if you prefer a more relaxing outdoor activity, like catching up on some good reads.
The best part? Being outside improves your mood, reduces stress, boosts your immune system, and contributes to many other health benefits. An outdoor retreat is a perfect addition to your home and can help encourage your family to bond and spend more time in the natural world.
2. Wellness Upgrades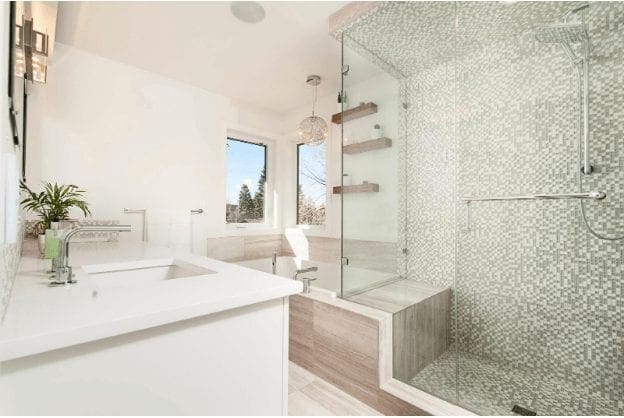 Your bathroom is a great place to maintain your physical and mental health. Upgrading your current bathroom design and features is an excellent opportunity to improve both the health of your home and the planet.
If you have the guts to take on a full bathroom renovation, be sure to take your time thoughtfully planning out the design. Look into water-saving and energy-efficient toilets, showerheads, and faucets to improve your home's eco-footprint. When designing your bathroom, consider the elements that make up a spa. Mimic this by creating a functional space that suit's your family's needs and promotes a relaxing environment where you can de-stress and unwind.
As tempting as it is to DIY just about anything at home, it can actually be the more costly route when it comes to your plumbing needs. Plumbing is a massive part of renovating your bathroom, and larger plumbing projects involve a lot of planning and a lot of work. If you want to help avoid costly setbacks, common plumbing mistakes, and lengthy delays, it's best you find and hire a qualified plumber for the job. Research the best plumbing pros in your area who specialize in healthy housing concerns.
3. Master Closet Refresh
Imagine your ideal closet. What is it about your ideal closet that makes it so? Is it refreshingly well-organized? Does it have plenty of storage? Can you see your favorite shoes or accessories on display? Or is everything neatly hidden for a more minimalistic approach?
Now that you've imagined your dream closet, it's time to make it a reality. Remodeling your home to incorporate a walk-in closet will transform your life and improve how you operate in your daily routine. Getting on board the KonMari home organization trend will only improve and transform your life, making you and your home a healthy, clutter-free space.
Personal belongings can bring as much stress into your life as they do joy. The solution: install a custom closet system to organize your clothing, accessories, jewelry, shoes and other personal items, and make it easier than ever before to find what you need. When your home environment feels clean and free of clutter, so will your mind.
Most people are very busy each day — especially if you're trying to get everyone ready and out the door each morning. When you're quickly going from one activity to the next, life (and your closet) can get messy. To combat this, minimize your possessions, organize your must-have items, and maintain a tidy and organized closet. Transforming your closet space will create a healthy balance at home, in your routine, and in your relationships.
4. Non-Toxic Flooring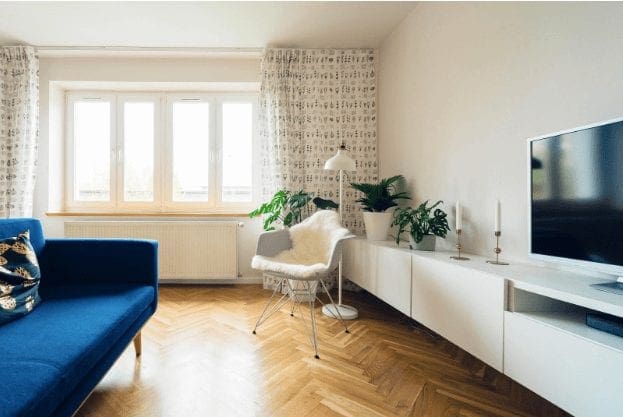 When it comes to flooring, most homeowners have specific considerations in mind. If you are a pet-friendly household, you have to consider the durability and lifespan of the material. If your living space is subject to a lot of foot traffic, stain-resistant and waterproof flooring might be more suitable for your lifestyle.
No matter what you deem most important, choosing non-toxic flooring will help you and your family create a healthier home. Eco-friendly materials are not as taxing on the environment or your home, and they will bring peace-of-mind since you don't have to worry about chemicals from toxic furnishings. Bamboo is a sustainable flooring choice, and homeowners aren't limited from a design standpoint because there are many color and grain options available. There are a lot of factors to consider before installing bamboo flooring in your home, so make sure you have enough time to take on a project of this size or consider hiring a professional.
While there are many ways to encourage healthier living environments, healthy home remodeling is an excellent solution for creating a healthy home. A healthy household provides you and your family with a non-toxic and safe living environment where you can grow as a family and positively impact the environment, too!