2020 saw stay-at-home orders, social distancing, and LOTS of mommy-daddy time—if you know what I mean.
Now that it's 2021, and generation quarantine is on their way, we've rounded up the best new baby products for every expecting mama this year!
The Nanobebe Flexy Silicone Bottle is designed to meet the feeding needs of newborns through early toddlerhood all with one bottle. With mom-like softness, and a non-collapsible nipple for the perfect latch, the Flexy Silicone Bottle is THE latest baby product you will not want to go without. Its genius anti-colic system is the first of its kind with a 360° triple vented design.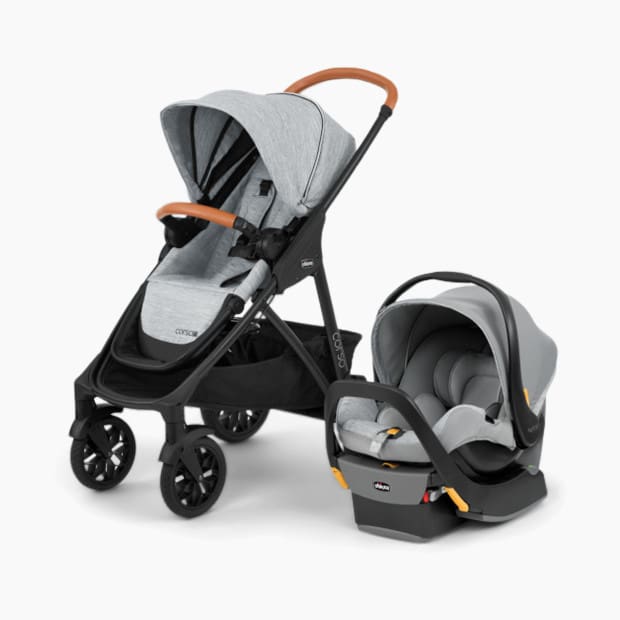 Get ready for adventure with the Corso LE Modular Travel System by Chicco. Featuring the top-rated KeyFit 30 Zip Infant Car Seat, this is the easiest-to-install infant carseat on the market. The KeyFit® 35 Infant Car Seat is engineered with the #1-rated innovative safety features that make it the easiest to install and use correctly, every time. The Corso Travel System offers 4 adaptable parent-facing and forward-facing strolling modes with included KeyFit® 35 Infant Car Seat, and its one-hand, quick fold design is compact and self-standing. Take baby with you wherever you go with the safety and ease of Chicco's Corso Modular Travel System.

Every new mom needs a diaper bag that offers comfort, style, and maximum functionality. Look no further than the Momkindness Duo Backpack for all of your diaper bag needs.
Crafted with strong, durable waxed canvas and vegan leather accents, the Duo Backpack offers an easy-access design with zipper and magnetic flap. A separate padded laptop compartment brings versatility to the stylish design, making it easy to carry all of baby's things, and mom's as well!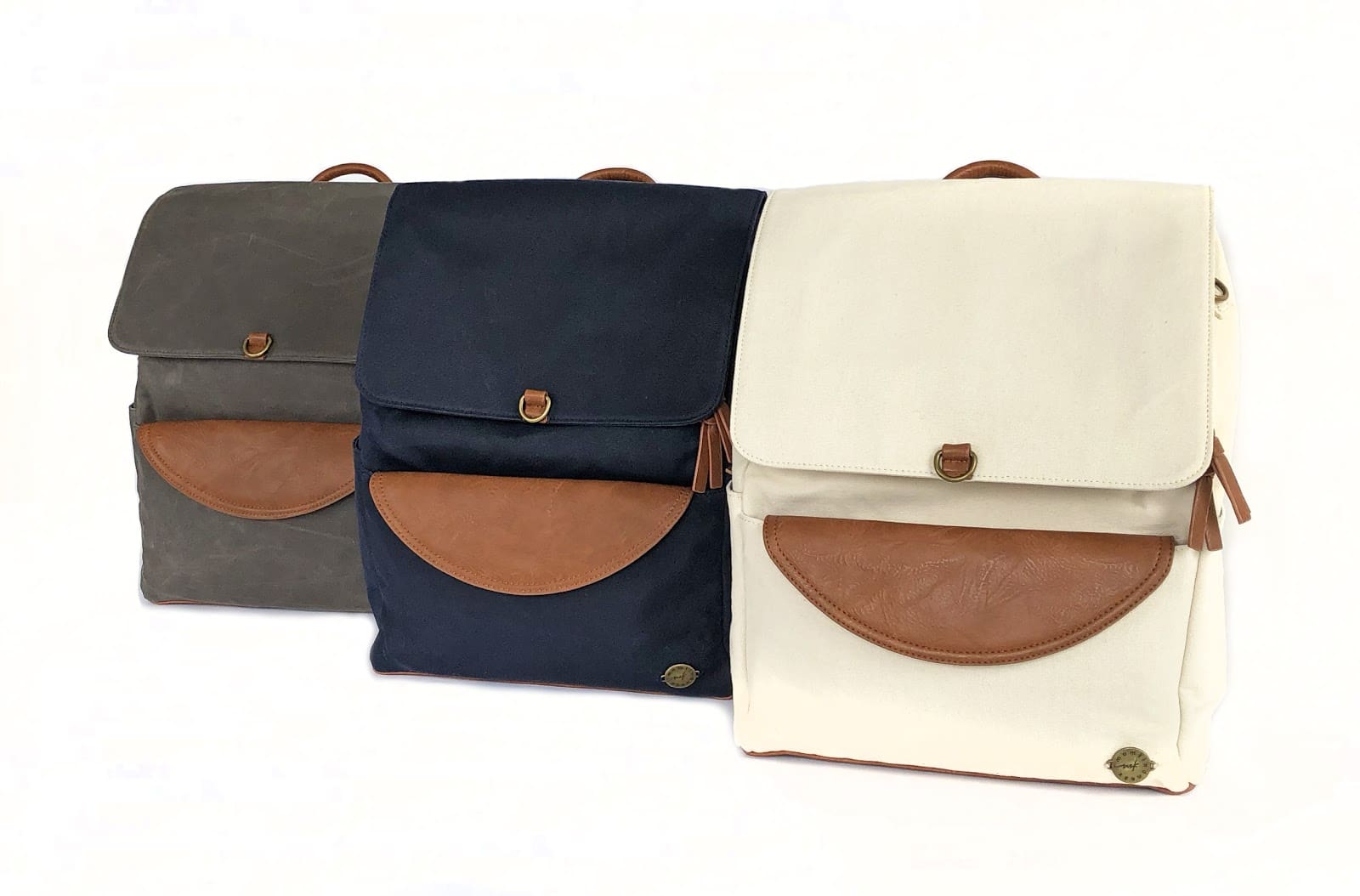 Momkindness also gives back—they have partnered with Every Mother Counts, a nonprofit organization dedicated to making pregnancy and childbirth safe for every mother, everywhere. For every Momkindness purchase, we donate a portion of the proceeds to Every Mother Counts to help bring safe and respectful maternity care to mothers everywhere.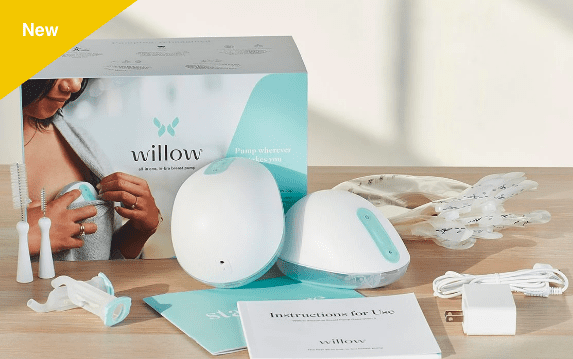 Did you know that stress has been reported as the number one factor in diminished breast milk supply among new moms? Between lack of sleep and adjusting to the baby's schedule, rising levels of certain hormones such as cortisol can dramatically reduce milk supply.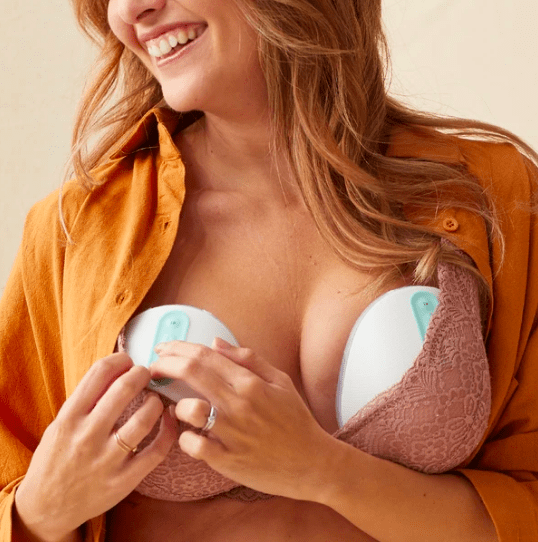 But it doesn't have to be that way. The Willow Wearable Breast Pump is the only breast pump on the market that gives mom the freedom to be untethered. This all-in-one hands-free breast pump fits in your bra and goes where you go!
Willow's all-in-one design has no external tubes, dangling bottles or cords, so everything (even the milk) fits right inside the pump; simplifying the pumping experience and making it easier for moms to feed their babies.
Their proprietary no-spill technology lets you pump smarter, with a continuous suction that mimics a baby's latch, as opposed to the "tug and release" methods of traditional breast pumps. Users have also reported yielding 20% more milk!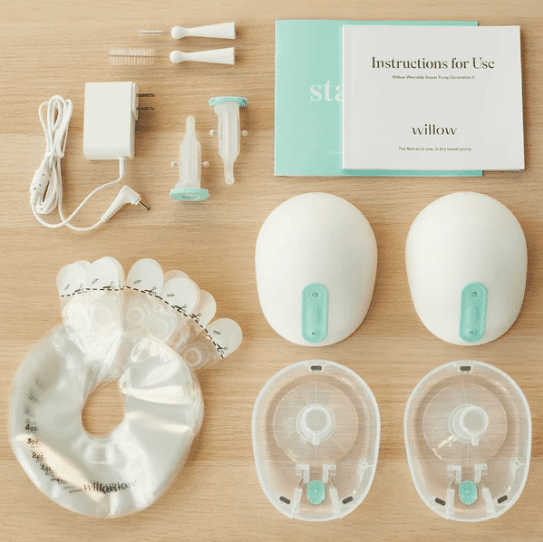 When it comes to a happy, healthy, SLEEPING baby, the secret lies in the swaddle. That's why The Ollie Swaddle, is one of our top baby product picks for 2021.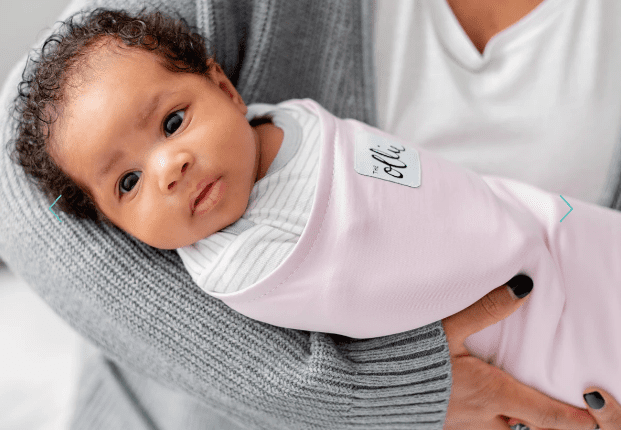 With its state-of-the-art technology of varying loop sizes and moisture-wicking fabric, The Ollie allows infants to feel snug on top, and loose on the bottom which enhances neurological development, creates positive sleep cues, decreases irritability while promoting self-soothing, allows for healthy hip development, makes diaper changes easier and so much more.
It's the only swaddle you'll need to calm even the fussiest babies. Be sure to also check out The Ollie Dailies—the same great fabric, now in daily onesies.
One of the first baby products in Chicco's new innovative CLEAR line, the Lullaby Primo Organic All-In-One Playard is perfect for the mom who appreciates no added chemicals.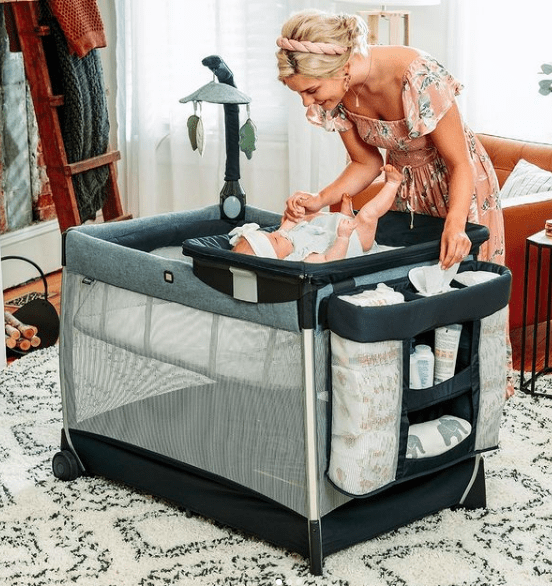 Part of Chicco's Sustainable Parenting Initiative, the new CLEAR line features fabrics made from naturally-derived, organically grown cotton. The fabrics are soft and hypoallergenic, making the Lullaby Primo Organic Playard a natural choice for both comfort and baby's sensitive skin.
When it comes to staple baby products, Eco Pea Co. has got you covered!
This line of eco-friendly diapers and wipes are dermatologist approved, unbelievably soft, and better for the environment—which is a big deal when it comes to the number of diapers a baby goes through in a day. They contain no harmful ingredients, no added fragrance and are made responsibly using bamboo and manufactured in a certified facility.
Subscribe and save 20% with an Eco Pea Co. bundle delivered right to your door, saving you time and money!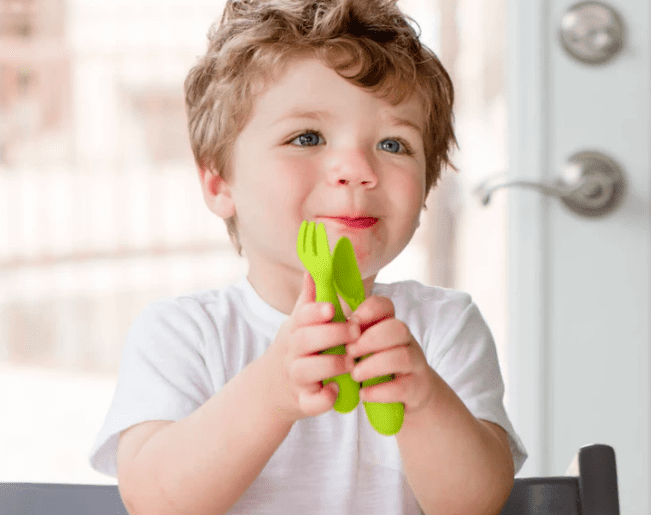 Learning to self-feed is an important developmental milestone that helps toddlers tune in to natural hunger cues and develop fine motor skills. Ezpz's line of mini utensils are the most functional, developmentally appropriate feeding gear on the market. The narrow spoon-bowl and fork-prong safely fit into your toddler's mouth, decreasing the risk of gagging and choking. The non-slip grip and short, fat round handle are made for small toddler hands and make grasping more successful.
Getting babies and toddlers to sleep through the night can be a real challenge. Snuggling up with a lovey or a soft blanket sounds like a soothing option, but can pose a variety of safety risks. With the Snuggy Buddy Wearable Lovey Blanket, you get the best of both worlds—a safe and sound night of sleep for both mom and baby.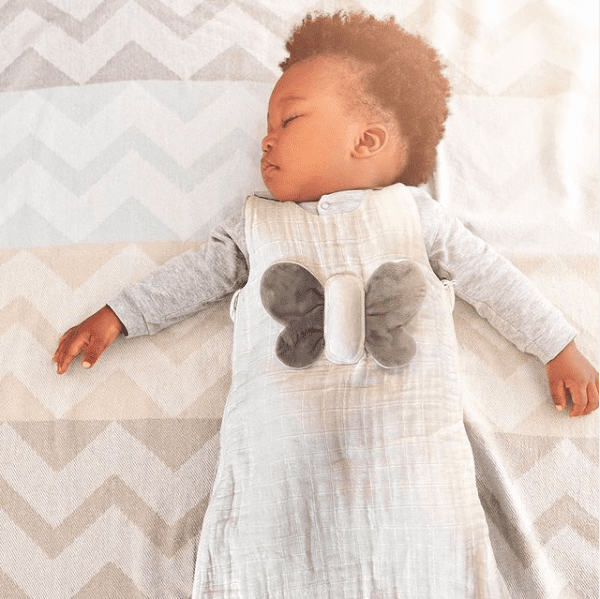 The Snuggy Buddy Wearable Lovey Blanket is the first lovey to feature a soft weighted attachment at chest level to safely comfort your 6-12-month-old while in a crib. It offers easy in-and-out access for diaper and outfit changes, and is made of breathable lightweight muslin fabric. A portion of all sales funds blankets for babies in need through Project Linus.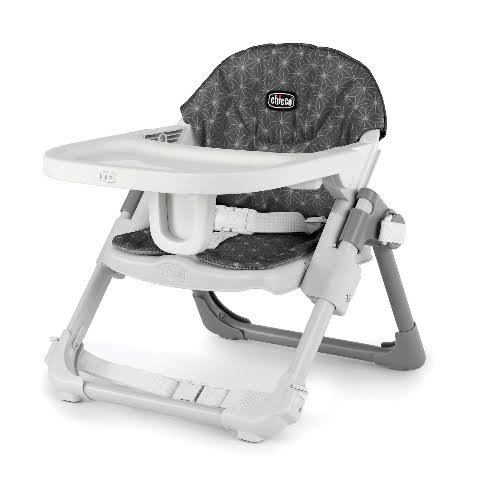 When it comes to getting the most bang for your buck, baby products that grow WITH your child are the absolute best investment. Introducing the Take-A-Seat 3-in-1 Travel Seat from Chicco.
This all-in-one seating solution features a booster chair, s floor seat and a toddler chair that's also lightweight for three modes of use. A compact fold and carrying strap makes for the perfect travel-friendly sitting solution that has a slim footprint for easy storing. Whether you're at home or on the go, you can't go wrong with a toddler seat that meets all of your needs.
Made from certified organic cotton and eco-friendly materials, Bundle of Dreams mattresses bundle safety and comfort into healthier sleep for your little ones. By ditching traditional foam materials which contain harmful VOC's and toxins, Bundle of Dreams' Classic Crib Mattress is water repellant and 100% breathable, allowing air to easily flow through the entire mattress to regulate temperature and keep baby comfortable while they sleep.
This 6-inch, 2-stage mattress is designed with extra firm infant support on one side, and a comfortable plush side for your growing toddler. All materials used are eco-friendly, hypoallergenic, and breathable. Be sure to also check out Bundle of Dreams' Big Kid Mattresses and accessories for every little tot in your family.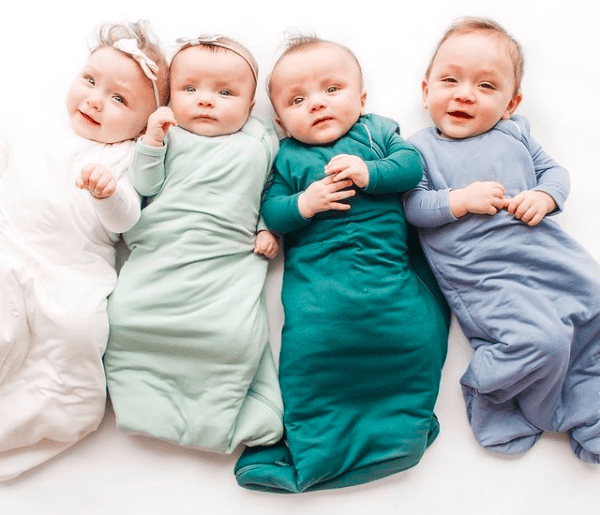 Unlike other baby and adult pajamas, Kyte BABY has THE softest products around that are economically sourced out of bamboo! In addition to also being hypoallergenic, bamboo is three degrees cooler than cotton, keeping mommy, daddy. and baby comfortable all year long. Seriously, no need to leave the house when you're wearing Kyte BABY.
Check out Kyte BABY's full line of products including their sleep bags, zipper rompers, swaddles, ring slings, blankets, PJ's, loungers, and more!