It's not every day you see your parents get married, but attending your mom or dad's wedding is certainly more common than it used to be. For 6-year-old Bryson Suber, his mom Tearra's wedding was extra special—because she was walking down the aisle to marry his dad, Bryant. The couple had been high school sweethearts, but after over a decade together, they were finally tying the knot.
Photo: Paul Woo, wanderingwoo.com/@wanderingwoo
As you can see, Bryson Suber starts out the wedding, looking too cute in his red and gold ensemble, eagerly waiting to glimpse his mom as she comes down the aisle. What happened when he actually saw her is just now going viral, even though the Suber's wedding was in 2016. You see, photographer Paul Woo of Wandering Woo Photography captured Bryson's emotions at his first sight of his mom as a bride, and they are simply unforgettable. Seeing strong emotion from a six-year-old isn't unusual, but seeing little Bryson Suber break down not over a toy, or a snack, or exhaustion, but over seeing his beautiful mama as a bride? Well, it just about undid me! It's breathtaking. See you for yourself: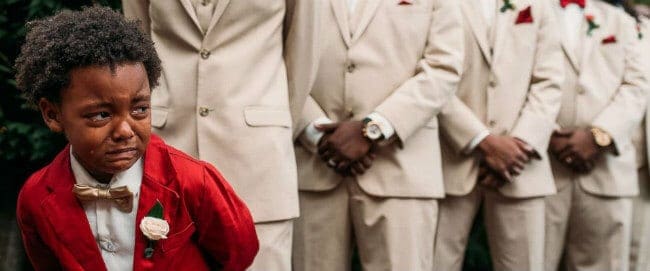 Photo: Paul Woo, wanderingwoo.com/@wanderingwoo
Woo told ABC News that as a photographer, he KNEW he had to capture this shot of Bryson's emotion, but he also had to make sure to get a shot of the bride on her father's arm. It was difficult, he said, because even as a professional he was not immune to the heart-wrenching emotion that Bryson's reaction to his mom caused.
"I was secretly bawling behind the camera and had to prioritize this moment over the bride coming down the aisle," he explained. "Yes, I got both photos, but I knew this moment was the moment."

Photo: Paul Woo, wanderingwoo.com/@wanderingwoo
Then, of course, there was Tearra's reaction to her SON's reaction. She was so focused on keeping her composure going down the aisle that she didn't notice her son's emotions at first, she told ABC. But when she did, she says, "It completely took me back. The magnitude of that day and that moment meant a lot to us."
The September 4, 2016 ceremony was certainly beautiful and special; the uniting of a family forever in front of 230 guests. But now that Bryson's photo is going viral, Tearra says, it brings home the day's perfection even more, even eighteen months later.
"It was literally one of the most magical days that I've experienced," Tearra added. "And there's no way I would've done it without them [her children] there."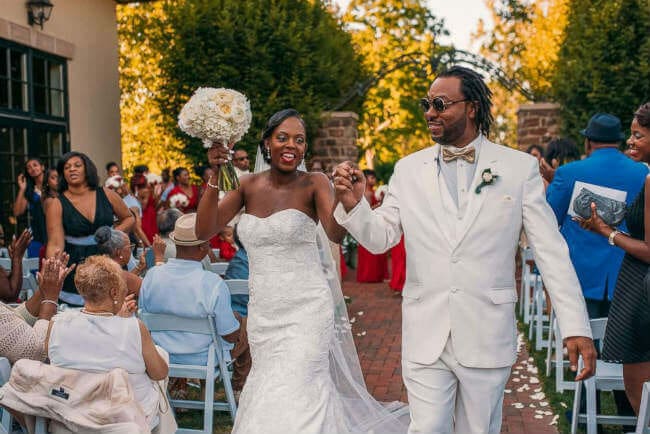 Photo: Paul Woo, wanderingwoo.com/@wanderingwoo
Belated congratulations to the Suber family on the wedding and thanks so much for sharing Bryson's beautiful emotions with us! I know with a feeling heart like that, this kid must be a true blessing to everyone he meets.
For more from photographer Paul Woo, visit his website and Instagram.
Read this next: These Grooms Seeing Their Brides For the First Time is Like a Joy-Bomb For Your Soul