Last weekend, like a total stalker, I pored over wedding photos of a classmate of mine, who, at 40, was finally marrying her high school sweetheart. I remembered that they had dated in high school (he was a year ahead of us, I think? And didn't go to our school for all that long), but like many of us have experienced, their teen romance didn't last. They grew up and moved on. They both married other people. They both divorced.
And then, in some beautiful, seemingly fated way, they found each other again. They fell in love again, no longer innocent teens, but mature adults who were smart enough, this time around, not to let a good thing go. The love and joy I saw in their wedding  photos was truly beyond touching. Because along with love in their eyes, there was GRATEFULNESS. The two hearts that came together were, this time, simply SO THANKFUL that they were getting a second chance.
The photo above is of my husband Bobby and me when we were freshman in high school. You see, I also married my high school sweetheart, only I did it when I was 22.
We DID break up for a time – here we are as freshman homecoming court reps for our school. We went to that homecoming together, but soon after he broke up with me. (CAN YOU IMAGINE? REALLY!! THE NERVE!) However, by some miracle (aka God's goodness to us), we stayed friends. And we too, found our way back to each other — just a lot sooner than the couple I talked about above. When Bobby asked me again, to be his girlfriend, and we were seniors, both 18, I just KNEW, I knew if I said yes then, I was saying yes for the rest of my life. He was my best friend, and I wanted to be in it with him — in it to win it.
Now 22 years later (18 married), we are both forty. We have three kids. We have been together most of the minutes since high school, and oh my word, when I look at him, when I THINK of him, I am SO SO thankful.
We may not be in the throes of honeymoon googly eyes like my friends mentioned above, but we. are. thankful. I'm so thankful I didn't have to lose him and go through heartache before I found him again…maybe it's not as romantic a story, but it is just as good.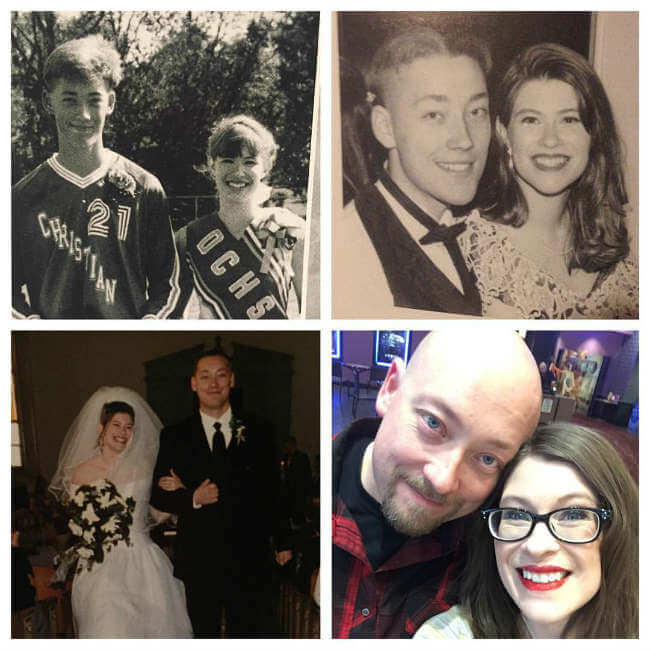 Last night we took our kids out to dinner to celebrate an achievement of our youngest child, Jonah, who is 7. Jonah had seen a classmate the day before who, he had casually mentioned, he just might marry someday.
"Well, you have PLENTY of time to decide," I said, and then a thought dawned on me.
My daughter is going into 6th grade. That is the year my husband and I met, when he was the NEW KID in 6th grade. "Sophie," I said to my girl, who is not at all boy crazy and HATES to be teased, "You know I met your daddy when he was the new boy in 6th grade. So, watch out for new kids this year. This could be a REALLY important year for you!"
She protested loudly and we giggled and Bobby and I high-fived when we realized that, in fact, the son of a good friend of mine IS going to be the new kid in 6th grade at her school this year. His mom and I had often said we wanted to betrothe them…so  maybe this will work out after all.
Then, I moved on to our oldest, Joshua, who will be a freshman in high school this fall (gulp).
"You know Joshua," I said, "Your daddy married his freshman homecoming date, so you better choose your date REALLY WISELY for the dance this year."
"MOM STOPPPPP!" – his usual protest – came out of his teenaged mouth and we all cracked up again.
The truth is, my kids are all too young to be talking marriage.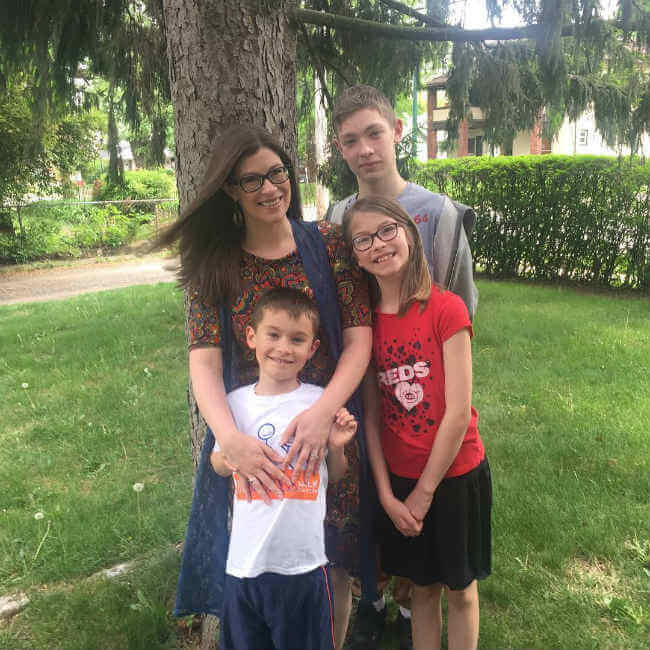 But the truth also is, meeting their dad so YOUNG in my life has been one of the greatest gifts I have been given by God. We have literally known each other since we were children. I KNOW him, I KNEW him so well before we married. He was my high school sweetheart, yes, but for ten ENTIRE years before our marriage, he was also my really good friend.
So what's it like marrying your high school sweetheart?
Whether you've been together since high school, like Bobby and I have, or whether you had a long separation, like my friend mentioned above, I can tell you this: it is comforting. It is FAMILIAR. It is SWEET. It is like being HOME anywhere you are, as long as you are together.
Last week I went to the funeral of a good friend's dad. Oh how I mourn with her! He was a wonderful man and dad – and husband to my friend's mom  – his high school sweetheart. He died young, at 66, but because they met and married young, they had 45 years as a married couple and even longer as a couple since they dated a few years, too. What a gift, to meet your spouse so young, and to have so many years and memories together, even if they ended too soon.
Of course, it's not everyone's destiny to meet their spouse when they are a kid or marry their high school sweetheart.
Some of my favorite couples didn't meet 'til college or professional adult life.  And some of my friends, well let's just say I am REALLY THANKFUL they DIDN'T marry their high school sweetheart because that would not have ended well.
All marriages filled with love are beautiful and have a purpose from God. (It doesn't mean they are EASY, though.) However in my particular case, I am glad I didn't spend a few years finding myself or traveling the world  before I gave my heart to Bobby. I am glad I chose to be in it to win it with him from that December day in 1995 when he asked me (ahem, again) to be his girlfriend. I knew that day that I was saying "yes" to forever with him, and I have not regretted it once. And if my children are fortunate enough to experience the same, I'll be thrilled for them, too.