A children's book is sparking outrage this week as moms across the internet claim one of [its] poems details how to kill your younger sibling.
The poem in question titled, "Brotherly Love," can be found in "No More Poems!: A Book in Verse That Just Gets Worse." The satirical children's book is a Shel Silverstein-inspired, "riotous collection of irreverent poems for modern families" written by musician Rhett Miller of the Old 97's, with illustrations by Dan Santat.
"Taking on the subjects of a bullying baseball coach and annoying little brothers with equally sly humor, renowned lyricist Rhett Miller's clever verses will have the whole family cackling," the book is described on Amazon.
But cackling they are not.
Concerned mother Kayla Sykes, took to Facebook with a photo of the poem which shows verses referencing several different methods in which the little girl might consider killing her sibling.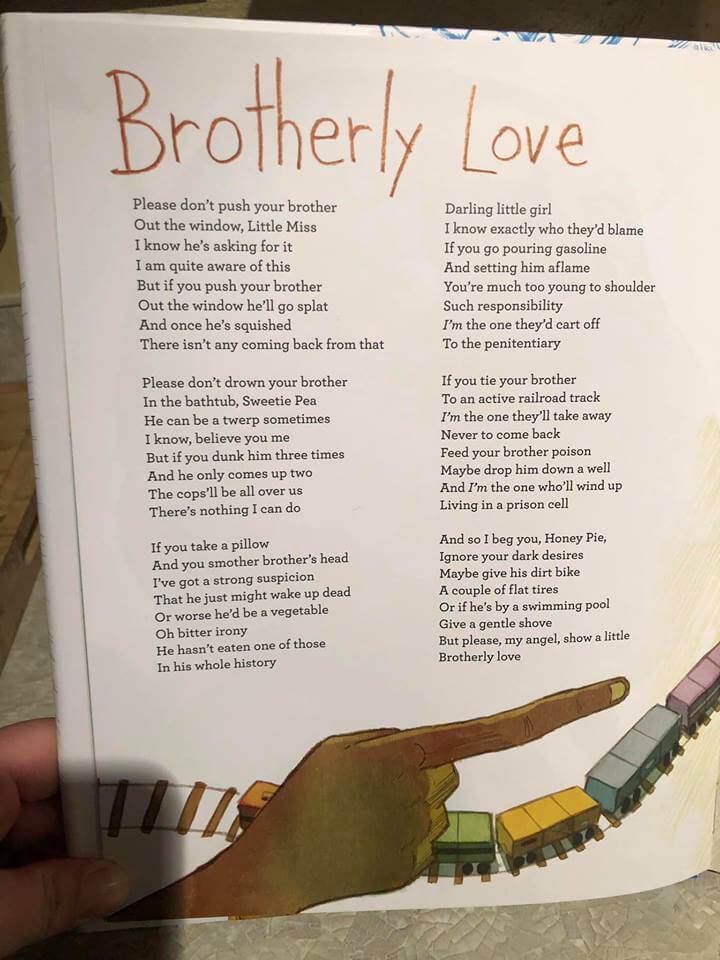 "Please don't drown your brother
In the bathtub, Sweetie Pea
He can be a twerp sometimes
I know, believe you me
But if you dunk him three times
And he only comes up two
The cops'll be all over us
There's nothing I can do"
In her now-viral plea to other parents, Sykes warns against buying the children's book which she picked up at Costco saying that she's "disgusted" by the ways it aims to put ideas into children's heads.
"If you happen to shop at Costco please do not buy the children's book 'No More Poems,'" Sykes wrote on Facebook. "It includes a horrifying poem with specific details on how to kill your younger sibling. It's absolutely disgusting."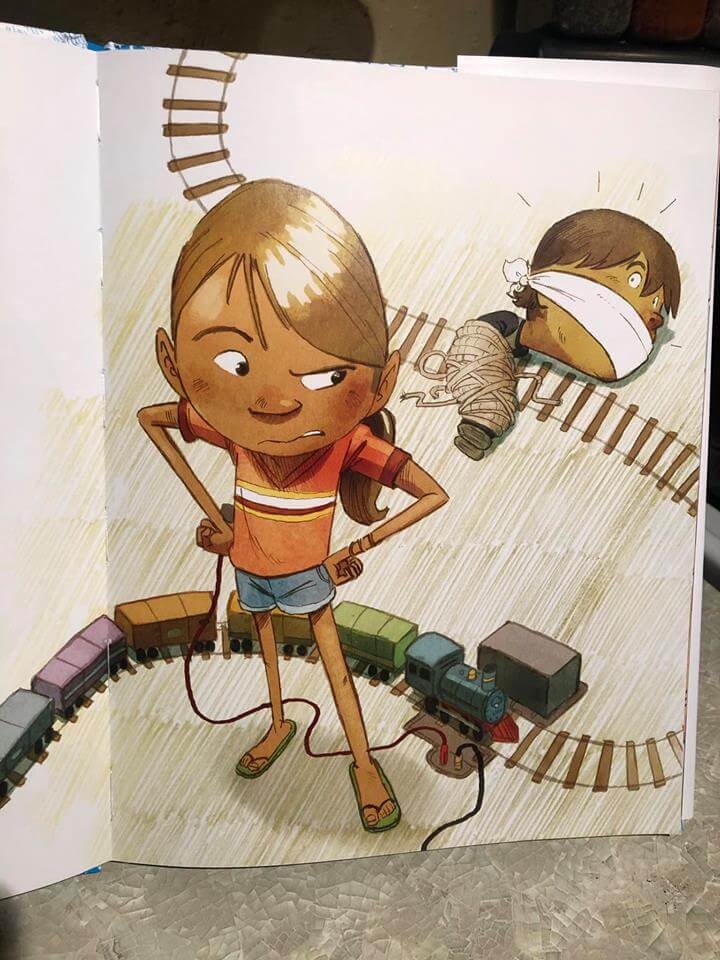 "I'm not sure how the publisher allowed this to slip by, but perhaps they can shed some light because the author, Rhett Miller has blocked me on Facebook," she added.
She called on Costco and any other retailer that sells the book, which is intended for children ages 4-8 years old, to remove it from their shelves immediately.
"I don't see how anyone can justify this," Sykes said in a second post. "Perhaps the author was instructing certain children not to do these things, but he's also influencing children and teaching children the capabilities of these horrific scenarios. Taking a pillow and smothering someone, setting someone on fire, pushing someone from a window … these are not normal thoughts. These are not things that enter the heads of my children.
"As a teacher, I understand children on a larger spectrum, and perhaps some have been exposed to these things. There is a potential for … relatable humor, maybe. But I also have had students that can be easily influenced and manipulated — and just the simple idea of these dark events could make them act (influenced events) out impulsively."
She says as adults, it's our responsibility to influence kids in a positive way — something she feels this book completely missed the mark on.
While some commenters agreed with her, calling the poem's dark humor "disturbing" and a "bit graphic," others felt Sykes was blowing things way out of proportion.
"How old were you when you lost your sense of humor?" one user wrote.
Another recalled how we all sang "Ring Around the Rosie" as kids, which could rival the message of this children's poem.
But as much backlash as Sykes got for suggesting that ALL children should be shielded from this type of content, she also received encouraging agreement and valuable insight from others.
One commenter referenced two foster daughters she'd had several years back. While thoughts like killing your sibling [aren't] generally what we think to be going on in our kids' heads, it was not out of character for these girls coming out of traumatic living environments.
"The older sister had some serious emotional/behavioral issues and she legit tried numerous ways to harm her younger sister," she writes, saying that while the book may be poems for the modern family, "it is most definitely NOT normal."
"I am in total agreement with you," wrote another mom. "I feel that it was very thought-provoking. Putting sick thoughts in a child's mind. Very evil as far as I am concerned. I did not find it funny at all."
In response to all of the buzz around his book and particularly this poem, the author, Rhett Miller, tweeted verses from his influence, Shel Silverstein. It's a satirical poem about a little girl named Abigail, who dies because her parents won't buy her a pony.
From "Little Abigail And The Beautiful Pony"
By Shel Silverstein

And Abigail felt so bad
That when she got home she went to bed,
And she couldn't eat,
And she couldn't sleep,
And her heart was broken,
And she DID die—
All because of a pony
That her parents wouldn't buy.