The house was quiet, exhaling after the tussles of the day.
I settled into my chair and heard the ominous creak of an upstairs bedroom door, the one that needed a shot of WD-40 that we never found the time to apply. Her feet were light and slippered on the stairs. I knew who it was before I saw her.
She said, "Mommy, every time I have a really happy day, I get really afraid afterward." She was ten, and she was thirty, afraid of the dark and self-aware enough to know the pattern of her fear.
We adopted our four oldest children from Africa, at various ages, though none still wore diapers when we held them for the first time. In two years, we multiplied from my husband, Nate, and me to us plus four.
As each child came into our fold, we had one thing in common: the ache of a life that felt out of time. They'd lost the innocence of childhood before they lost their first tooth, and Nate and I grew gray hair as we waited (not by choice) to grow our family.
In one sentence my daughter touched humanity's flitting response to joy: we don't know what to do with it. And our response to Him: we don't know what to do with His nearness, which reaches closer than our skin.
She didn't know about my wrestling with fear. After twelve years with an empty womb, I birthed a baby who threatened to incite more fear in his living than I experienced in the decade of wondering whether I would ever heal enough to carry him. After he was born, I asked in celebratory wonder, "Did this happen? Did I really birth this child?"
Yet in the next breath, I feared that this would be the day that he might not wake up.
It was just like what I had done with her during the months after we'd adopted her. I'd stare at her vibrancy across the room, still unable to grasp that she was mine, only to fear losing her.
"Too good to be true" is humanity's response to God's gifts and to the God who doesn't just hold the files of our lives but also writes them. And studies them.
What I told my little girl that night was no different from what I'd barely grasped myself: adore Him here.
"The joy of the Lord is my strength," I told her, quoting Nehemiah 8:10, adding, "Don't focus on what you're afraid of, but look at God."
With each of our seven children—Lily, Hope, Eden, and Caleb, who came to us through adoption, and years later Bo, Virginia, and Charlotte, whom I held in my womb—fear haunted me. Three teenagers, a child in the in-between years, a five-year-old, a toddler, and a babe—all gave opportunity for fear. Fear is ignited in more than one life stage.
How many times had I shut the door to her room behind me and unthinkingly given over to fear the one-minute walk to the kitchen? Dishes to do and phone calls to make and other children's needs to meet, forgetting what I didn't want to notice in the first place.
The unrecorded minutes for most of us are pregnant. We scrapbook our banner days—the weddings and births, first days of kindergarten and college—gliding over the significance of all that lies in between the annual family vacations.
One middle minute can hold fears and insecurities and mind wanderings. No wonder we long for a highlight reel, for those banner days. But in the middle minutes, we discover who we are and what we carry.
We don't know what to do with the minutes in between, occupied by fear or boredom or aching—all the things we like to ignore and feel safe from when they are out of range. 
We overlook them, and we dismiss them. We develop eyes for the next big thing as an escape. All the while we miss the tender invitation, right there, in those minutes.
Giving our lives to God wasn't merely a broad-strokes yes for the shining times when His power is tangible.
He made us to fall in love during the middle minutes.
***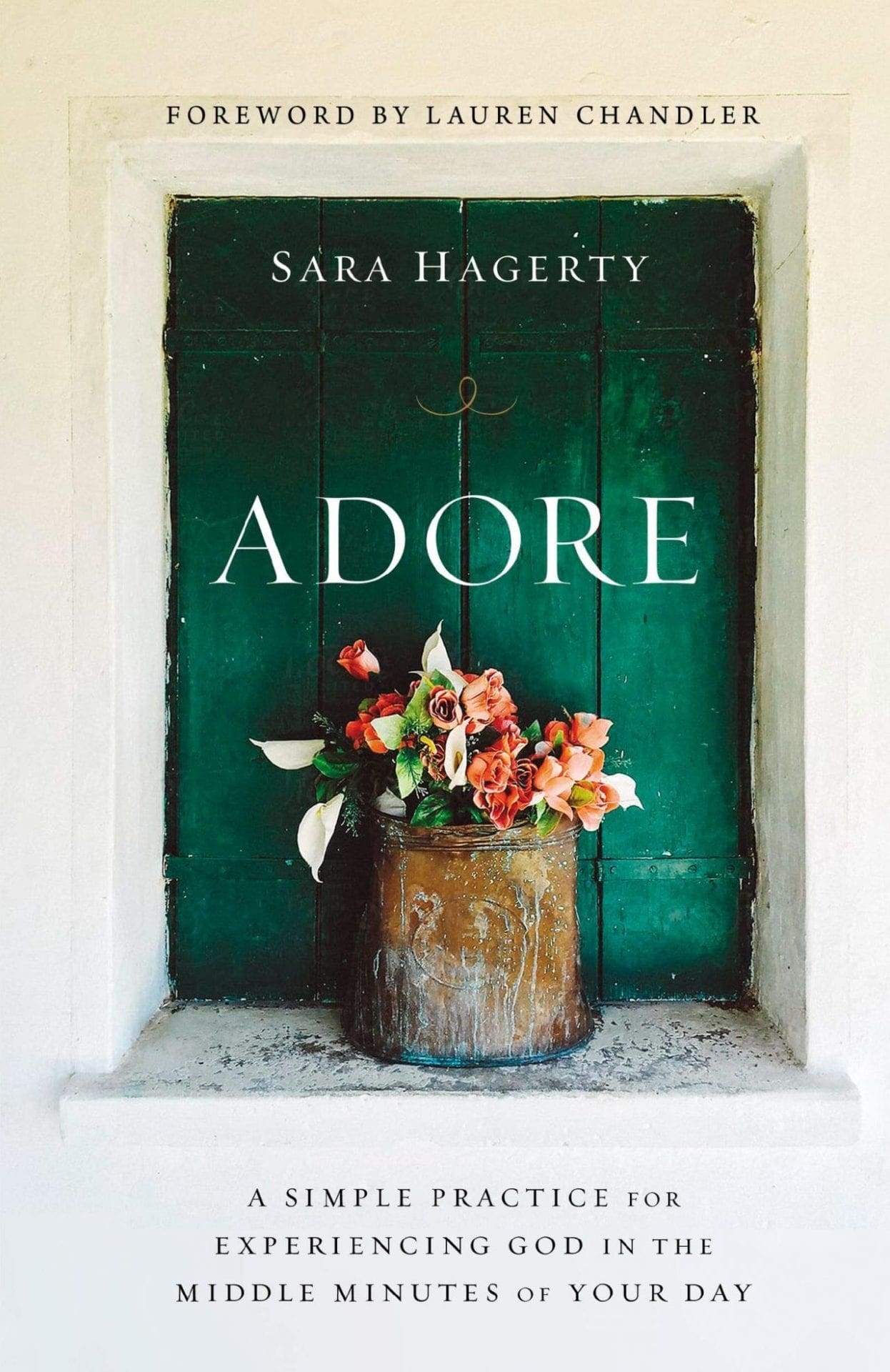 Excerpted from Adore: A Simple Practice for Experiencing God in the Middle Minutes of Your Day by Sara Hagerty. Copyright 2020 by Sara Hagerty. Used by permission of Zondervan.