I can't believe it's been 5 months since your Meemaw left this world. We're still clearing out her condo where the stored memories linger.
And among those are pictures…loads of them.
Pictures of friends, relatives, weddings, birthdays, Thanksgivings and Christmases past. A trip back in time to days forgotten. The good, the bad, and oh so ugly…
Pop-Pop loved to catch us in the worst possible moments and Meemaw kept them all to savor or perhaps for torture.
But the photos that burned my eyes and stirred my heart were the screen shots of my little men.
Toe-headed scoundrels playing in the mud with bare bodies and Sunday shoes.
Practicing future Olympians on a backyard swing set.
Little boys cuddled sweetly in Meemaw's lap after a nap.
I miss you.
And to be honest, when the normal busy of the day gets tucked away and I'm ready for sleep…sometimes my heart will ache with the miss.
It aches for tiny arms stretching around my neck to squeeze the ever lovin' life out of me.
It aches to hear chipmunk-like voices say, "Mommy, I love you more than anything in the world."
It aches for the heart to heart talks about problems only a mama can solve.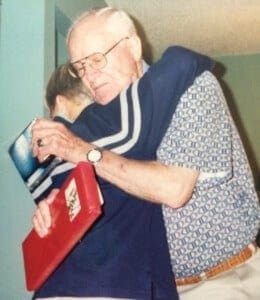 It aches for the excitement of new toys on a Christmas morning and a first time visit to Disney World.