It's that time of year again folks! With back-to-school in full swing, the pretty and posed portraits of each kid on their first day of school will be blowing up your newsfeed in no time.
Donning their best back-to-school outfit, kids line up on the front porch for mom to snap a picture and document the start of a new chapter.
For most, it's a bittersweet moment of celebrating a milestone and wishing time would slow down.
But for one Alabama mom, this year's back-to-school picture was a little less sentimental, and it's earning her ALL. THE. PRAISE.
Jena Willingham posed for a back-to-school photo with her kids before they set off for their first day of school.
Unlike your typical first day of school photo, Jena took the opportunity to show how she really felt about summer break coming to an end.
Grinning ear-to-ear, the mother of three can be seen relaxing in the pool with a drink in her hand, while 11-year-old Wrangler, 7-year-old Emmy, and 4-year-old Sykes appear to be less-than-impressed by their mom's celebration.
Jena says she's joked with her kids all summer about how excited she was to have a relaxing day to herself. With their return to school, that day has come.
"My kids have been fighting all summer, so I kept telling them I was counting down to the first day so I could have a pool day alone," she said. "Since my youngest was starting this year, it would be the first time in 11 years I didn't have a baby at home."
Before posting the photographic gem to Facebook, Jena texted it to her friend Paula, who replied she's sure it will get "200+ likes."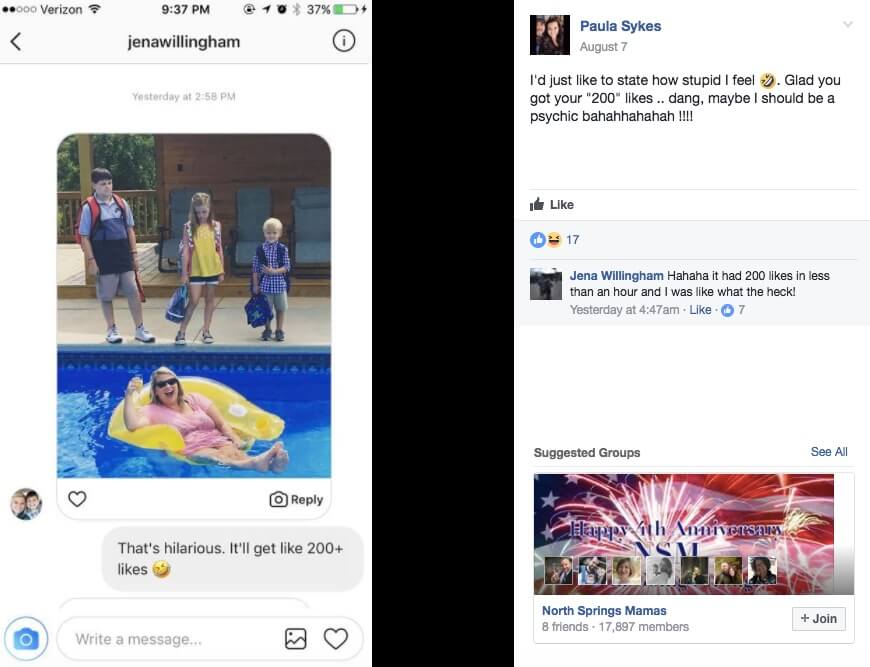 Well…7,000 likes and 18,000 shares later, both women are FLOORED by how far it's gone in just two days time—with media outlets like PEOPLE.com, Huffington Post and New York Daily News covering stories on the all-too-relatable viral picture.
Along with her photo, Jena wished everyone a "Happy First Day of School," which has now garnered nationwide attention.
As for this mama and her long-awaited freedom, it's safe to say we know where to find her on her days off—soaking up the sun poolside.