A Michigan woman is being hailed a hero this week after saving a group of girls from drowning in Lake Michigan.
Alyssa DeWitt packed up her three young children on May 25, and reluctantly headed to First Street Beach in Manistee, Michigan.
It was an "extremely windy" day, and Dewitt, who is five months pregnant with her fourth child says she had contemplated staying home, "but I really, really felt like I needed to go."
When the family arrived at the beach, Alyssa set them up on the emptier side—to the right of the pier.
"I've always taken them to the left, so I'm not sure why I chose that side that day. And I don't really think it was a coincidence that I did," she told FOX 32 Chicago.
About 20-30 minutes, DeWitt said she noticed a group of girls wading into the water nearby. The wind was wild and the waves were rough that day, and it wasn't long before DeWitt saw a pair of arms waving frantically towards her from the water.
"[The] group of kids were getting pulled out into the lake and slammed against the pier wall," DeWitt wrote in a Facebook post. "They could barely keep their heads above water. They were literally drowning in front of my eyes and there was not one person on that side of the beach I could scream to for help. It was empty."
Fight or flight kicked in and DeWitt immediately sprung into action, pulling her own children — ages 6, 3, and 2 — out of the water and telling them to wait there on the sand, she darted to the edge of the pier and dialed 911.
But between the waves crashing and the wind howling, DeWitt says she couldn't hardly hear the dispatcher. The best she could do was scream her location and say that kids were drowning.
"I just prayed they could hear me screaming for help," she wrote in her post.
With 911 still on the line, she set her phone down and laid on her pregnant stomach along the edge of the pier to try and pull the three girls up to safety.
"One of those girls looked at me with so much fear in her eyes and told me she was going to die," she explained. "I looked at her and said, 'I'm not going to let you die. I'm going to get you out of this water, I promise.'"
"Then the adrenaline kicked into high gear and somehow, I did it," she wrote. "I pulled them up the pier wall, with the waves slamming into me and throwing the kids all over the place, pulling with all my might on wet slippery hands, and almost going over the edge myself a few times," she added.
DeWitt was able to pull all three girls over the pier wall, while a fourth girl was able to make her way in enough for DeWitt to help her from the shore.
Emergency crews arrived as soon as the group made it onto the sand. Each of the girls suffered minor injuries—mostly scrapes and bruises. DeWitt and her unborn baby were checked out and are doing okay.
Through the whole ordeal, DeWitt says she's grateful for how her own children handled the rescue, by keeping each other safe on the shore.
"At the end of the pier watching, my 2-year-old was pretty freaked out and he kept trying to run out onto the pier to me," she told FOX 32 Chicago. "My 6-year-old would just pick him up and take him back to the sand for me. She stayed really calm. I was super proud of her."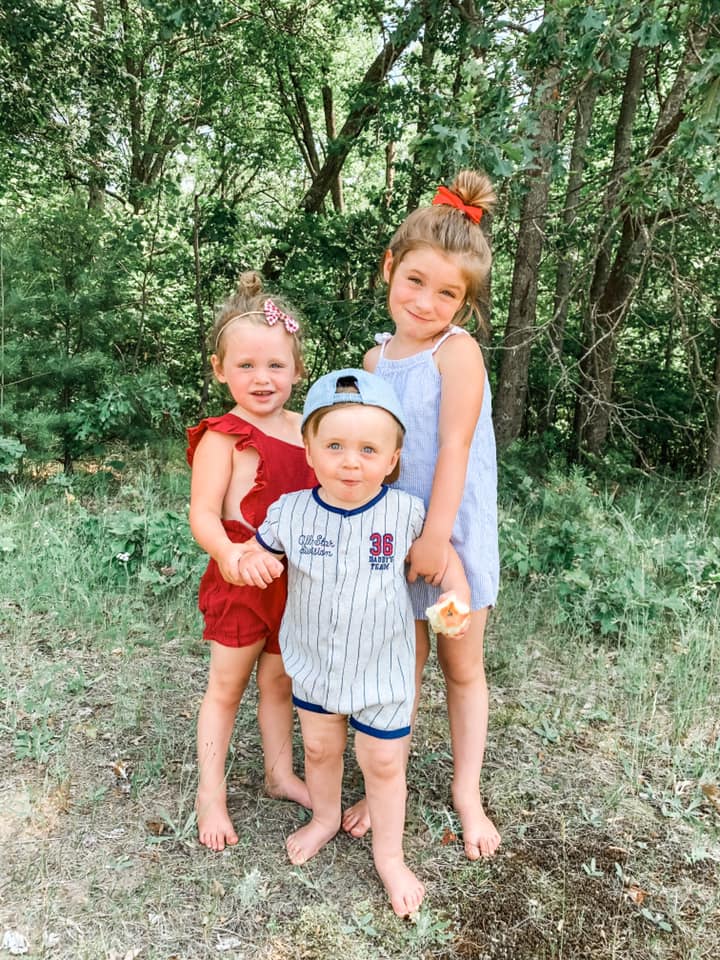 DeWitt says it's not lost on her "all the different ways that it could have gone," including if she too had gotten pulled over the edge into the water with her kids still on the beach — one of many scenarios that are "terrifying" to think about.
She ended her Facebook post with a plea for parents to stress the importance of water safety with their kids.
"You never expect to find yourself in that situation…but it can happen so fast. It's not worth the risk, it's just not."
"I'm loving my babies a little harder tonight, I'm sure those parents are too," DeWitt wrote. "God is good."
On Friday, DeWitt was recognized for her heroic actions at City Hall, where she received a Citizen Heroism Award and plaque. She was also nominated as Water Safety Hero of the Month.