Few of us young parents can imagine raising our children without the spouse we created them with. When we say "I do," we typically believe we are going to grow old with that person…so when a spouse dies young, whether through a long illness or sudden tragedy, it's always surreal.
No one knows that better than Steve Ullmer, Wisconsin dad of four and husband to high school sweetheart Wendy. She was his rock, who had stuck with him even as he "nearly destroyed my life with alcohol and drugs," he says, before he find Christ at age 22. They married one year after he was saved, and had four boys. One morning thirteen years into their marriage, Ullmer woke to his wife making a strange noise while breathing. His perfectly healthy wife was having a heart attack at age 36.
In an essay he wrote for the website Love What Matters, Ullmer says:
"I called 9-1-1. No pulse. Her breathing had stopped. I performed CPR until help arrived. Sheriffs, EMTs, a whole team of strangers in my bedroom doing everything they could to save her. Nothing was working. I saw the looks on their faces. I could feel her slipping away, and I was struggling to hold it together. They took her to the hospital where they were somehow able to restart her heart, but only for matter of hours, she never regained consciousness. On the morning of March 17, 2017, her heart gave out for the last time. She was gone."
When he had to tell his boys that their mama wasn't coming home, he says, "I broke. They had no idea how bad it was. I knew I was about to shatter their hearts, all four of my sons. They would never be the same, nothing would ever be the same. Everything was changing."
In the hazy aftermath of Wendy's death, as he was mired in a fog of painful grief while trying to parent their boys, Ullmer received hundreds of condolence messages from friends, family, and even perfect strangers in his Menasha, Wisconsin community.
But one message, he says, "stopped me cold." He goes on to say that it wasn't the message that stopped him, but the person's name attached to it. The person who sent it had, he says, "a story so heavy, so dark, it was hard to believe she actually lived it."
Her name was Erin Stoffel.
As Steve Ullmer went on to explain what was so dark about the story Erin Stoffel had lived, I began to recognize he details. Because although everyone in their community knew what had happened to Erin Stoffel and her family, it also made national and even worldwide headlines. Jon and Erin Stoffel were devout Christians and had been married for 13 years. They had three kids: Olivia, 11, Selah, 5, and Ezra 9. Ullmer details the tragedy that randomly befell him in his essay:
"May 3, 2015, was one of those beautiful spring days that begs to be enjoyed outside, after the long, bleak winter. Jon, Erin and their three children went for a walk along the newly-constructed Trestle Trail Bridge, a 1600-foot pedestrian bridge located in Menasha, Wisconsin. As they approached the red pavilion at the midpoint of the bridge, there was a man standing next to another man who was slumped over on a bench. Jon approached the man, trying to assess the situation.
Death was upon them.
Without warning, the man pulled out a 9mm pistol and shot Jon point blank in the chest. He then turned the gun on Erin and 11-year-old Olivia, shooting each of them once. All three went to the ground. Erin's 5-year-old daughter Selah stood frozen next to her."
Erin was shot two more times as she fled with Selah and Ezra. Her husband Jon and daughter Olivia were dead. The gunman then shot himself. He did not know any of the victims, including the first man he shot. His intentions, Ullmer says, "were to take lives indiscriminately, the last one being his own."
Erin was badly wounded, but recovered from her physical injuries, and with God's help, began to face a life without her husband and daughter. Because of her faith in Christ and the support of her community, she was able on that day, two years later, to reach out to Steve Ullmer in his time of grief and encourage him that he could go on, too. Her words, he said, brought him hope. After all, her husband and child were murdered. If she could forgive, which was her husband's last wish, and go on, then he could go on without Wendy, too.
Steve and Erin kept communicating and encouraging one another via text, and then, a month later they met at a Christian music festival. Then, their kids met and totally bonded…and after that, it didn't take too long for them to realize they were meant to pick up their lives and go on together...with Christ and their kids.
Ullmer says:
"Erin and I were married on June 28, 2018, one year after she reached out to me with a simple text. Every day we embrace the chaos that comes with a blended family of 8. It's beautiful, it's messy, it's amazing, it's hard. It's life. Grief will always be a part of our story, but it doesn't define us. It can drive you in 1,000 different directions, down 1,000 different roads – most of them toxic. The temptation to give in to bitterness, regret, and isolation is strong because so often, it's the easier choice. Instead, Erin has taught me how to be open and honest with grief. She taught me to embrace the moments of joy when they come, to embrace the tears when they come, and they do still come. We have chosen to live with gratitude for the loved ones we lost, for the years we were gifted with them, and towards a God who made a way for us to see them again."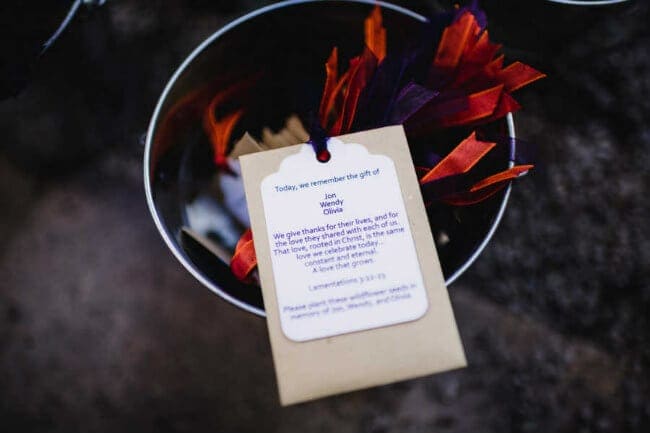 One thing the Ullmers want to make clear is that just because they've found love again after tragedy doesn't mean they are "ok." Rather, Ullmer says, "We are not okay because we found each other. We are okay because we know Him. There are things we just won't understand in this life, but we have to continue to trust that God is good – even when our world is falling apart. "
Beauty from ashes, and the hope of seeing loved ones again in heaven. This is truly only a story God could write, and re-write. Congratulations to the Ullmers, and may you carry their story of hope with you today.