Photo: Whitney Meyer – Son Pravyn, who passed away at age 2 in 2014, has been placed in this family picture.
Although the girls' appearance is certainly startling for twins, in reality, science says our appearance is just a tiny, tiny sliver of the DNA that makes us all who we are. Dr. Bryce Mendelsohn, a medical geneticist at the University of California, San Francisco, verifies this, saying, "A lot of times we only focus on the things our eyes can see, but what we see is a tiny tip of the iceberg of the actual genetic diversity in everyone."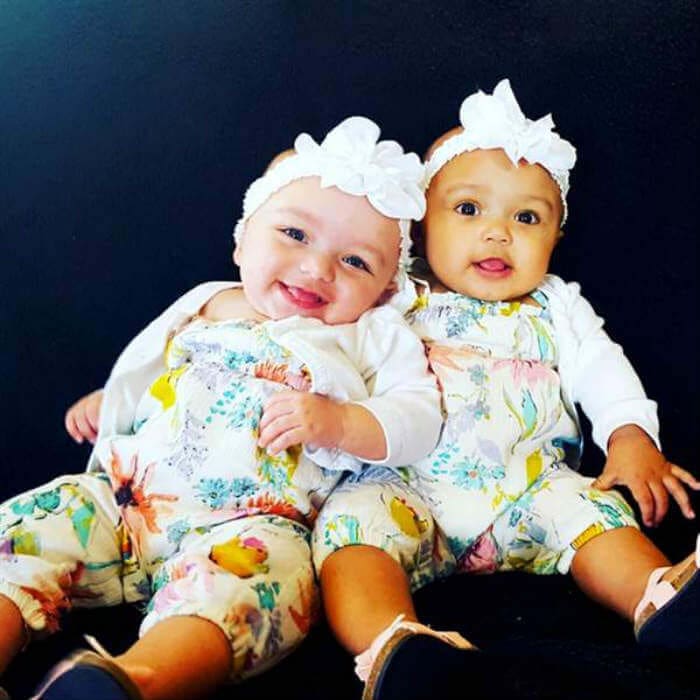 Photo: Whitney Meyer
Kalani and Jarani's dad certainly agrees. He says he understands why people are so bowled over by his daughters' looks, but he hopes they will also take the time to recognize them for SO much more. "I hope that a lot of people can see that color really isn't a big thing. What's important is love," he said. "Mysterious things can happen and life is a blessing."
Thanks for sharing your beautiful family AND message of love with us, Meyer-Dean family! We hope this special girls truly do change the world and how people see color!
(Editor's note: this is the second story of parents having twins after the loss of a child that I've written in two days.  How AMAZING is that??)