There are few things more humbling and heartbreaking than my two and a half year old looking sadly at me and saying, "You're not being very kind to me, mommy" when my frustration rises and my tone shifts into a yell.
I've only heard it once. But that comment was enough to shift something huge in my heart. A piece of me is thankful that he knows and understands what kind is. But the other piece of me knows how important it is to be the example of kind that he needs for me to be.
And I know very well that that example doesn't begin with a yelling mom or expressing my anger without restraint.
I recently watched the movie Wonder and it left me with a deep longing in my heart for my boys to love others with intention. I don't ever want my sons to be bullies; I want them to be the ones who protect kids from bullies.
I pray for my boys to be the kids who go out of their way to sit with the other kid who eats lunch alone at school.
I pray that they'll forgive quickly when they are wronged.
I pray that they will be inclusive and impartial with all people, no matter what shape, size or color they may be.
But all of this? It begins with me.
Kindness begins with the parents. We spend so much time with them, don't we? For most of them, we are their entire world. They watch us and see us in our day-to-day lives.
They see how we speak to our spouses. They hear when we have sharp tongues, irritated tones or passive-aggressive comments.
They see how we react to bad drivers and hear the frustration (and sometimes pure anger) that flows from our mouths.
They see if, and how, we respond with love to those who are hurting or in need.
They see our lack of self-control as we yell at the top of our lungs when they have a temper tantrum or act out in disobedience.
We think it slips past them.
We assume that they aren't really paying attention.
But they are very likely soaking in every word.
By our actions as parents, we're showing our kids who to be every time they step outside of our front door.
Those words spoken by my son, calling me out on my lack of kindness, led me to conviction and repentance faster than I could blink. When we fail at being kind, we have to be willing to acknowledge it. We have to set the example. We must humble ourselves, even before our kids.
"…do not provoke your children to anger, but bring them up in the discipline and instruction of the Lord." Eph. 6:4
So in that moment when he reminded me of my lack of kindness, I got on my son's level. I looked him in the eyes as I always try and do and I gently asked him to look back at me.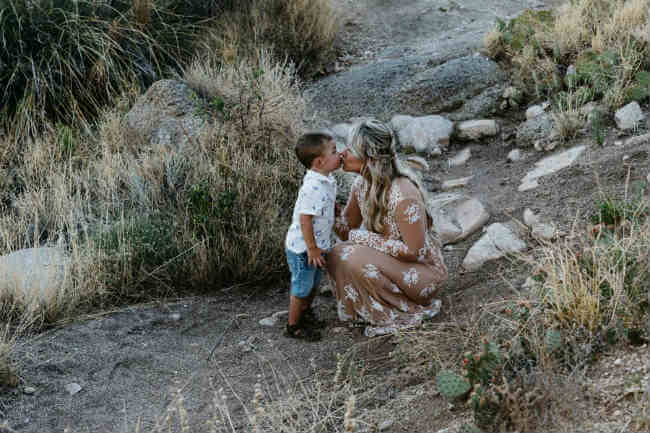 I reminded him of how much I loved him and I asked him to forgive me. I apologized for my frustration and my tone of voice.
I explained to him that, while discipline is necessary for growth and correction, the way that I approached that discipline was not gentle, it was not loving and it was not helpful.
Our kids rarely hear our words when we raise our voices. They often only hear the way that we say them. Yelling tends to bring sadness and frustration instead of growth.
So, despite how challenging it may be at times, I will continue to ask for his forgiveness – every single time I yell or react poorly.
It reminds both him and I that when we make mistakes, we are not defeated. God's grace is always greater than our sin and we have the opportunity to begin again.