Photo: Kimberly Gager
Kimberly Gager doesn't have any babies. but her garage is currently chock full of diapers and wipes as far as the eye can see. You see, Gager is a self-admitted "coupon addict"—but she's not buying stuff she doesn't need just because it's cheap. This Texan is putting her mad coupon skills to good use for her state-mates affected by Hurricane Harvey who have lost everything and are now desperate for the most basic of supplies.
Gager saw a plea for supplies on social media and kicked her couponing into HIGH gear, saying "I can do that!"
She told ABC News of the baby coupons she usually throws away, "I said, you know what? I can put these coupons to good use. I don't have babies, so I usually throw those away. But I can go buy this stuff for them and put it to good use."
And put them to good use she has, helping over 30 families and individuals so far with the array of paper products, shampoo, deodorant, diapers, and more in her stash. Gager said she was inspired to help because in 1999, she lost her home and all her possessions from flooding due to Hurricane Floyd in Newport News, Virginia."It was horrific. I lost everything in the flood," she says. She is now helping regular people like her, like you and me—and like mom of 5 Bridget Martinez.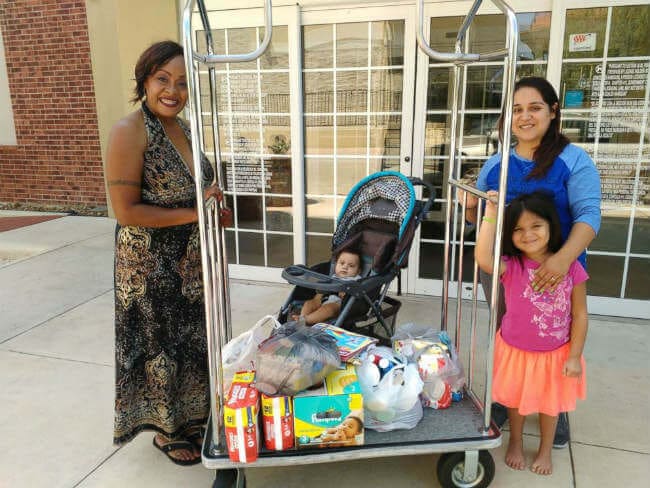 Photo: Bridget Martinez
Martinez's entire roof caved in, and she and her family are living in a hotel. Her husband has returned to work, but their home is not habitable, and FEMA has given them only 2 weeks worth of money for the hotel. So Gager's donations of diapers, wipes, and hygiene supplies for a family of seven mean a LOT.  Martinez says she is bowled over by Gager's kindness and how quickly she came to her aid.
"I looked her up on Facebook, sent her a message this morning, and she responded right away. Two hours later, here she is," Martinez, told ABC News ."I am very grateful. These are necessities that we don't have the cash for right now. I've gone to a church for help but we didn't get as much there as she's helping us. I hope God blesses her in every way possible,"she added. "This is awesome."