Whether you grew up watching Star Wars or have never seen an episode in your life, everyone across several generations can share in the themes, characters and Star Wars quotes laid in the foundation of the wildly popular films. You don't have to know a thing about the saga to know characters like Darth Vader, Luke Skywalker, Princess Leia, R2D2, and Yoda.
George Lucas has created arguably, the most successful cinematic empire of all time, and one thing I especially appreciate about the films is how closely some of the most famous Star Wars one-liners, echo scripture.
On this 'May the fourth' day, we recognize the Star Wars quotes that can be backed by scripture. Because sometimes the simplest statement can have a lasting impression.
Here are 10 Star Wars Quotes that are Backed by Scripture
1. "Do. Or do not. There is no try."
In the wise words of Yoda, this small dose of tough love is the perfect quip for when someone needs an extra boost of motivation. It also echoes this verse we see in Revelation: "'I know your works: you are neither cold nor hot. Would that you were either cold or hot! So, because you are lukewarm, and neither hot nor cold, I will spit you out of my mouth." (Revelation 3:15-16)
2. "Your eyes can deceive you. Don't trust them."
Obi-Wan Kenobi's voice of reason is one for pretty much any circumstance. On the more serious end of the spectrum, this short but sweet advice could be used to steer someone away from lustful desires, or false intent. On the more day-to-day end of things, this Star Wars quote echoes what my mother always said when we attended a potluck: "your eyes are bigger than your stomach."
However you may take it, this is one of the Star Wars Quotes that, I think, 1 John 2:16 sums it up pretty nicely: "For all that is in the world—the desires of the flesh and the desires of the eyes and pride in possessions—is not from the Father but is from the world."
3. "The ability to speak does not make you intelligent."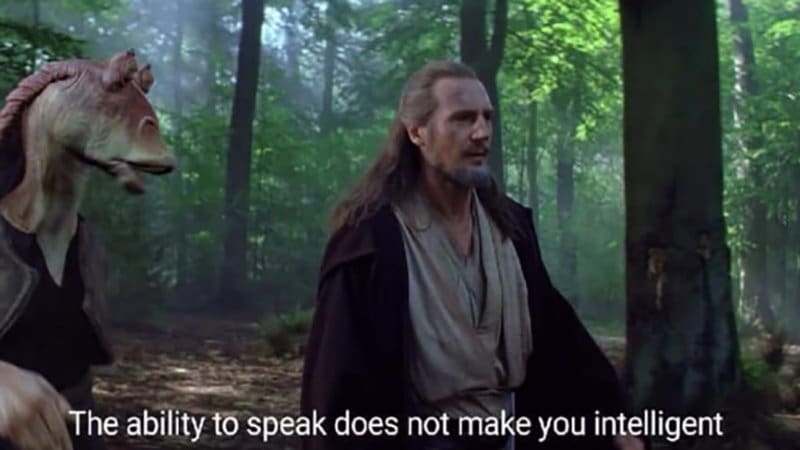 Boy isn't that the truth! Qui-Gon Jinn was definitely onto something here. Some may call it wisdom, others might call it common sense. Whatever the case, this is one of the Star Wars quotes that rings true of several scriptural references. Just flip through the book of Proverbs if you don't believe me!
"Do not let any unwholesome talk come out of your mouths, but only what is helpful for building others up according to their needs, that it may benefit those who listen." (Ephesians 4:29)
"The soothing tongue is a tree of life, but a perverse tongue crushes the spirit." (Proverbs 15:4)  
"What goes into someone's mouth does not defile them, but what comes out of their mouth, that is what defiles them." (Matthew 15:11)
4. "Fear leads to anger. Anger leads to hate. Hate leads to suffering."
Yoda's words of wisdom are perfect for when you find yourself falling into a trap of fear, anger or hatred. Often, these emotions are rooted in faulty communication. Remember the wise words of Yoda, and when in doubt, flip to Proverbs 10:12: "Hatred stirs up conflict, but love covers over all wrongs."
5. "Sometimes we must let go of our pride and do what is requested of us."
I don't recommend using this one on your wife when it's time to make dinner, but Padme's advice holds truths of sacrifice, humility, and submission that are supported by faith and scripture.
"Where there is strife, there is pride, but wisdom is found in those who take advice." (Proverbs 13:10)
"Do nothing out of selfish ambition or vain conceit. Rather, in humility value others above yourselves, not looking to your own interests but each of you to the interests of the others." (Philippians 2:3-4)