Now that school is back in full swing, schedules are a little tighter.
Child A has soccer practice after school while Child B has dance rehearsal on the other side of town, and Child C is just along for the ride. But with all of the craziness that the new school year brings, there's no better time to turn to crock pot recipes.
Despite the faulty one that started a fire and killed America's favorite dad, Jack Pearson on This is Us, I absolutely LOVE my crock pot.
Whether you're cooking for 2 or 20, there's no easier way to whip up a wholesome meal than to dump everything into a ceramic heating dish in the morning, and let time work its magic.
Crock pot recipes are also super easy to shop for. You don't have to think much in advance to pick up a few staple items and voila, you have just what you need to have dinner ready tonight.
So skip the drive-thru this week, and try some of these 10 crock pot recipes with your tribe.
Pro tip: Don't start any of these crock pot recipes without stocking up on these gems: Reynolds Slow Cooker Liners.
1. Slow Cooker Meatball Subs
Courtesy of rickontherocks.com
This is one of those crock pot recipes you can do well or you can do fast. If you have the time to do it well, you'll need:
1 1/2 pounds of ground chuck
1 beaten egg
2 tablespoons of parsley
1 tablespoon of garlic
1 1/4 cup of Italian style bread crumbs.
Combine together in a bowl, and use mixture to form 20-26 handmade meatballs.
For the lazy moms like myself who need to do it fast: Buy frozen meatballs.
Mix up the following sauce mixture in the crock pot, then add your meatballs:
1-28oz can of Hunts crushed tomatoes with basil
1 small can of Hunts tomato paste
1/4 cup of olive oil
Salt & pepper to taste
2 tablespoons of minced garlic
You'll also need a bag of mozzarella cheese—but that comes later.
Cook on LOW for 4-6 hours.
When you get home from football practice, or band rehearsal, simply arrange desired number of meatballs on a kaiser roll and top with extra sauce and mozzarella cheese.
2. Crock Pot Cheesey Chicken & Rice Casserole
Courtesy of recipesthatcrock.com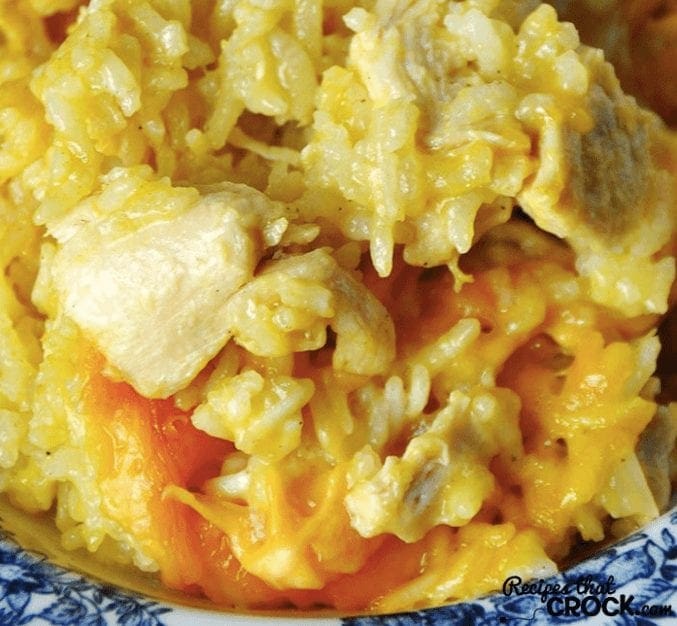 Can anyone resist cheesey goodness? I think not! Especially when it only takes four minutes to throw together!
1 cup long grain long cooking rice (NOT fast-cooking or minute rice!)
10.5 oz can Cheddar cheese soup
10.5 oz can cream of chicken soup
1/4 cup chicken broth
4 cups cooked chicken cubed
1/2 cup milk
1/4 cup butter sliced
1/2 cup onion chopped
salt and pepper to taste
1 cup shredded Cheddar cheese
In a large bowl, mix together your rice, soups, broth and chicken. Add in your milk, butter and onion and stir well. Sprinkle with salt and pepper and then pread your mixture into your crock pot. Sprinkle Cheddar cheese all over the top.
This recipe comes from Aunt Lou at recipesthatcrock.com, who recommends cooking this casserole on LOW for 3 to 4 hours. She says keeping an eye on your casserole the first time you make it is a good idea because every crock to is different and you may need to cook it a little longer.
3. Crock Pot Baked Ziti
Courtesy of buildyourbite.com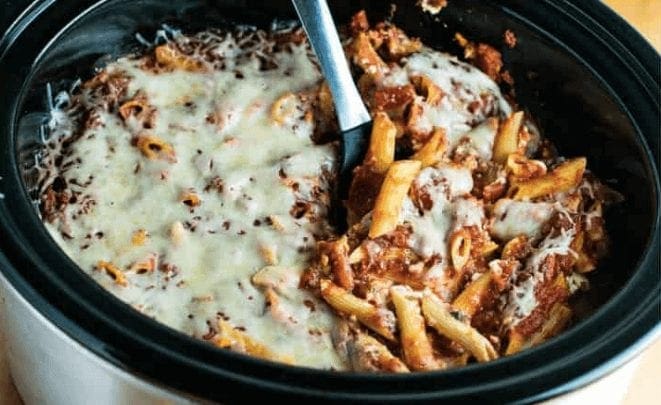 Get your mid-week Italian fix with this super easy slow cooker recipe that cooks the noodles FOR YOU! Can I get an amen?

2 (25 ounce) jars of pasta sauce
15 oz tomato sauce
1 pound UNCOOKED penne pasta
15 oz ricotta cheese
2 eggs
1/3 cup freshly chopped basil
2 cups of freshly grated parmesan cheese
1 cup grated Asiago cheese (or use shredded mozzarella)
Start by combining ricotta, eggs and basil in a bowl until it becomes a consistent mixture. Then, in a separate large bowl, combine both pasta sauces and your tomato sauce and mix well.
This crock pot recipe calls for some layering—four parts, three times. Begin by adding 2 1/3 cup of sauce to the bottom of the crock. Add 1/3 of the uncooked pasta, dollop on half of the ricotta mixture and spread evenly. Then add half of the parmesan cheese (1 cup).
Do this step over one more time to create your second layer, then top it off with the final 1/3 of uncooked pasta and remaining sauce mixture.
Cover and cook on HIGH for 2-3 hours. Serve with melted asiago or mozzarella across the top.
4. Creamy Crock Pot White Chicken Chili
Courtesy of thechunkychef.com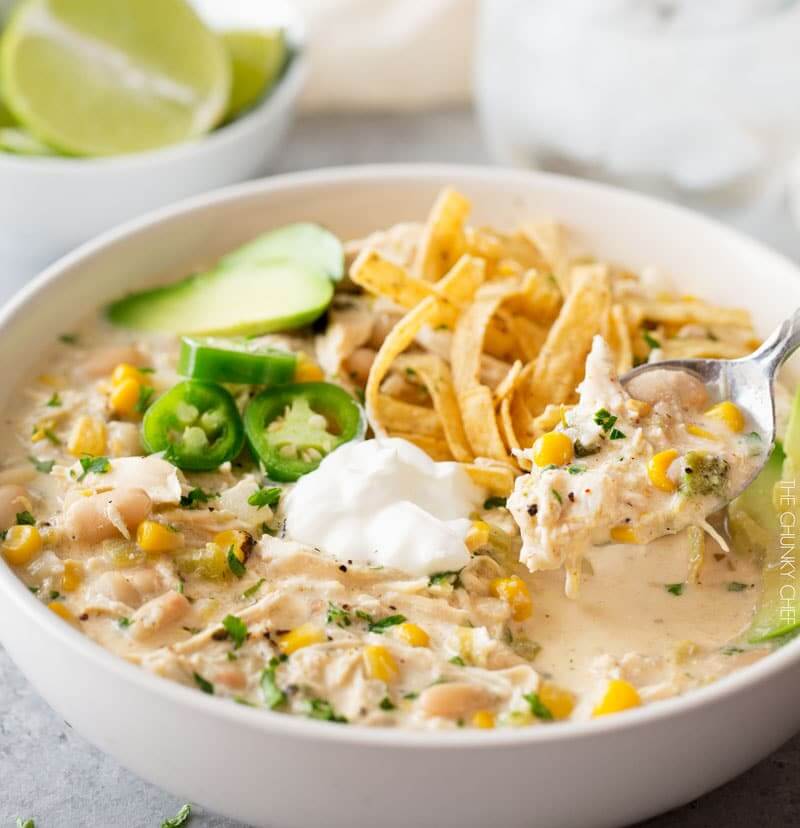 With football season in full swing, there's no better quick and hearty bite than a hot bowl of chili! White chicken chili is my personal favorite. My husband is an avid hunter, and we'll often swap out chicken for pheasants during the thick of hunting season.
Here's what you'll need:
1 lb boneless skinless chicken breasts trimmed of excess fat
1 yellow onion diced
2 cloves garlic minced
24 oz. chicken broth (low sodium)
2 15oz cans great Northern beans drained and rinsed
2 4oz cans diced green chiles (I do one hot, one mild)
1 15oz can whole kernel corn drained
small handful fresh cilantro chopped
4 oz reduced fat cream cheese softened
1/4 cup half and half
You'll also need some spices:
1 tsp salt
1/2 tsp black pepper
1 tsp cumin
3/4 tsp oregano
1/2 tsp chili powder
1/4 tsp cayenne pepper
Start by placing your chicken breasts on the bottom of your slow cooker and topping them with your spice mixture. Add in diced onion, minced garlic, great northern beans, green chiles, corn, chicken broth and cilantro.
Cover and cook on low while you're at work for 8 hours or on HIGH for 3-4 hours. Shred chicken, add cream cheese and half and half, then cover and cook for remaining 15 minutes.
Serve with desired toppings. I recommend shredded cheese, sour cream, jalepenos, tortilla chips or strips, or sliced avocado.
5. Seasoned Chicken, Potatoes + Green Beans
Courtesy of themagicalslowcooker.com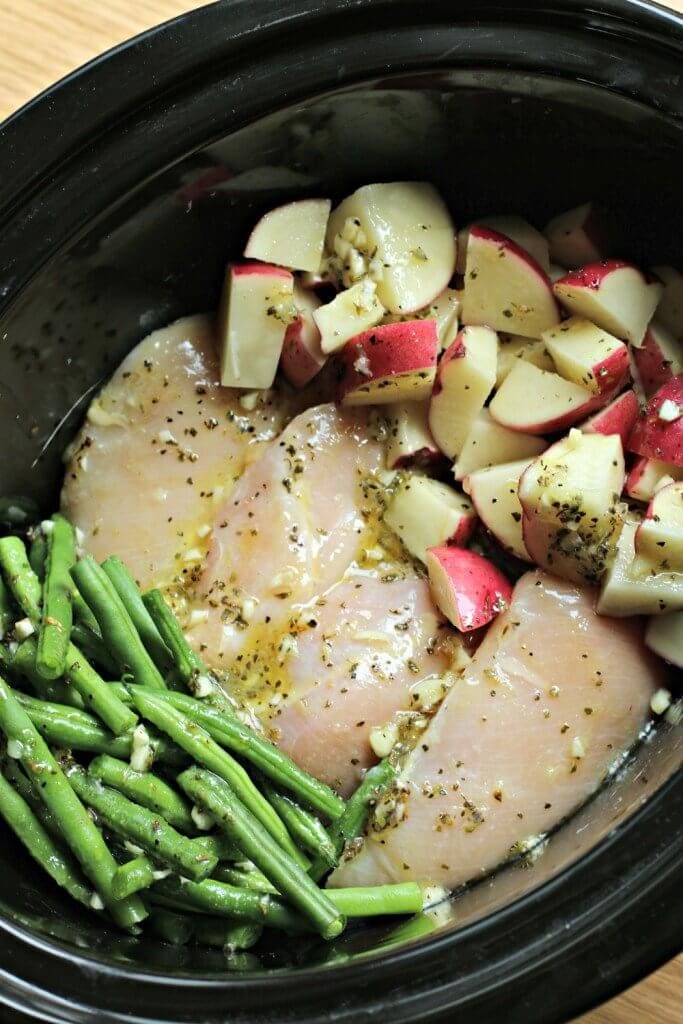 This wholesome crock pot recipe has everything you need for a balanced meal. You've got your meat: chicken, your carbs: potatoes, and your greens!
1.5- 2lbs Boneless Skinless Chicken Breasts
½ lb. fresh green beans, trimmed (about 2.5 cups)
1.25 lb. diced red potatoes (about 4 cups)

⅓

cup FRESH lemon juice
¼ cup olive oil
1 tsp. dried oregano
1 tsp. salt
¼ tsp. pepper
¼ tsp. onion powder
2 garlic cloves, minced
Start by arranging your chicken breasts in the center of your slow cooker, then adding the potatoes and green beans to either side. In a medium sized bowl, whisk together the lemon juice, olive oil, oregano, salt, pepper, onion powder and garlic cloves. Pour this mixture evenly over the chicken, green beans and potatoes. Cover and cook on HIGH for 4 hours, without opening the lid during the cooking time.
Sarah Olson is the author of this crock pot recipe, and she HIGHLY recommends NOT opting for bottled lemon juice if you want this meal to taste good.