It's that time of year again, folks! Summer is winding down, and back-to-school shopping is well underway! Pencils and clothing are always a must, but there's only one item that every parent needs on their back to school list this year, and it's the bento box.
A traditional Japanese style of home-packed meals, the bento box is all the rage thanks to it's ingenious organization, which makes packing, eating, and storing SO easy!!
If you're familiar at all with the bento box craze, or even if you do a quick search on Pinterest, the CREATIVITY can be overwhelming…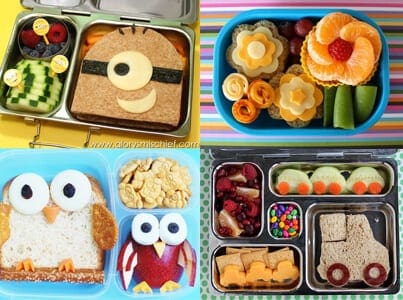 Let's just say, we know whose kids will be ace-ing art class this year.
You don't have to be a master of creative foods to pack healthy and delicious lunches easier and quicker than ever with a bento box.
Kiss Ziplock baggies goodbye, and kick this school year off right with these expert-inspired bento box lunch ideas that'll make back to school a breeze!
This awesome set is sold on Amazon for just $18.99, and Prime members get free 2-day shipping. PLUS, it comes with this super cute sandwich cutter, and an easy-to-use spoon/fork/knife combo. Then put your new bento boxes to good use with these super simple bento box lunch ideas.
Check out these expert-inspired Bento Box lunch ideas for back-to-school.
Health nut and Foodie Vlogger, Alyssia Sheikh, has generated an entire YouTube audience around easy-to-make bento box recipes and meal prep ideas. With over 700,000 subscribers, I turned to her for some back-to-school bento box inspiration.
All of Alyssia's bento box lunches are made up of six core items:
Main or protein
Fruit
Starch or grain
Vegetable
Snack
Sweet Treat
You can always add, subtract, modify, or completely reinvent anything that goes into your bento box. The idea is to make meal prep a healthy, easy thing to do that saves you time and hassle in the long run.
In this particular video, Alyssia features three different lunch combinations that are totally different from your average PB&J with Cheetos.