I think it's time I confess my not-so-secret obsession with my Costco Membership.
Whether I'm planning a party, feeding a soccer team, hosting a church event, marrying one of my friends off, or in need of practically anything from clothing to cell phone plans to auto insurance, Costco is my number one go-to.
At just $60 annually, a Costco membership is easily the best investment you'll make all year.
Check out these 18 Ways to Get the Most out of Your Costco Membership.
And join the club today! You'll be glad you did!
1. Look for deals on a Costco membership
$60 isn't an unbearable amount—especially when you consider just how much you'll save in a year with a Costco membership. Still, what's better than getting great deals at Costco? How about getting a great deal on your Costco membership?!
If you're a Frugal Fred like me, you know that Groupon and Living Social are two of the best ways to save money. In several markets, you can buy a Costco membership on Groupon or Living Social and earn yourself some added perks—like a $20 Cash Card at enrollment, and coupons for freebies.
2. Try before you buy
This goes without saying for the countless food you can sample throughout the store, but did you know you can try Costco before ever buying a Costco Membership? Costco Cash Cards can be used by anyone—members or not. If you're not totally sold on the box store after reading this post, have a friend with a Costco membership buy you a cash card to give it a try!
3. The Coupon Book is just for looks
But it's jam PACKED with Costco membership deals. The warehouse club store releases a bi-weekly "coupon book" containing all of the weeks' best deals. It features everything from your favorite chips to electronics.
Here's the kicker: You don't need the coupon book to get the deal. It's purely for looks—to help you price shop and be in-the-know about markdowns and items that are buy one, get one free.
4. Know how to read the signs and spot a deal
With a Costco Membership, you're already getting a great deal on just about anything that you buy. But there are a few tricks to the trade that can do one even better. Standard Costco pricing ends in either .49 or .99, while other items ending with 9 cents are specially priced by the manufacturer (.59, .69, .79).
Best of all, a product priced with .00 or .88 is on closeout meaning, you're getting the absolute best deal because the store is trying to clear out inventory.
5. Price drops = cash back
If you bought something at Costco last week, and this week it's lower in price, bring back your receipt and Costco will refund you the difference. Most managers will allow you to do this within 30 days of your purchase.
6. Treat the family to lunch
Kill two birds with one stone on Sunday after church. Feed the family for CHEAP, and get all of your grocery shopping out of the way. The Costco food court is your one-stop shop for pizza (sold whole and by the slice), wraps, salads, hot dogs and polish sausages, frozen yogurt and an ice cold Pepsi. A hot dog and a drink costs just $1.50! You can feed your entire family for less than $10.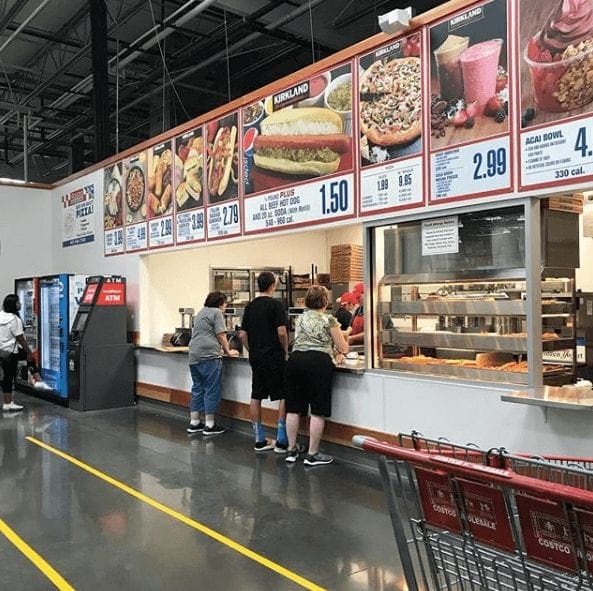 7. Don't miss out on *seasonal items 
We already talked about how to read Costco signs (#4), but it's not just about the numbers. Seasonal items will have an asterisk (*) on the sign, and Costco employees will be the first to tell you, don't wait to buy these items.
"Buy seasonal items when you can," one employee says. "When they're gone, they're gone."
8. Costco Brand = The BEST brand
Kirkland Signature is Costco's private label. Named after the company's former headquarters in Kirkland, Washington, the house products are often distributed by the same manufacturer as the name brand product. Costco CEO, W. Craig Jelinek, says the chain strives to make Kirkland products "equal to or better than" brand name products.
9. Costco deals aren't limited to the store
Costco is a massive warehouse box store. But like anything that's confined to a certain amount of space, the stores can only carry and display so many products. Their website however, is like an untapped GOLD MINE. Buy everything from $25,000 engagement rings to coffins and caskets from the convenience of your own home! Costco sells cars, vacations, auto insurance, and SO MUCH MORE.
"The deals are amazing," a Costco employee of four years explains. "Always think Costco first. From auto insurance, travel, mortgages, return policy, warranties — if you can get it through Costco, you absolutely should."
10. Fill your closet
Whether you're looking for name brand Levi jeans, or in need of some seriously GLORIOUS new yoga pants, your Costco membership has got you covered. Some of my favorite clothing items and shoes over the years have been picked up at Costco, and you would not believe how many people are BLOWN AWAY when they find out where my super trendy top is from.
Just last month, I bought a pair of yoga pants made from material that rivals those from Lululemon. Y'all, they were just $12.79. I loved them so much, I went back and bought two more pairs.