A 12-year-old girl from Wasilla, Alaska is being hailed a hero this week after a trip to Target with her mom turned into a scary feat.
Melaniah Andrade says her mother, Nicole Johnson, wasn't quite herself on the evening of September 29th. As the two strolled the isles of their local Target, the 12-year-old noticed some strange behaviors in her mom.
"She kept picking up random things like a knife set and putting them in the cart," Melaniah told Yahoo Lifestyle. "I kept asking her why and she wouldn't tell me."
As they left the store, Melaniah was growing more and more concerned. Walking through the parking lot, the tween says her mom "kept staring at nothing and wasn't really talking to me."
They didn't know it at the time, but Nicole was having an "absence seizure," which, according to the Mayo Clinic, involves "brief, sudden lapses of consciousness."
The 42-year-old single mom says she doesn't recall what happened after they got into the car.
"I was on autopilot and not processing anything," she said.
Nicole attributes the seizure to breast cancer, which she was diagnosed with 9 years ago, and has since metastasized in her brain.
After pulling out of the parking lot, Melaniah says Nicole fluctuated between speeds of 60 and 20 mph. When she began calling her own daughter "mom," Melaniah called 911.
As instructed by the operator, Melaniah turned on the hazard lights as her mom turned down a dead-end street, accelerating toward a tree.
When the car hit a patch of grass, the tween removed her mother's foot from the pedal, placed the car in park and removed the keys from the ignition.
Rescue workers and state troopers arrived at the scene and Nicole was hospitalized for three nights following the seizure.
"When I heard the 911 recording, I grasped how amazing Melaniah was in the situation," the mom told Yahoo Lifestyle. "I also felt guilty."
The following week, Melaniah was recognized by Alaska State Troopers with a Heroism Award for her "outstanding efforts…in which you called 911 for a medical emergency while remaining calm."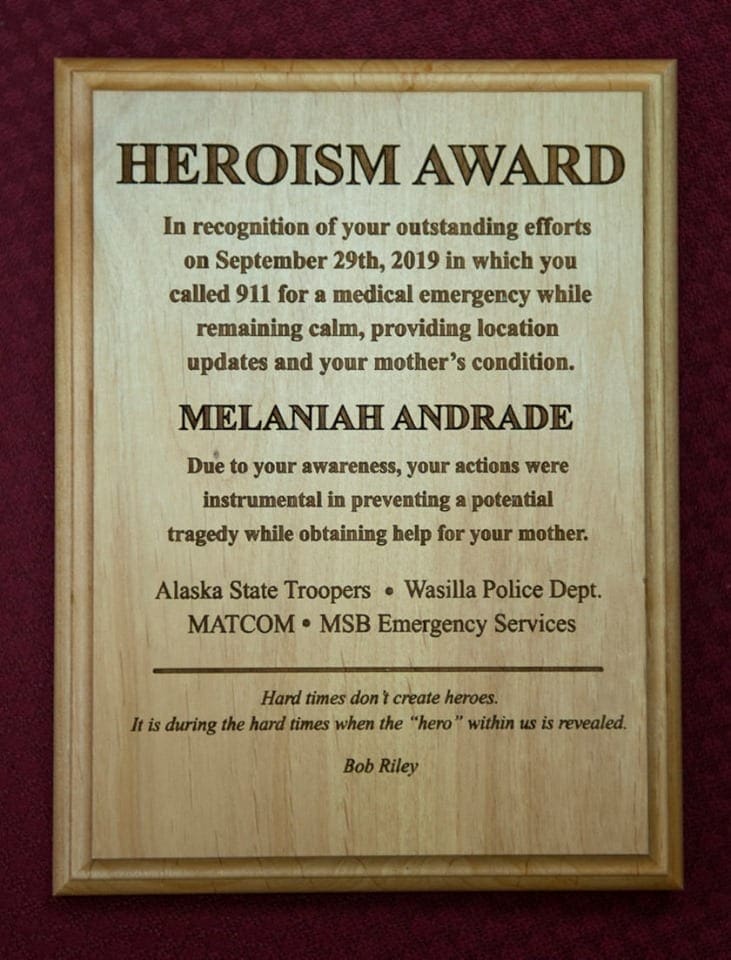 She received a gift basket loaded with snow gear, gift cards, a police coin, and a sew-on badge.
Melaniah, who is described by her mother as "strong and independent"  says the whole thing was "scary and crazy," adding that she believes it's "something we can all learn from."