Steve Carell is making the rounds in his fair share of films this winter, but one of the most anticipated of the year has to be the action-drama, Welcome to Marwen.
Based on the fascinating real-life story of Mark Hogancamp, Welcome to Marwen takes viewers into Hogancamp's fantasy world of WWII era Belgium, which he created using barbie-doll-like action figures as a means for dealing with PTSD.
A former illustrator, Hogancamp's world changed in an instant nineteen years ago when five neo-nazi men viciously beat him outside of a New York bar and left him for dead. He woke up in the hospital nine days later thinking the year was 1984. It was 2000. Hogancamp emerged from the beating with severe brain damage, and very few memories from his life.
The highly acclaimed film about Hogancamp's "other life" has drawn the intrigue and attention of viewers far and wide. But should you take your kids to see this movie?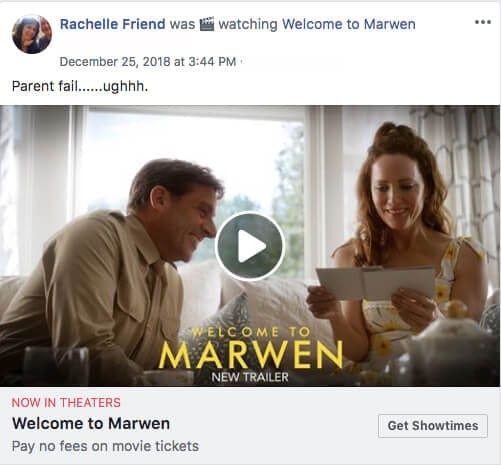 Rated PG-13, the MPAA (Motion Picture Association of America) suggests this movie is not suitable for children under the age of 13. Of course, in 2019, that suggestion can mean very different things to everyone based on what you allow your child to see and do.
And seeing as the movie features doll-like action figures, the partially-animated film seemingly appeals to kids and adults of all ages.

We turned to KidsInMind.com for some guidance.
Their detailed guide rates "Sex & Nudity," "Violence & Gore," and "Language," each on a 10 point scale.
Sex & Nudity: 4
The premise of the film itself originates on sexuality. Hogancamp was beaten in 2000 after drunkenly murmering that he occasionally enjoys wearing women's shoes. The theme carries on throughout the movie as several characters—both real and doll-like, ask about being a "queer" and a "cross-dresser." One man owns over 300 pairs of women's high heel shoes.
References to a pornographic film are hard to escape as if plays in the background on a TV in the film, and drawings of bare-breasted women are just the beginning of sexualization you can expect from this flick. Other scenes include a woman in the distance emerging, wearing only a lose-fitting bra and a thong before revealing her full backside.
Kids In Mind also warns about several kissing scenes between dolls, some in which two dolls lay on top of one another in a sexual manner. One scene includes a female doll announcing that she is the "Virgin of Marwen."
What struck me the most was a review written by a 16-year-old on Common Sense Media.
"Although the movie has an amazing cast and interesting plot, the violence and sexualization is over the top," the teen writes. "There is an abundance of violence with the dolls, even though it is obviously fake, is still disturbing. All the female dolls are extremely sexualized versions of the humans they represent. Also, the main character was high on his anti-anxiety meds the whole time. The movie could have been done well had it been written differently, I liked the idea. I have never walked out of a movie in a theater before, but this one was just too much."