Last night I chose to see and experience God by being fully present. I chose to both accept that hard things are happening all around us, and remember that God is good. I chose to intentionally anchor myself into the truth that God's love looms large and is big enough to conquer every evil. I chose to live from my heart space and ground myself in what I know to be true, and I told my headspace and all of its worrying and projecting doomsday narratives to buzz off.
Turns out, this is the best lifeline on the planet for dealing with fear: moving from the mess in our minds to the hope in our hearts. That's the source of our strength—the headwater of our healing.
You'd think as a lover of Jesus, this mindset would come easy for me. And usually, it does. But, last week it didn't. I was like the father of the possessed child crying out to Jesus, "I believe. Help my unbelief." What a relief to know Jesus meets us in these agonizing gaps. And in ranch dressing debacles. Lord, have mercy.
Last night I believed. Maybe it was the four delicious and sugary s'mores I shoveled in my mouth that brought me back to my senses. Or the perfect sunset reflecting off the faces of those I loved. Or the smell of pine burning in the campfire. Or maybe the thousands of bug butts sparkling in the field. Or the sound of music echoing under the stars. Honestly, it was probably all of it. And only because I chose to see it. "Blessed blessed are your eyes because they see, and your ears because they hear…"
Today I might need help in my battle with fear. Either way, God is with me. God is for me.
Today maybe you need help. And God is with you. God is for you.
God is with and for every one of us because God is everywhere, and he loves us all unconditionally.
For all the talk of fake news, this is the GOOD NEWS we can count on.
"…the Spirit of the Lord is upon me,
for he has anointed me to bring Good News to the poor.
He has sent me to proclaim that captives will be released,
that the blind will see,
that the oppressed will be set free…"  Luke 4:18
We need only tap into the high frequency of LOVE, which frees us to fully feel and experience God's presence. When we allow our heart to be reckless in how we perceive the world around us, we can't help but swallow the all-encompassing elixir of hope.
This is what drives us to be better. To do better. And to be the change we want to see in our families, our relationships, and in the world.
Prayer gets us here. Prayer keeps us here.
Lifting all of you in prayer, sweet mommas!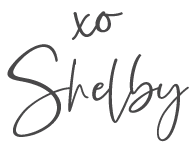 ***
This piece originally appeared at shelbyspear.com, published with permission.