It can be hard as moms to find baby food recipes fit for our tiny tyke. When it comes to starting baby on solid food, we all want the best for our little ones. Some research has shown that store-bought baby food contains substantially less nutrients than what you can make at home. But who has the time mama, to juggle life with a baby AND make homemade, pureed food on a budget?
Well, You do!
All you need is one machine and a few simple, and affordable ingredients, which you probably already buy on your trips to the grocery store.
The BEABA Babycook 4-in-1 Steam Cooker and Blender and the Baby Brezza One-Step Food Maker are two great options. If you don't have one of these gems, you'll want one. They retail for about $75- $150 on Amazon. And if dropping that kind of cash on a baby blender isn't your thing, you can still make these delicious baby food recipes at home with some steam and a traditional blender or food processor.
In order to retain the most nutrients in any food you plan to feed baby, you first have to steam, not boil the food you plan to use. Steaming fruits and vegetables ensures that the good stuff won't get cooked down like it will when you boil. Better yet, you can puree ripe fruits without having to cook them at all, leaving all of the nutrients in tact. An avocado for example, contains lots of nutrients, doesn't need to be cooked, and has a naturally creamy texture, perfect for baby.
Better quality ingredients means a happy and healthy baby.
Check out these 14 easy-to-follow baby food recipes you can make at home.
With the BEABA Babycook and the Baby Brezza Food Machine, these can all be done in one swift swoop. But don't be discouraged if this little appliance doesn't sit on your counter yet. You can easily steam and blend food in two swoops with household appliances you already own.
1. Kiwi + Apple + Zucchini Puree 
simplywhisked.com
This perfect marinade of ripe kiwi, tart apple, and crisp zucchini is one of those easy-to-make baby food recipes that your little one will love.
Ingredients:
3 zucchini, halved and sliced
2 apples,, cored and chopped
3 kiwis, peeled and chopped
Steam all three ingredients together until soft. Then, add the liquid from the steam to your food combination and puree the ingredients together.
2. Apricot + Pear + Coconut Oil Puree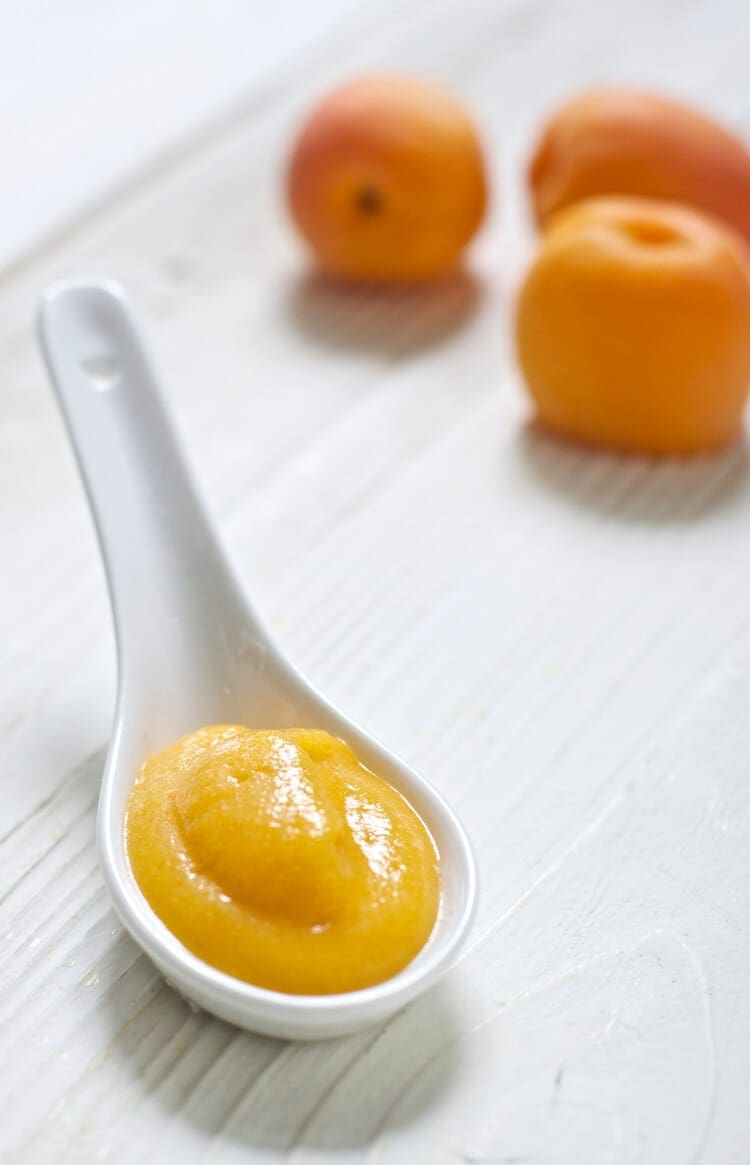 babyfoodie.com
Coconut oil is ALL the rage right now—and for good reason too! In any form, the magic of coconut oil is totally universal, and can be used for just about anything. Not only is it super useful, it's also super beneficial. Whether you're rubbing it into your skin and hair, or eating it straight out of the jar, coconut oil is easily the one household item you need for baby food recipes and beyond!
Ingredients:
6 apricots, fresh or frozen, pitted
2 pears, roughly chopped
1/2 cup liquid (water, breast milk, stock)
1 teaspoon organic coconut oil (optional)
Steam fruits together until soft, then add your liquid and coconut oil for some puree magic.
3. Beets + Blueberry Mash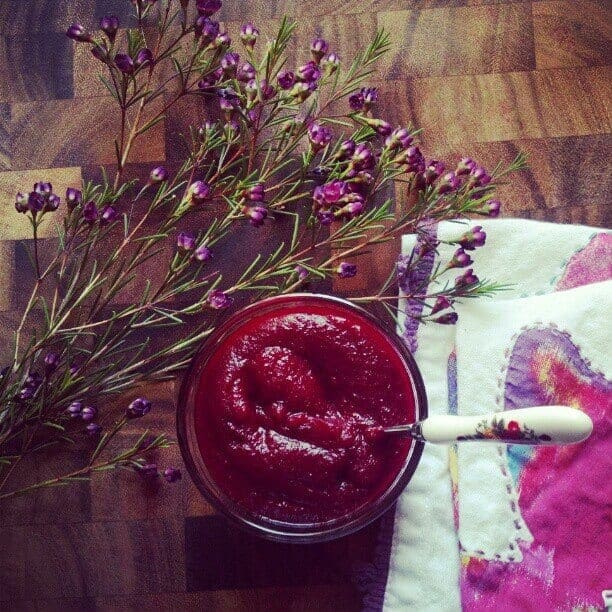 mashyourheartout.com
Channel your inner Dwight Schrutte, and get on the beets bandwagon.
Ingredients: 
2 medium organic beets, scrubbed well with water, peeled and chopped into
1/2 cup fresh or frozen blueberries
Steam the beets and blueberries together well, then use the excess liquid to puree the mixture.