Just because I'm about to be a mom doesn't mean I have to grow up! Bwahahahahs never take life too seriously! Best Christmas gift ever!
#havingababy #pregnancyhairgrowth
Jukin Media Verified (Original)
* For licensing / permission to use: Contact – licensing(at)jukinmediadotcom

Posted by Katie Stricker Curtis on Monday, January 2, 2017
Posted by Katie Stricker Curtis on Monday, January 2, 2017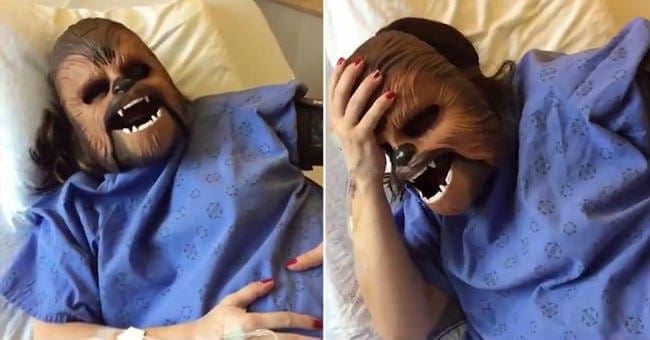 I do appreciate anyone who can find the humor in the hard things in life, so when I saw the above video on Facebook, I DIED laughing. I have to admit, wearing a Chewbacca mask during labor would NOT have occurred to me, but it's pretty brilliant! I mean, why NOT turn your screams of pain during labor into hilarious Wookie sounds??
When Detroit mom-to-be Katie Stricker Curtis posted her 12-second Chewbacca-labor video to Facebook, she did so with the tongue-in-cheek statement "Just because I'm about to be a mom doesn't mean I have to grow up!" Well…yes it does, Katie, but it doesn't mean you can't still be a kid in the sense of humor area, and I think your kiddo is one lucky baby to have such a FUN-LOVING mama!
Katie's 12-second turn as Chewbacca-in-Labor has over 237,000 views on Facebook since she posted it, proving that she wasn't the only one who thought lightening the mood in labor and delivery would be fun! Curtis reports that even her doctor took a video as well—THAT had to be an unusual day at work for him!
Congrats to the Curtis family, and keep LAUGHING!