Mom so peaceful
Mom so kind
Mom so joyous
Mom so divine
These words are the first four lines of a Mother's Day poem my oldest son wrote me back in 2007 when he was 13 years old. Is there any greater gift than a homemade card with heartfelt sentiments from your child? As mothers, receiving such a touching memento of expression energizes our mom heart in profound ways.
Admiration from our kin can even catapult us to the top of the "I must be doing something right" pyramid of parental standards. Even a tiny bit of innocent and angelic honesty stirs our soul and breathes life into our often worn out spirit. And if we need a boost of mom-esteem and parenting confidence, reading crayoned and misspelled words that declare how much our kids love us is, well, better than chocolate.
Which is why I've saved countless cards and letters written by fingers of many shapes and sizes over the years. Each masterpiece reminds me how blessed I am to be a mom who's loved by kids and has kids to love.
While my heart was all aflutter reading the opening act of my teens poem a decade ago, he injected a bit of realness in the second stanza:
Mom so loving, gentle, but stern
Mom so caring, watch her and learn 
Ah, the stern card.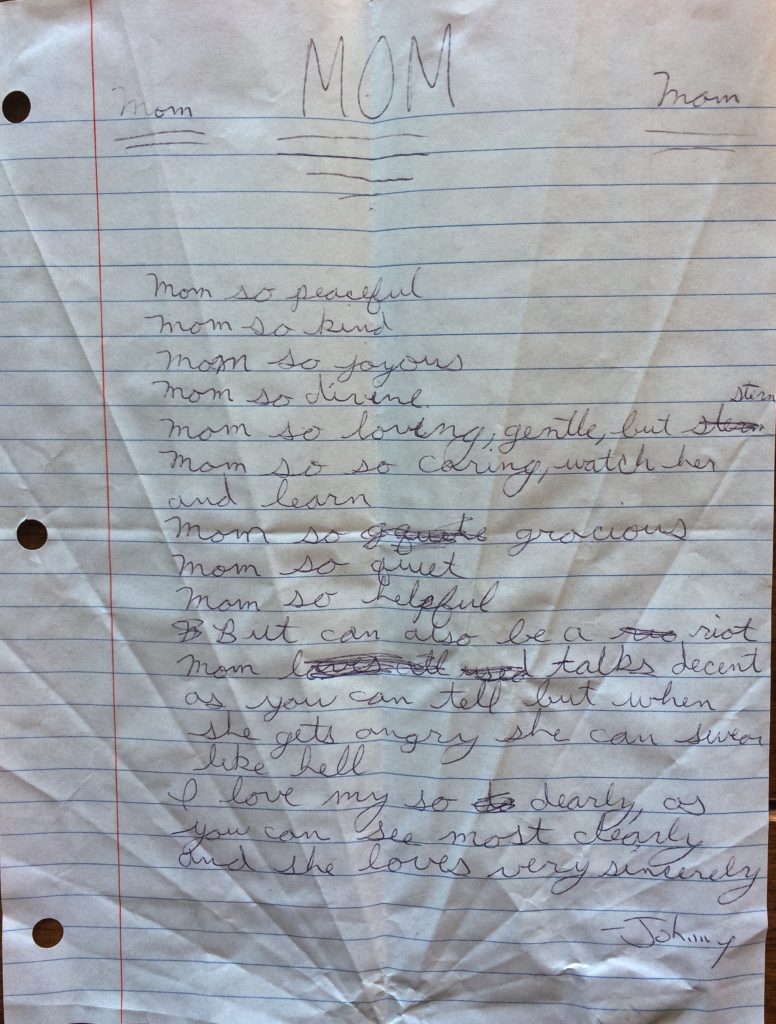 My teen made sure to sneak in a reminder of his displeasure towards my strict ways between the bookends of loving accolades. A shining example of his cleverness and poetic wit. At thirteen, he had progressed from backwards s's and e's to testing the written guiles of independence.
Which is a good thing, for sure. If your teen points out you are stern in a Mother's Day poem, pat yourself on the back because you are doing something right. Being our teenagers friend during the turbulent years of testing limits isn't in our job description. Our role is to set healthy boundaries so their undeveloped frontal lobes—which prevent them from seeing beyond the now—don't lead them down a rabbit hole of trouble. Heaven help us, Alice in Wonderland.
And the poem continued…
Mom so gracious
Mom so quiet
Mom so helpful
But can also be a riot
Yes! Another healthy dose of mothering attagirls heaped on my tender spirit by my teenager.
If your teen finds humor in your relationship, consider the muse a great necessity. Because laughter is sometimes the lone elixir available to save you both from burning to death when you find yourselves in the depths of hellish arguments. If you can't beat 'em, laugh. Then cry. Then pray. Oh, wait. Always pray first. Rinse. Repeat.
With insides dancing in joy over my son's appreciation of my funny bone nature, I scanned down to the next stanza of the poem. Doing so reminded me at once how all good things must come to an end.
My oldest son is bold and makes no qualms about speaking his the truth. And in the case of his Mother's Day poem, he pointed out a truth in love, thanks to stellar parenting on my part. I guess. You're welcome, son.
How many of you also teach your children the value of speaking the truth in love? If so, may I point out something not so wonderful happens to our soul when we end up on the receiving end of such a mercy offering from our kid. My teenager saved the best lesson for last:
Mom talks decent
As you can tell
But when she gets angry
She can swear like hell
Lovely.
Nothing like a gentle slam tucked inside a flutter of flattery. I wasn't sure whether to laugh, cry, or stack rocks after experiencing the privilege of having such a weakness therapied out in an adoring poem from my child.