I've always felt a strong connection to the broken and the sad. It's why I became a social worker. For as long as I can remember I have felt a pull toward helping and encouraging others.
As a broken, messy warrior myself, I often question my ability to do that. I doubt my capacity to reach anyone or be an encouragement to anyone else when I am such a grunge myself. But what God has shown me is that I don't have to be the light. I simply need to be a vessel for the light to shine through.
My heart stays heavy for the millions of broken and hurting people. People going through similar pains as me, and people going through a thousand other kinds of grief. The truth is, we are all going through something. We are all broken-hearted. And we all need encouragement and prayer.
I lay awake at night thinking about so many of you who have reached out to me and shared your stories and your pain, your wisdom, and your encouragement. We are all on this life journey together, no matter what brought us here.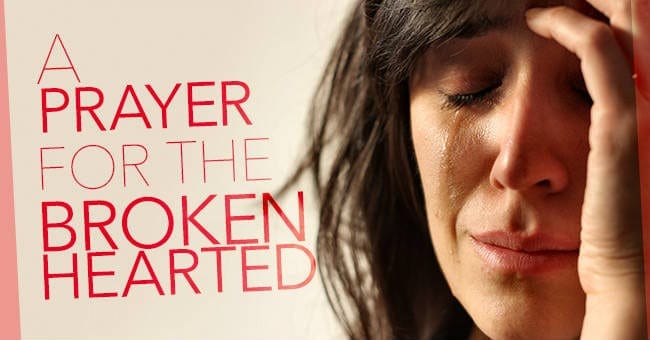 Prayer For The Broken Hearted
"Lord, I don't know what burden each person is carrying. But you do. I pray that in their weakness, you show up, valiant and strong. I pray that in their pain, you provide peace. I pray that you wrap your loving arms around each and every soul, pull them close into your chest and let them know that they are loved. Let them know that they are safe and covered in your grace. I pray that in times of doubt, you show them the way. That you carry them when their legs are too unsteady to keep moving. That you lead when they feel lost.
I pray Lord that over every broken heart, you place your healing hand. That you breathe life into their tired bones and remind them who they are in you. I pray you help people rest. That you quiet their minds and allow them to stop striving and just be. That you speak life over every person questioning themselves. I pray that you would show up in a mighty and undeniable way and that wherever there is fear, you provide courage.

I trust that you are healing our hearts even when it feels like they are shattering into a million pieces. I believe that you are catching and counting each piece. That you will mend them back together, even more, beautiful than before. I pray that you help people to stand firm in their convictions and your promises and that you release people from the heavy bondage they continue to carry. I pray you remind us that your yolk is easy and your burden is light. That we don't have to continue walking around in heavy chains.
I ask you to give peace that passes all understanding. I pray for the broken families and the hurting children. For sick babies and tired mamas. For hard-working daddy's and over-extended schedules. I pray that you shed light in dark places and help us to fix our eyes on you when chaos swirls around us.