A Florida student obsessed with the University of Tennessee Volunteers is making headlines this week and reminding us that there is still good in the world.
Laura Snyder, a fourth-grade teacher at Altamonte Elementary School in Altamonte Springs, Florida, took to Facebook last week with a devastating story of just how mean some kids can be.
She didn't know it at the time, but thanks to the internet, those bullies were not going to get the final word.
Snyder says one of her students was so excited about the school's "College Colors Day" during spirit week because he is obsessed with the University of Tennessee Volunteers. The trouble was, he didn't own any of the school's apparel.
"We discussed that he could wear an orange shirt to show his spirit," Snyder wrote on Facebook. "He told me every day leading up to it that he had an orange shirt that he was going to wear."
Snyder says the boy even went as far as drawing a "U.T.", the university's logo, on paper and pinning it to the front of his shirt.
"So when the day finally arrived, he was SO EXCITED to show me his shirt. I was impressed that he took it one step further to make his own label."
But it wasn't long before some mean kids had to rain on this kid's parade.
"Some girls at the lunch table next to his (who didn't even participate in college colors day) had made fun of his sign that he had attached to his shirt. He was DEVASTATED," Snyder wrote on Facebook.
Hoping to cheer him up, Snyder said she planned on buying the student a University of Tennessee T-Shirt.
(Can we get an AMEN for the teachers who are constantly going above and beyond for their students??! We love you the most.)
In her post, she also asked if any of her Facebook friends had contacts with the school who could "make it a little extra special for him."
By Thursday, her post had gone viral, with Vols fans from around the nation leaving notes of encouragement for their fellow Volunteer. As the post garnered more and more attention, it wasn't long before the University reached out to Snyder wanting to send the student a care package full of apparel and school swag.
"You all have taken this above and beyond what I had ever imagined," she wrote.
Snyder updated her Facebook post again on Friday, sharing about the moment she got to witness her student opening the package from UT.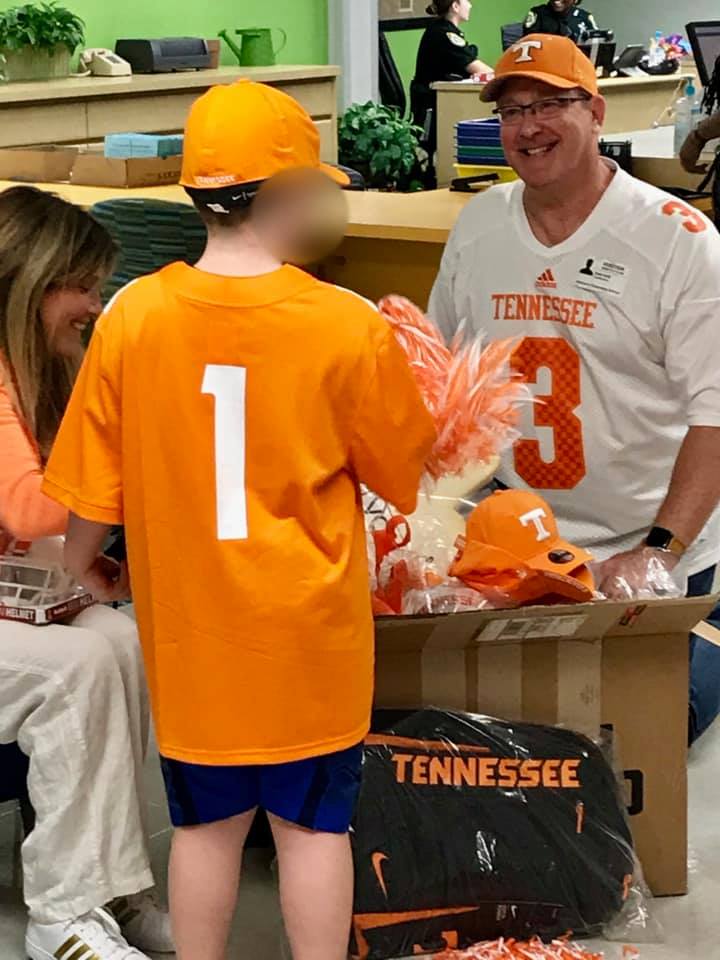 "My student was so amazed at all the goodies in the box," she said. "He proudly put on the jersey and one of the many hats in the box. All who saw had either goosebumps or tears while we explained that he had inspired and touched the lives of so many people."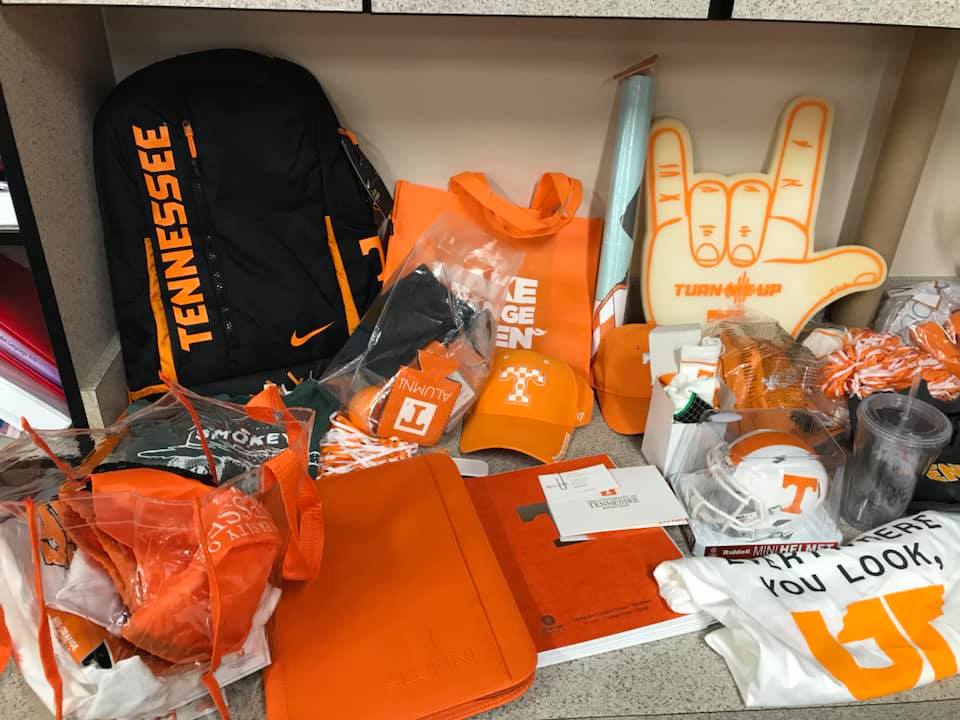 But the Volunteers weren't done yet.
The school took it one step further, announcing they would be making his hand-drawn "U.T." design into an official T-shirt.
"Share in a Florida elementary student's Volunteer pride by wearing his design on your shirt too!," the university's official campus store said on Twitter.
Share in a Florida elementary student's Volunteer pride by wearing his design on your shirt too! Pre-order today for a late September expected delivery. A portion of proceeds from every shirt sold will be donated to @STOMPOutBullyng .https://t.co/NdnTtYREFL pic.twitter.com/OeTZvgC09Y

— VolShop (@UTVolShop) September 6, 2019
According to the University, a portion of the proceeds from each T-shirt sold will go to STOMP Out Bullying, an anti-bullying foundation committed to "changing the culture for all students"
"When I told him that his design was being made into a real shirt and people wanted to wear it, his jaw dropped," said Snyder. "He had a big smile on his face, walked taller, and I could tell his confidence grew today!"
Demand for the student's T-shirt was so high on Saturday that it crashed the University of Tennessee's online shop.
Blown away by the support, Snyder extended a big "THANK YOU" to everyone who came together to champion on her student's behalf, and for showing the rest of her class what it looks like to "come together and be kind."
"Personally, I'm looking forward to wearing the shirt he designed. It'll be the one and only piece of orange clothing that this Seminoles fan will ever wear!"