It doesn't take much to sucker a hopeless romantic like myself into a date night movie.  Make it a real-life love story and add a dollop of Jesus, and that my friends, is the making of something truly wonderful.
In 2020, I Still Believe is that film.
Based on the true life love story of Christian musician Jeremy Camp and his wife, Melissa, I Still Believe is a romantic film for the ages, and one you can't afford to miss this weekend.
We meet a young Jeremy Camp, as he leaves his hometown of Lafayette, Indiana to attend Calvary Bible College in Murrieta, California. It's there that he meets a bold and confident Melissa Henning, and is immediately drawn to her.
Through their remarkable love story, we experience deep love and tragic heartache that proves that faith tested is the only faith worth sharing.
I had the privilege of catching a pre-screening of the movie, which stars Riverdale heartthrob, KJ Apa, along with other big time names including Britt Robertson, Gary Sinise, and Shania Twain.
Produced by Lionsgate, the same studio who brought us I Can Only Imagine back in 2017, I Still Believe is not your typical "Christian film."
That's because it's not a Christian film.
It's a romantic movie — a darn good one at that — about the love story between two Christians.
And that my friends, makes ALL the difference.
Having grown up on Jeremy Camp songs, singing them in the church choir and hearing them on the radio, I went into I Still Believe FULLY thinking I knew what was to come.
I was expecting to be slapped in the face with Christian lingo and cheesey quotes about God. I was prepared to roll my eyes and ultimately feel embarrassed about how once again, Christians were portrayed as Bible thumping nerds who pray their worries away on the big screen.
But friends, that could not be further from what this movie delivered.
In fact, the thing I appreciated most about this film, was how beautifully it portrayed the Christian walk without being overtly "Christian."
It reminded me a lot of the parables that Jesus told throughout the Gospels.
During his time on Earth, Jesus taught in parables, or simple stories so that believers, who knew the secret of the Kingdom of God, would "get it." And those who did not know, simply heard a nice story.
I Still Believe is the first "Christian film" to ever do this well.
If someone goes into this movie as a believer, they'll appreciate the profound truths about God. They'll recognize different elements of the Christian walk, they'll see faith lived out in an inspiring way, and they'll see God in the details of this beautiful couple's extraordinary love story.
And if someone walks into this movie not knowing who Jeremy Camp is, or knowing his "fame" in the Christian sphere, but simply looking for a romantic film that fills their heart with love, and heartache, and all the things we love about romantic movies, they're going to get one that gives Nicholas Sparks a run for his money.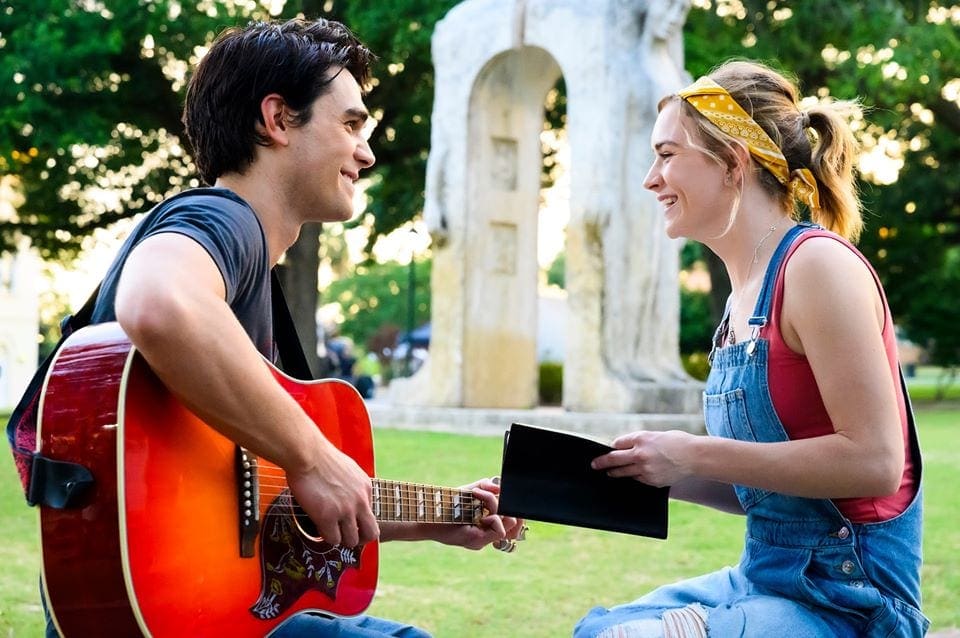 And that's what I love so much about this film.
Jeremy and Melissa's testimony—God's hand in their relationship, their lives, and ultimately in tragedy, ARE the cornerstone of this movie. But they aren't delivered in way that highlights them with the blaring, flashing red arrow that often makes Christian culture, off-putting.
Melissa's faith, and the works God does through her in this film are enough to lead others into the presence of the Lord, without abrasively shoving faith in God down their throats. She speaks profound biblical truths that carry so much more weight than "God is good, all the time," and will lead anyone watching to explore belief further.
Jeremy's music and his rise to fame in the Christian sphere is the story we're watching, but the CHRISTIAN part of that story isn't what creators focused on.
It's the unwavering faith of two young people in the face of tragedy and scary circumstances that has captivated hearts for centuries in romantic movies. And that's what we have the privilege of witnessing in this film.
But what sets it apart from The Notebook, The Fault in Our Stars, A Walk to Remember and every other romantic movie that's grabbed our hearts, is the works of God.
The miracles and testimony they've walked through together gives people hope with substance, rather than hope in a good love story.
This is the romantic film I want my daughters raised on. This is the love story we desperately need in our culture because it models faith, tangibly lived out. It shares the Gospel without ever having to say a word about Christianity, and it gives us hope in a love that only God could orchestrate.
Grab your kleenex, friends! I Still Believe hits theaters Friday, March 13th.