To the new momma who didn't feel joy: It's okay, I didn't either.
When I was pregnant with my first child, I wanted nothing more than to feel prepared. So much of what was happening to my body was out of my control, so the natural response for me was to gather as much information as possible. My husband and I participated in every single class offered by the hospital. I read as many books as humanly possible. I talked with everyone I knew, which may have proven to be a problem.
At the time I felt lucky to be surrounded by so many women. I worked in a field that was dominated by women so I had countless mothers and grandmothers surrounding me. Each one was available to hear me out with endless questions, musings, or general pregnancy conversation. They were also willing to offer, solicited or not, advice and ideas of what to expect.
It's going to be so magical.
It's going to be a joy like you've never felt.
As soon as they place that baby on your chest, you are forever changed!
I went into labor naturally. My first contraction came at 6:00 am and things progressed onward from there. The first half of the day was relaxing; I was comfortable and labor was moving right along. I didn't need any interventions so the doctors essentially let things happen as they should.
I didn't have much interaction with the medical staff because for one, they saw me as a competent woman without any issues and my labor was moving at a healthy pace. That's super, except I probably needed someone to assure me that what I was experiencing was normal. I began going through transition. First the tears. So many tears. Then the desire to get out of the hospital. I was begging my husband to just get me out of there! Then came the vomiting. All of the vomiting.
By the time I was ready to push my epidural had essentially worn off. The only part of my body that remained numb was my right thigh; not very helpful with what I was about to do. I pushed without a working epidural for about an hour and delivered my baby girl. They placed her on my chest and as I gazed into her face, my eyes blurred with tears, I searched for the joy. I searched for the spark. I listened intently for the chorus of birds that were supposed to be singing with glory and glee.
I was supposed to then watch as they measured, bathed, and swaddled my newborn, but instead I was frozen with fear. I was hemorrhaging. I remember hearing lots of medical talk, intertwined with the cries of my daughter. I remember seeing my husband sway in between two worlds ­– the joy of new fatherhood and the fear of what was happening with his wife.
After three medical interventions, the doctor was able to stop the bleeding. I was reintroduced to my baby girl and to my surprise she latched on immediately. I remember the nurses encouraging me to be happy about this development. I wanted to be happy, but I also wanted a sandwich.
For the next twelve hours, I sat semi-upright, nursing my baby. I dozed here and there but never actually slept. The day she was born blurred into the following day and I wasn't sure exactly where the time had gone. I was still searching her face for the joy I was supposed to be feeling.
They all said it would be miraculous. They all said it would be joyous. They all said I would be so happy.
By the next afternoon, I wasn't feeling any of that. The thing I was feeling the most? Tired. Sheer mental and physical exhaustion. There wasn't a book I read that prepared me for this.
My instincts had definitely kicked in. I knew what to do for her and I felt an immediate, intense sense of protection and deep need to care for her. I definitely loved her. I just wasn't sure I was in love with her. I was propelled by instincts, not joy. I was enormously conflicted and this created a highly complicated set of feelings.
I felt guilty and ashamed.
My natural inclination is to talk through my feelings but in this case, I couldn't. The time when I needed it the most, I had to hold it in. All of the people I would normally turn to, were the same people who said how great this experience would be for me. How could I possibly tell them how I was feeling? How could I tell these women that, instead of wanting to hold my baby for countless hours, I wanted to rent a hotel room for the night, sleep, and eat hot dogs?
What kind of horrible person am I?
So instead, I focused on what was in front of me. This baby nursed close to 24-hours a day, so the only thing in front of me was her. It was always her! I focused on her and meeting her needs one at a time. On the last day in the hospital, I managed to get a solid four hours of sleep. Thanks to my husband who sat in the chair and held our baby for four solid hours, resisting any urge to move and without flexing a single muscle.
Rest can do wonders for a new mother. So can self-acceptance.
It didn't happen overnight, but it did happen. The joy did finally arrive. Getting home helped. Finding a routine helped. Having regular meals and resting in my own bed helped. Building confidence as a mother, and getting to know this beautiful baby really helped.
You know what also helped? Stopping the playlist. Instead of going over and over what everyone told me I should be feeling, I started listening to the things I was actually feeling.
I know the women surrounding me had the very best of intentions. Some of them may have had that immediate sense of joy and I am grateful that they shared their experiences with me. Some, I think, may have remembered it a bit wrong. Like me, they didn't feel the joy at first either but they do remember feeling it at some point.
The truth is, for some, the pure magic happens instantaneously. For others, well, it's more like a restaurant's soft opening. Over time, you work out the kinks and confidence grows. Things generally do get better. The magic and the joy will come. It may not come right away, and that's okay. Hell, it may not come for a while, and that's okay too.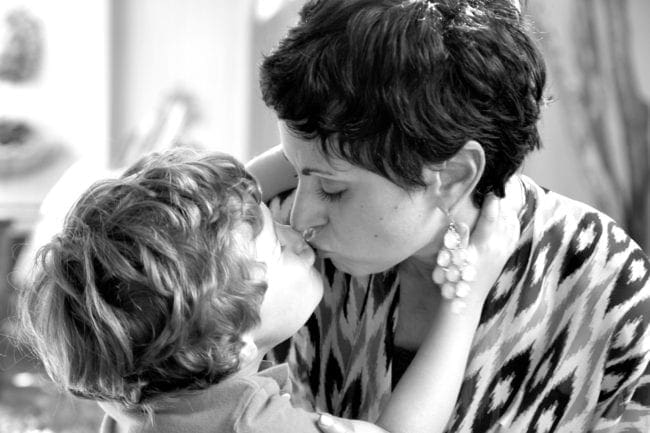 No matter what happens, you are not alone. Someone along the way has felt the same feelings as you. I know it's hard to have perspective when you are in the middle of caring for a newborn; so, if nothing else, use this thought as a lifeline to get you through. Stop the playlist of expectations and let this message serve as the perspective – you are never alone.