I have always had a healthy fear of my kids choking. My youngest, now 6, has given me many worries, because he's always had a tendency to say, shove the ENTIRE apple slice in his mouth instead of biting off half of it. So I still cut his hot dogs and grapes up like CRAZY person—but one Australian mom blogger's recent post to Facebook has me thinking I'm not so crazy after all. Her  reader's son is 5, just a year younger than mine, and recently had a terrifying choking incident with a whole grape. Angela Henderson of Finlee and Me posted a picture of her reader's son's x-ray to Facebook to warn other parents, and it took my breath away (no pun intended!)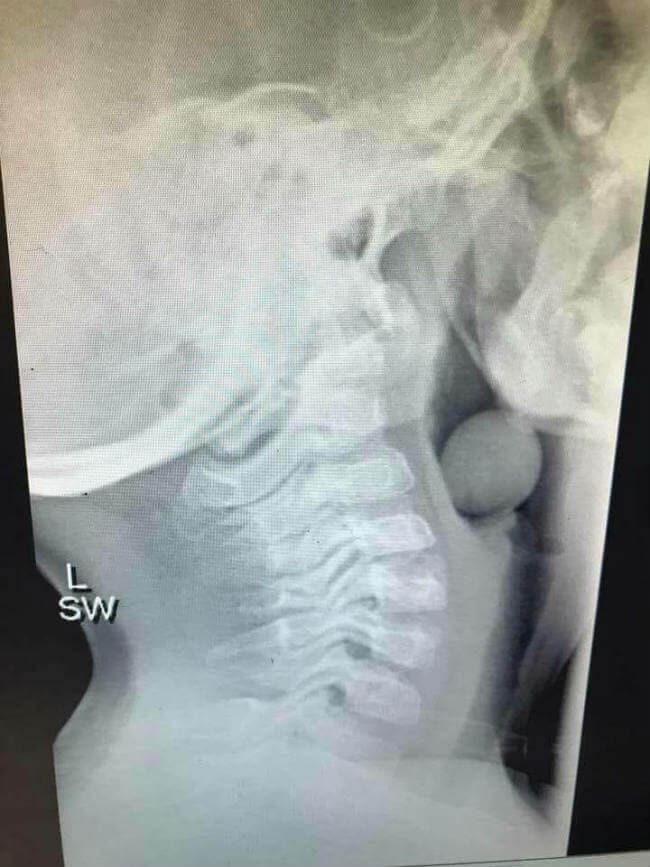 Photo: Finlee and Me on Facebook
Henderson's post says:
Attention Parents!

Do you know what this X-ray is of? A grape!

A grape that was lodged in the top of a 5 year olds airway today.

This sweet soul had to be operated on, under general anaesthetic to remove the grape.

He is VERY lucky that part of his airway was open or else this could have ended badly.

So please be mindful that not all kids chew their food, are in a rush at school to get in the playground etc.

Please be careful. And when in doubt just cut the damn grapes, baby tomatoes etc.

I'm thankful to the pediatrician that shared this and even more grateful to the Mother who gave consent for this to be shared in order to bring awareness to our community.

– Angela from www.finleeandme.com.au – Creating childhood memories through play, love and travel.

 
SO, moms and dad, be vigilant about cutting up those choking-hazard foods even if your kids are a little older, especially if you have a child like mine who tends to LITERALLY ite off more than he can chew. Also, I can't recommend enough that you get with your local Red Cross to take a training on the Heimlich maneuver and CPR. God forbid you have to use either of these procedures on your own child, but if they should NEED it, don't you want to be equipped to save their lives? This post from BabyCenter is a great resource and place to start.
Thanks Finlee and Me, for sharing this reminder to be vigilant about choking hazards!