Vaping is on the rise among teenagers across the country, and as more teens jump on board with the growing trend, schools are finding it harder and harder to limit the use of vape pens in the classroom.
But recent studies show an even more concerning trend taking place, with students starting to vape marijuana.
Experts say more teenagers are turning to liquid THC, the chemical compound in marijuana, to take vaping to a whole new level.
Due to the potency a vape pen can deliver, liquid THC gives the user a much more intense high than what is expected from the so-called "harmless" devices, which do contain nicotine.
One Indiana high school has seen more than seventeen students this school year either hospitalized from using THC vaping products or caught possessing or dealing the substance.
According to Shane VanNatter, a school resource officer at Carmel High School in Carmel, Indiana, it's hard to catch a teen vaping THC unless they report it themselves. That's because some vape pens are so small and compact, much like tobacco, they are being used out in the open under teacher's noses. Many can look identical to a USB drive, and fit seamlessly into pockets and palms.
"I've walked down the hallway, and you can visibly see kids who are so stoned that they don't know where they are," VanNatter said. "They'll self-report. They'll come to the nurse and say, 'I'm too high. Something's wrong.'"
One vaping cartridge VanNatter confiscated was 83.6 percent THC. Normal THC levels in plant marijuana generally range from 15 [percent] to 24 [percent].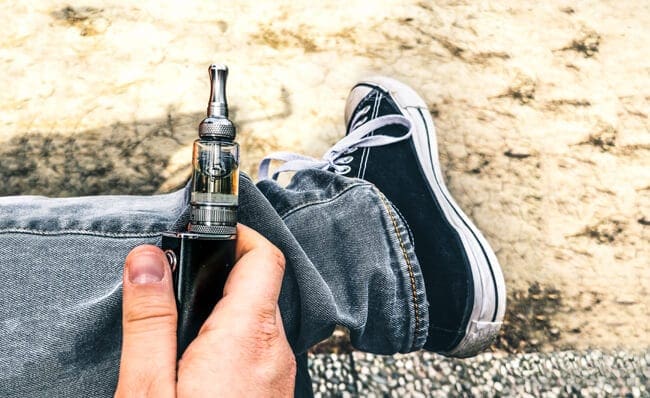 And getting ahold of THC is easier than ever. With just a brief search for Liquid TCH, Google brought me to a blog post titled: "Liquid THC: The Weed Vape Juice That Gets You High."
The blog says over the years, strains of marijuana have been bred to have higher THC amounts, with some of the most popular varieties boasting upwards of 30 [percent] THC. "But guess what? This still isn't good enough," the blog says.
It goes on to talk about consuming liquid THC for "the ultimate marijuana high."
"In this article, we explain everything you could ever want to know about liquid THC for either vaping or oral consumption — how it's made, where you can buy it, and how to use it without going into a frenzied, hallucinogenic fit of THC-induced paranoia."
Although it warns readers not to try making Liquid THC, it gives detailed step-by-step instructions on several different methods of making the substance, as well as how to store it, and how to use it.
THC Vape Juice
In a section headlined, "Is Liquid THC Dangerous?" here's what the blog post had to say:
"There have been no known deaths that we are aware of that have been attributed to liquid THC overdose. While we certainly would not call it a 'safe' way of consuming cannabis, it most definitely does not possess the same inherent risks as other drugs like opioid meds, painkillers, etc."
So it's basically confirming to our kids that while it's not "safe," it's the lesser of many evils. And the rapid growth of teen vaping nationwide is a testament to this trend.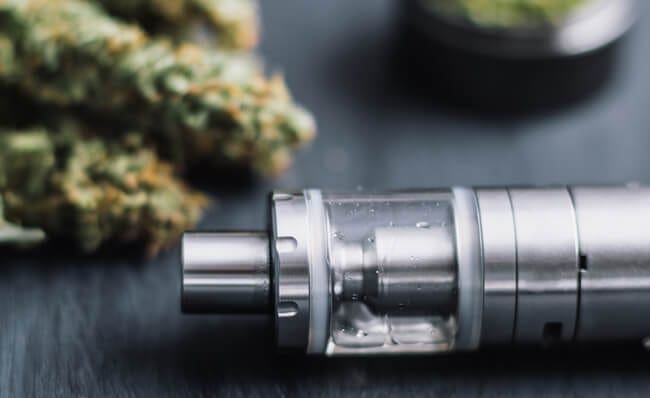 Experts believe the legalization of marijuana in many states is to blame as it has made products more readily available and sends a message that marijuana is a wiser option than other drugs or even tobacco.
"As we have normalized it, the perceived risk of marijuana use among 12- to 24-year-olds has consistently decreased, and as they have perceived the risk as being less and less, the use has gone up," said Rachelle Gardner, chief operating officer of Hope Academy, an Indianapolis high school for students in recovery. "And with the opioid crisis, I have had parents say, 'It's just pot. At least they're not doing heroin.'''
In a study conducted by Monitoring the Future, teen vaping of any substance nationwide among JUST high school seniors in the past 30 days nearly doubled from 11 [percent] in 2017 to 21 [percent] in 2018.
Researchers say that many teens who vape likely do so at school.
Consistent with historical data of marijuana's effects on teens, experts agree the drug has a different impact on developing brains than it does adult ones.
Studies have shown marijuana use to affect a teen's critical thinking skills, memory, and ability to learn and make good decisions and that younger users are more likely to become addicts. Other studies have shown a correlation between psychosis and marijuana use.
Experts agree that parents, teachers, and students all need to be aware of the risks of vaping — especially when it comes to vaping THC.
Learn the latest from what the CEO of JUUL had to say to parents of teens.