There's hardly a person alive who listened to the radio  — any radio, not just Christian stations — who hasn't heard MercyMe's hit I Can Only Imagine a million or so times. Okay, maybe that's an exaggeration, but it's a REALLY familiar, popular, award-winning song that has been inspiring people of faith for over a decade. Believe it or not, the road to writing I Can Only Imagine was a lot uglier than this shiny, pretty Christian song, and the new movie (which opens March 16th!) starring Dennis Quaid and J. Michael Finley showcases the dramatic story behind the music.
Finley plays MercyMe songwriter Bart Millard, one of two sons of an abusive father whose mom abandoned them when he was a kid. Bart's dad, played by Quaid, was a former Texas football star who suffered an accident in his twenties that gave him a violent personality change. Young Bart suffered years of beatings at his dad's hand, yet never gave up trying to please him and win his affection, to make himself into a son who could be loved.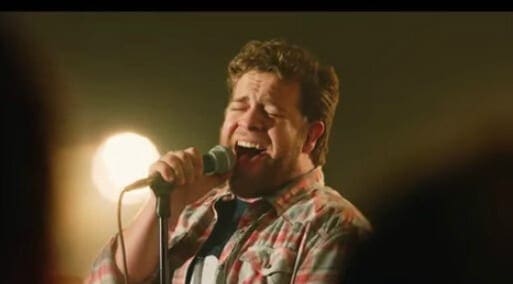 J. Michael Finley as songwriter Bart Millard
Football, still his dad's first love, became Bart's dream, and in high school he too was a star—until one terrible night on the field broke his ankles and took away his football dreams forever. At loose ends, Bart joined the school choir because he HAD to have an elective—and he found a new dream, music. Eventually, he started going to a local church, and found a new Father, too — one who loved him unconditionally.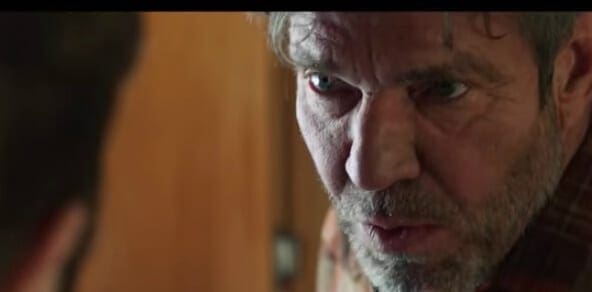 Dennis Quaid as Millard's father
But Bart didn't give up on his earthly dad, either. I won't spoil the story for you, because you need to see it for yourself — but let's just say that without Bart and his dad's relationship, there would BE no I Can Only Imagine – song or movie! And I for one can't wait to see how it plays out and touches lives on the big screen.
That's the story behind the song, now here's an incredible story behind the I Can Only Imagine movie.
I recently sat down with one of the movie's producers, Joe Knopp, to talk about the film and Millard's story, but our conversation soon turned to Knopp's life story, and it's quite an I Can Only Imagine tale of its own. Born in Philadelphia, the youngest of three kids, Knopp's parents had a violent relationship and split when he was about five. It was the last time he ever saw his dad.
Although Joe and his older sisters went to live with his mom, she was unstable and really not able to care for them; they were essentially on their own. When Joe was about seven, his sisters discovered that they could get free donuts and orange juice on Sundays at a local church and began attending to grab a free meal. There, they caught the eye of a church member who could tell something wasn't right about situation. He tracked down their mom and got permission to send the kids to an orphanage that was run as a Christian mission. Most kids, Joe says, lived there for just a year or two while their parents got it together.
Yet, the Knopp kids all lived there until they graduated high school.