I don't know about you, but I personally would not have survived some of the tough years of parenting when my kids were really little without humor. Thank goodness for outlets like mom blogs and Twitter where we can share the hilarious stories of parenting and help each other lighten our loads a little bit, right? I mean, that time your child humiliated you at the pediatrician's office seems a lot less traumatic when you can make someone else laugh about it… not that I would know from personal experience or anything. Ahem.
Funny dad James Breakwell also survives parenting through humor, and it's a good thing, because he has four daughters under the age of eight. Breakwell is also a comedy writer and he's parlayed his hilarious parenting episodes into a new book, Bare Minimum Parenting, which comes out next month. It promises to be hysterical, but before it comes out you can easily entertain yourself through his Twitter account, where he constantly quotes his five-year-old daughter (although, the tweets span different time periods, so I'm not sure which one was five years old at the time — but apparently all of his kids are really hilarious when they're five.)
This morning I took a quick look at his Twitter feed and laughed myself silly, so I thought I'd share some of my favorite five-year-old girl tweets with you guys—and give you a fantastic morning laugh. Enjoy!
1.
2.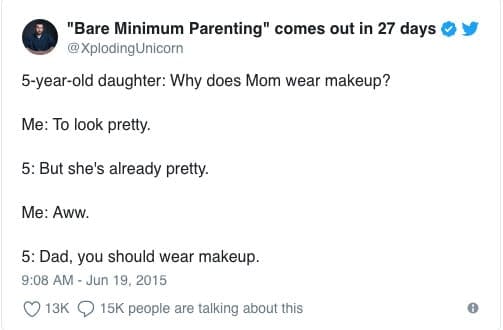 3.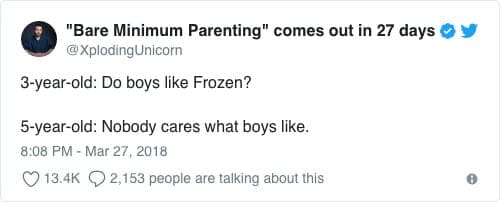 4.