Florida teacher Kelly Guthrie Raley has been in the news locally this year for being named 2017-2018 Teacher of the Year at Eustis Middle School, but as of last week, she's made national headlines as well. With Florida in the spotlight after the horrific school shooting and mass murder of 17 students and staff at Stoneman Douglas High School in Parkland, Raley found her voice in a BIG way. A Facebook post she made the day after the shootings has gone viral with over 687,000 shares, because this Florida teacher is MAD and willing to "say what no one else is brave enough to say, but wants to say."
Screenshot: Good Morning America
Raley says in her post that she's willing to withstand all the verbal backlash that may come from her strong opinion because she's a teacher in the schools with our kids every day and it's her life on the line. Though I think there are a variety of changes that need to be made to stop these terrible school murders from happening, I do think that what Raley said NEEDED to be said, and as a Florida teacher she certainly has the credibility. Here is her powerful post, in full: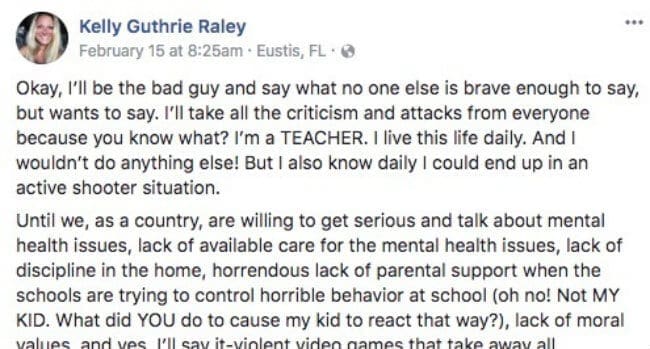 Okay, I'll be the bad guy and say what no one else is brave enough to say, but wants to say. I'll take all the criticism and attacks from everyone because you know what? I'm a TEACHER. I live this life daily. And I wouldn't do anything else! But I also know daily I could end up in an active shooter situation.

Until we, as a country, are willing to get serious and talk about mental health issues, lack of available care for the mental health issues, lack of discipline in the home, horrendous lack of parental support when the schools are trying to control horrible behavior at school (oh no! Not MY KID. What did YOU do to cause my kid to react that way?), lack of moral values, and yes, I'll say it-violent video games that take away all sensitivity to ANY compassion for others' lives, as well as reality TV that makes it commonplace for people to constantly scream up in each others' faces and not value any other person but themselves, we will have a gun problem in school. Our kids don't understand the permanency of death anymore!!!