It was Christmas Eve, eight years ago, and I was ready! I'd prepped the crafts, planned the menu, purchased the ham, pinned all my recipes, bought the gifts, wrapped the gifts, and perfectly coordinated my children's Christmas morning jammies—what could possibly go wrong?
Working on the centerpiece for our feast that Christmas Eve, my children came hollering in from their outdoor play. The noise hijacked the carols proclaiming peace, and robbed me of my own! My kids were sweaty and dirty too, and the four-year-old put his grimy hand square on my cream table cloth, cry-screaming a laundry list of complaints about his brother. The offender was apparently offended too, because he came in on the heels of the first child, crying big tears that cleared two paths from his eyes to his trembling chin. It was all a dirty mess, but not nearly as messy as the hot mess their crazy Christmas mom became in that mothering-moment — Christmas Eve 2009.
A couple of years ago, a video circulated Facebook that showed a stressed-out mom vacuuming her house as she hollered at her family for help, spittle flying from her mouth, because guests were on their way. It was farcical and frightening and freakishly familiar… which is probably why it went viral.
In this Pinterest age of parenting, there's so much pressure to make it all lovely and memorable; the feast and the fun and the family photos too! Unfortunately, when our focus is on the outer expressions of Christmastime, it's near-impossible to enjoy the inner experience of Christmas.
Somebody tell me I'm not alone.
Ladies, with all of the special things we do for our people, we can get ourselves worked into a festive frenzy and not enjoy our people one bit.
Was my centerpiece lovely that year? Sure, it was. I guess. I don't remember. But what that table lacked was a peace at the center of our celebrations. Of course, we'd rather have peace at the center of our Christmas than the most beautiful centerpiece on Instagram, but it's hard to remember midway through December! Which is why we need to plan for it now.
I don't want my words online to proclaim JOY TO THE WORLD, when my words at home are JOYLESS TO THE PEOPLE IN MY WORLD. And I don't want to spend my time posting pictures of highlights and twinkle-lights, when the reality is not so bright. God's Word instructs us to impress His Words upon our hearts, not impress our friends on Instagram this Christmas.
#ouch
#convicted
#perspective
So, what if we make a plan to simplify this Christmas? Put away the starched linens and serve on paper plate with festive paper napkins; pre-packaged scalloped potatoes from Costco and prepared cranberry sauce too. And what of that centerpiece?
I had to take "centerpiece" out of my vocabulary for a few years after that memorable Christmas Eve, in order to allow peace, and not Crazy Christmas Mom, to take center stage at our holiday table.
Here's the charge: What can you take out of your celebrations this year to keep Christ at the center of your Christmas? And perhaps there are words you speak to your loved ones as you frantically deck the halls, (with spittle flying,) words that need to be taken out as well.
"No, that's not right… Stop touching that… Why do you always… Why can't you just be grateful… I said don't touch… No more sugar!!!" If your tendency is to nag your way through the hectic Holidays, purpose now to choose better words — life-giving words that keep Christ at the center of your family time.
We don't want to get so busy making everything perfect for Christmas, that there's no room for Christ… and you own Christlikeness too! We've already whipped through Thanksgiving. That's behind us now. Did you take a moment to be grateful for the loved ones around your table, or were you too focused on the house and the company and the side dishes? Thanksgiving is for thanksgiving, friends. And Christmas is for Christ.
With December still before us, let's purpose today to choose a calm and kind, light and bright Christmas with our loved ones. Let's not rush through this season, exasperated by our children's childishness. Nor not hustle through the holidays with an agenda that doesn't leave room for Grace. Grace is what Christmas is all about. That baby brought grace down, so let's teach the heart of Christmas to our children by the way we live and celebrate today and everyday.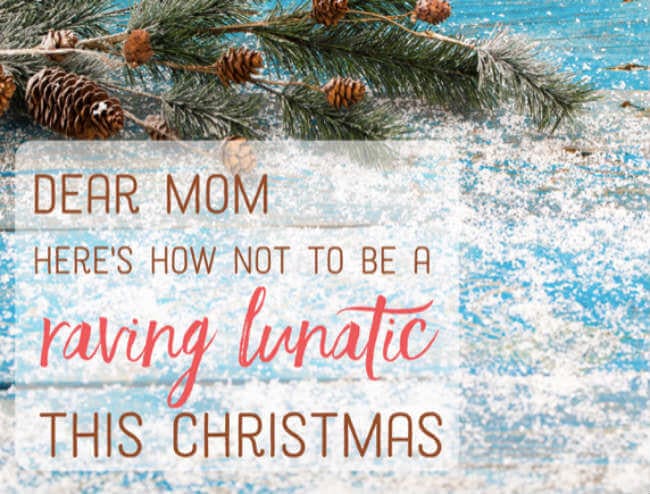 In our new book, Parenting Scripts, Amber Lia and I ask parents, "What are you saying to your kids that isn't working?" We start with Biblical principles then script practical plans to speak life into their life — not just on holidays but ordinary days too.
Perhaps it's the way you call them to the table, help them with homework, or say no to the bag of goldfish at the grocery store. These aren't just holiday challenges but ordinary-day challenges for moms as well. Let's not hustle through this special season or our children's growing –up years with shaming words each time they act immature.
If your family has gotten itself into bad habits, speaking habitual words that don't work, order yourself a copy of Parenting Scripts for your own Christmas stocking stuffer, and start re-scripting a better family dynamic there in your home. What a wonderful way to start the new year — with better words, better priorities, better habits.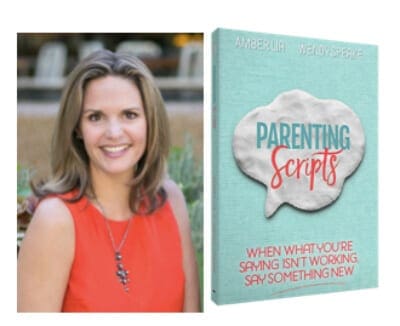 Order a copy of Parenting Scripts within the next 48 hours and receive a FREE copy of the e-book, "HOLIDAY TRIGGERS." Simply grab a copy of Parenting Scripts on Amazon, then shoot proof of purchase here –  [email protected] – by midnight on Tuesday, November 28th.
Amazon link: http://amzn.to/2zI9g6w