Every new or expecting mama has the same question: What are your must-have baby registry items? A girlfriend of mine racked up over 155 comments on that question when she posted it on Facebook last week!
With so many different baby registry items out there, you could be up to your neck in recalls, safety features and malfunctions. Throw in a myriad of different budgets, it's hard to know what the must-have baby registry items are.
And while every motherhood experience is different from another, you can bet that there are some mom-approved products out there that are ACTUAL lifesavers for bringing home baby.
We asked our community of moms what their go-to baby registry items were, and this is what they had to say! 
Baby Loungers
Now that the Fisher-Price Rock 'n Play has been recalled, we have a few other options for getting baby to sleep soundly in between feedings.
1. HALO Bassinest Swivel Sleeper Premiere Series Bassinet
HALO Bassinest Swivel Sleeper Premier Series features lowering beside walls and Soothing Center. It rotates and swivels 360 making getting in and out of bed hassle-free, and its stable 4-point base is adjustable to fit most bed heights (24 to 34 inches). The Soothing Center includes nightlight, 3 soothing sounds, 3 lullabies, a back to bed reminder and vibration – ALL with 30 minute auto shutoff.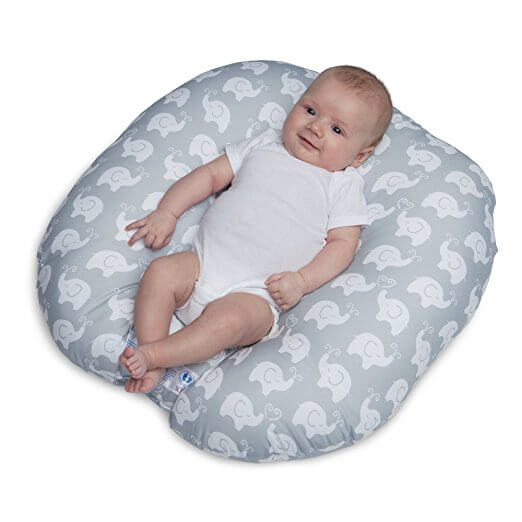 Different from the Boppy Nursing Pillow, the Boppy lounger is designed with your baby in mind. Intended for baby's "awake time," the Boppy Lounger is the perfect "little nest" for your little one to hang out in a controlled environment while giving you a "hands free moment."
Whether you use it in the crib, on the floor or somewhere in between, the Snuggle Me Organic gently cradles your baby while holding them snug in place and providing the soothing comfort of a hug.
From the Manufacturer: Smartly designed to hug your baby. Patented design pulls in to hug your sweet babe. This hugging sensation calms baby and, with its tight fit, helps wedge them into place. Because of its light-weight design, the Snuggle Me Organic makes the perfect lounger, rest spot, tummy time aid and travel mat.
What moms had to say: "My son lives in this cushion–napping, couch lounging, cosleeping! It arrived when he was 3 weeks old, and now he is 6 weeks old and I cannot rave enough about it. I use the Snuggle Me for co-sleeping in our room in his bassinet next to my bedside. It fits perfectly into the bassinet. At this point he sleeps 3 hours overnight in the bassinet, and recently did 5 1/2 hours for the first time. I like having him fall asleep in my arms after breastfeeding, and once he is asleep I transfer him into the Snuggle Me without him waking up or startling. His daytime naps only last 20mins to 1hr, but what I love is that during the daytime, I know that I have a SAFE place to set him down if I need free hands, and that is absolutely invaluable."
Swaddles
Swaddling has been shown to promote better sleep patterns, improve rest and cycle regulations for your baby. SwaddleMes are sold in three different stages — the pod, the original swaddle, and the love sack — each designed to grow with your baby and their sleep pattern.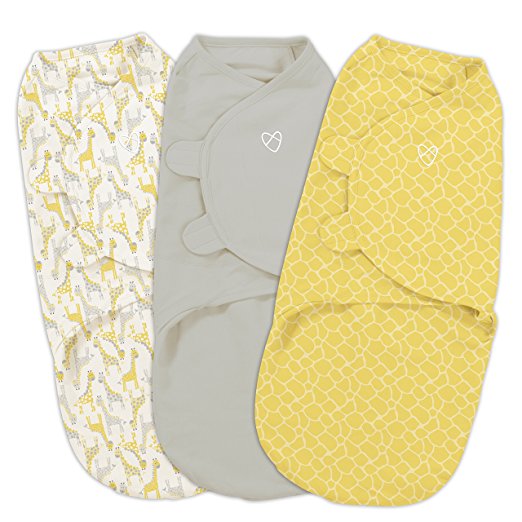 From the Manufacturer: The secure design creates a cozy, womb-like feeling for baby and prevents startle reflex that can wake your infant. 
What moms had to say: "Something random that I never would have thought of but appreciated was to only buy zipper sleepers, not ones with snaps. Those snaps can be killer to have to figure out in the middle of the night when you're on the fourth diaper change of the night. Ain't nobody got time for that!"
You may think all swaddles are the same: Something like a receiving blanket, tucked tightly around your babe, and used to promote better sleep. But all swaddles are not the same. The Ollie Swaddle is designed with safety and convenience in mind. Not only does it have a unique shape and wrapping material, but its elastic loop sets the Ollie Swaddle apart from others in that it provides easy access for diaper changes without unswaddling your baby.
Lynette Damir, RN is the founder of SwaddleDesigns and the mom who helped popularize the Swaddle Blanket with her stylish prints and helpful 1-2-3 Swaddle label. Lynette has shipped millions of blankets with the 1-2-3 Swaddle label to help provide safe sleep information for busy new parents. After years of research, SwaddleDesigns was born with the introduction of the Three Stage Safe Sleepwear Guide.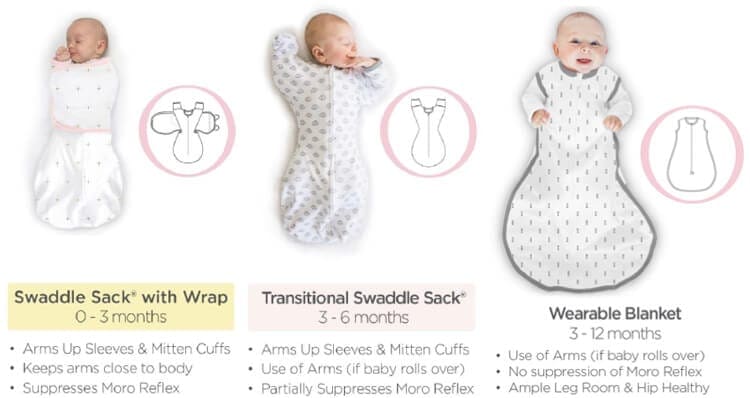 Lynette observed that parents were swaddling beyond three months, which is unsafe, and in some cases, parents were struggling when their baby was having trouble sleeping, because many 3-4-month old babies do not sleep well in a classic wearable blanket. To help parents bridge the gap from swaddling to a wearable blanket, she designed the Transitional Swaddle Sack, a safer solution that reduces the risk that parents will make unsafe choices related to SIDS and suffocation.
Daily Essentials
With a brand new baby comes a never-ending cycle of diaper changes. But have no fear, the Ubbi Diaper Pail is here to make discarding nasty diapers easier than ever. Unlike the typical diaper disposals, the Ubbi Pail uses standard trash bags, and steel lock technology to keep diapers where they belong, and your nursery smelling fresh.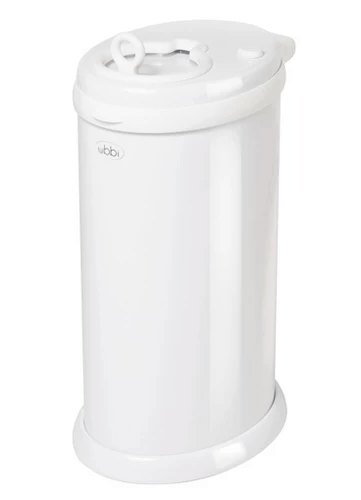 From the Manufacturer: Hide stinky diapers in the sleek Ubbi Diaper Pail. This steel diaper pail seals tight to prevent any odors from escaping. The childproof lid keeps your curious little one from releasing odors or getting their hands on old stinky diapers. This diaper pail uses standard trash bags so you don't have to make a special trip to the store for refills.
What moms had to say: "We have the Ubbi diaper pail that really has kept the diaper stink under control. We liked it much better than the diaper genie, and you can also use regular garbage bags in the Ubbi so that's nice too."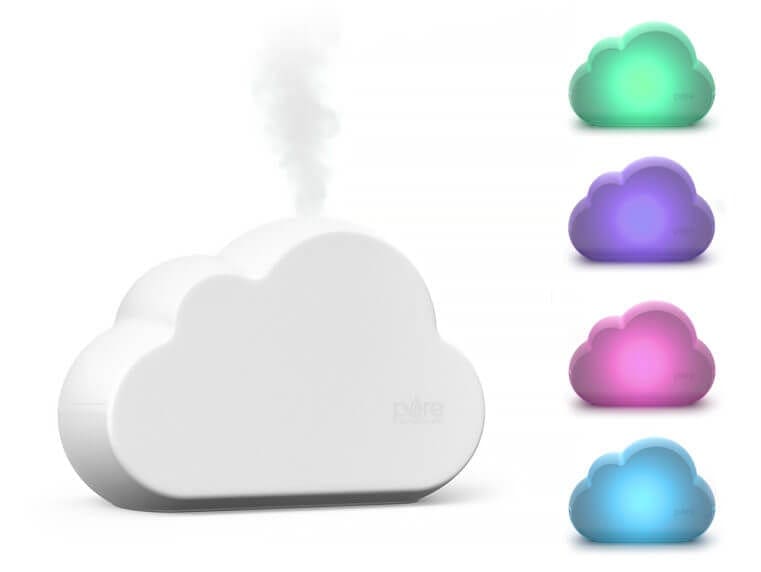 This compact little cloud is not your mother's humidifier!
Help your child breathe easier and get a more restful night's sleep with the MistAire Cloud Ultrasonic Cool Mist Humidifier & Night Light from Pure Enrichment. Designed with a large 1.8-liter water tank, it quietly and effectively moisturizes any room for up to 24 hours on the low setting before needing a refill. The fun, cloud-shaped design is ideal for a child or teen's bedroom, playroom, or a nursery. It also doubles as a soothing night light that either rotates between 8 soft glow colors or allows you to choose your favorite color using Color Choice Technology.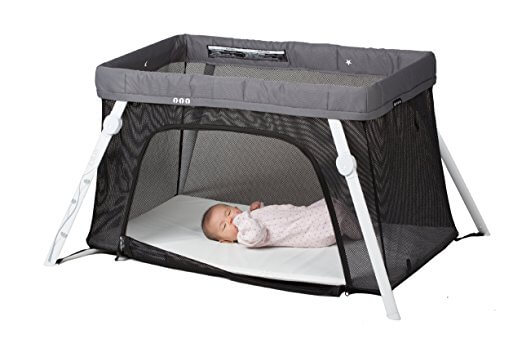 Kiss the pack and play goodbye, and say hello to the Guava Family Lotus Everywhere Travel Crib. No more hauling around bulky play areas. The Lotus Everywhere Travel Crib folds up compact and even has straps to transport it like a backpack!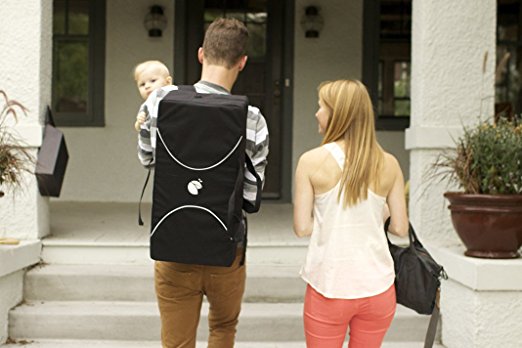 From the Manufacturer: Breathable ClearView Mesh allows for full airflow and an unobstructed view of the child, even when the side is zipped up. The mesh sides go all the way down to the mattress to create a safe, breathable sleep environment. 15 Second set-up, backpack portability, fits as a carry-on, use it EVERYWHERE. 
What moms had to say: "It gets amazing reviews and I think it would definitely be worth it to be able to travel with the bed in an easier way (BACKPACK STRAPS!)"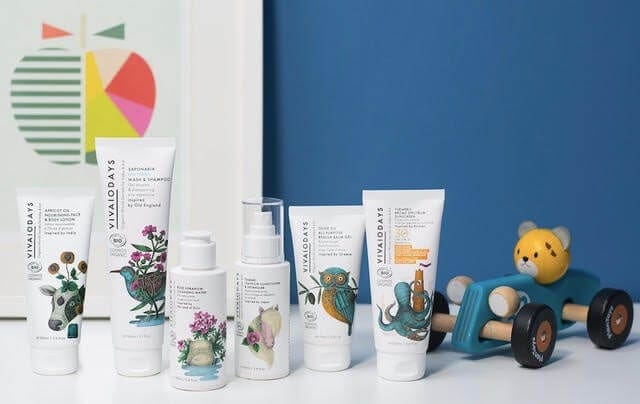 Each product is inspired by a proven centuries-old remedy uniquely discovered through time spent with many cultures and countries. The founders personally witnessed powerful healing traditions gifted by nature and wanted to incorporate this into a line for their own precious little ones. The line is also dermatologist tested, cruelty free, vegan, and gluten free. The brand also has 100% recyclable packaging made from sugarcane.
Wearing Baby
From Celebrities to fellow mommy friends, the world of mama bears cannot get enough of the Ergo 360 Carrier. It grows with baby, so you can wear your little nugget from the day they're born all the way through toddlerhood.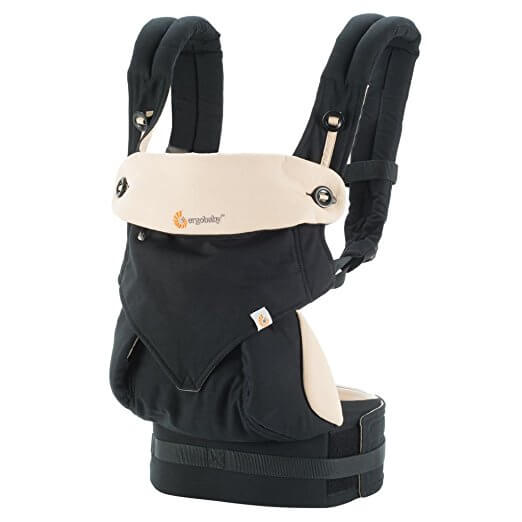 From the Manufacturer: Comfortable and Ergonomic as baby grows — Easy to adjust bucket seat supports your baby in an ergonomic natural "M" position in all carry positions from baby to toddler. Provides exceptional lower back support with wide wraparound waistband maximizes comfort especially post C-section. Extra padded shoulder straps helps evenly distribute your baby's weight.
What moms had to say: "I received this carrier as a shower gift, which I had registered for, along with the organic infant insert. I tried it for the first time when my baby girl was 3 weeks old and was instantly impressed. My little one immediately calmed and soon fell asleep! We tried a long walk and it was so comfortable for both of us. Now she is 9 weeks old and we use this carrier everyday for hours at a time. It is by far her favorite place to nap and she also loves when I fold down the front flap so she can see all around. I can nurse her discretely (took some practice) and have my hands free, which is so helpful, both around the house and out and about."
The Wildbird Ring Sling makes it easier than ever to carry baby on your front, back, or hip. "Easy in, easy out in seconds," they say, with technology that can hold weight up to 35 pounds! It's multi-purpose, and many use it as a sunshade or breastfeeding cover, while also being able to fold it up small and tuck it away when not in use.
Stay connected to your baby with a wrap that makes baby wearing easy!
From the Manufacturer: Perfect for newborns, the close cuddle will help you bond your little one – even when you're on-the-go. It offers an easy-to-use, hands-free way to evenly distribute baby's weight across your back and hips, making for a comfortable carry and hassle-free adventures. Plus, it will grow with your child until they reach 30 pounds, allowing you to change carrying positions once your little one has grown and gained some head control.
What moms had to say: "The two items that I used consistently from baby 1 to baby 2 and could NOT live without is my Moby wrap and our Rock and Play! They were both items I traveled with and used countless times in a day."
Sleeping
This smart sock baby monitor is designed for peace of mind with specific and detailed alerts. Worth the splurge, the Owlet Smart Sock can track your baby's heart rate and oxygen levels, then notify you if something changes or appears to be wrong.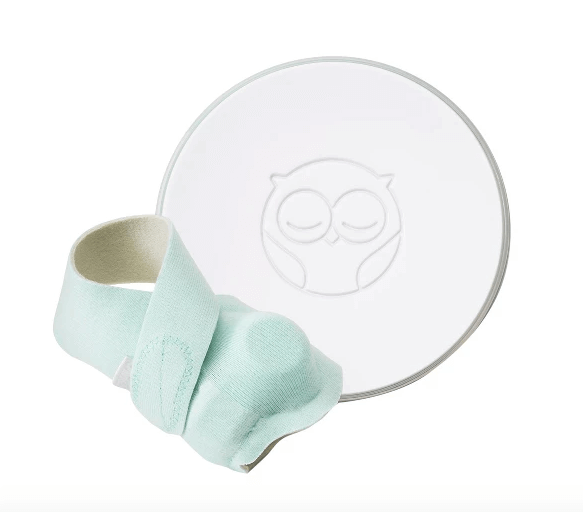 From the Manufacturer: The Owlet Smart Sock 2 baby monitor uses clinically-proven technology to track your infant's heart rate and oxygen levels. Using Bluetooth, the Smart Sock sends this information to the base station which is designed to notify you with lights and sounds if something appears to be wrong. Using Owlet's app, you can view real-time wellness data and receive direct notifications on your phone.
What moms had to say: "Okay, so this is one of the most expensive items we purchased, but honestly, it is, hands down, the best purchase we made. We decided to go this route instead of a video monitor because this little sock reads her pulse and pulse ox (oxygenation) while she's wearing it and alarms us if there are any abnormalities so that we can make adjustments/help if need be."
With all of the baby monitor hacking that's happening these days, it can be hard to decide which monitor is right for you. Many of the video monitors on the market have a good-sized video screen and connect to your home's wifi. But the video monitor with the best rating, also happens to be the safest. The Infant Optics Video Monitor tends to look a little less fancy than some of the other monitors on the market, but it's connection and safety features are outstanding.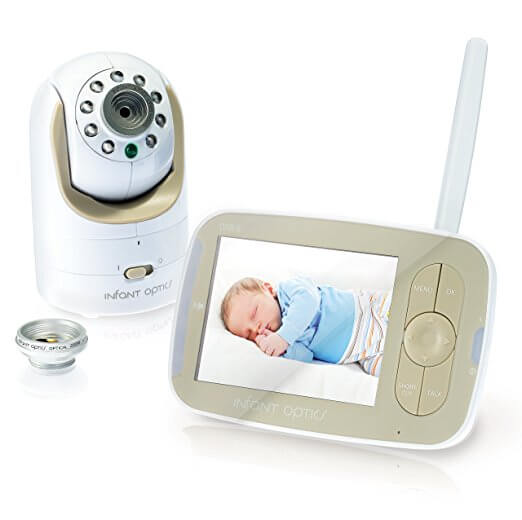 From the Manufacturer: The DXR-8 Video Monitor by Infant Optics features interchangeable lens technology. Video is streamed real-time to a slim 3.5 inch LCD color display providing a crystal clear image. Long-lasting battery provides reliable charge: 12 hours in power-saving mode, 8 hours with the display screen constantly on. Plug and play – no setup required. Unlike internet cameras, secure 2.4GHz FHSS wireless transmission provides 100% digital privacy with delay-free video and audio playback.
What moms had to say: "Picture and sound is very clear! Even at night. Menu and screen is easy to use. I love that the camera can be aimed up and down from the monitor. The battery lasts all day for us and the signal through 4 walls is always great. Wouldn't ask for anything better."
Co-sleeping is all the rage these days as a way to sleep in even closer proximity to baby than simply having them in the room with you. It can be a hot-button topic, but for those hoping to co-sleep, check out this bedside bassinet.
What moms had to say: "We're going by the pediatric recommendation of having baby in our room for the first six months for overnight sleeping, so this bassinet has been perfect because it attaches under the mattress for safety (baby can't fall between/it can't tip over), and I can just reach over and soothe her if she's fussy. Easy access to baby for feedings too! Plus, I can just stare at her while she sleeps (you all know you do it!) we researched a lot of options, and this is what worked for us because of the price point and reviews. I'd imagine it would be a lifesaver for c-section mamas who are too sore to get out of bed a million times a night those first few weeks."
It's all about the Boobies
"My go-to product is for mamas! If you plan to breastfeed, make sure you have a stock of lanolin (also called Lansinoh). Breast pads for you (you will leak!) and invest in a good nursing bra. Get at least 3 — one to wear, one in the wash, and one to change into if you leak. "
"Also, plug in your info to http://breastpumps.aeroflowinc.com/breast-pumps/ and they will contact your ob-gyn for a prescription and show you which pumps you can get for free. When calling my insurance, they said I could only get one pump but this website approved so many more and it was free!"
Diaper Bags
When it comes to choosing the perfect diaper bag, style and functionality have to be equally matched. These beautiful diaper bags are the perfect option for every new mommy, with designer styles that are hard to resist!
18. Citi Babies
Who says diaper bags have to LOOK like a diaper bag? Citi Babies creates modern, minimal, and functional diaper bags at affordable prices for the new mom. These convenient diaper bags are gorgeously designed to transition into a trendy backpack, once the baby stage is over.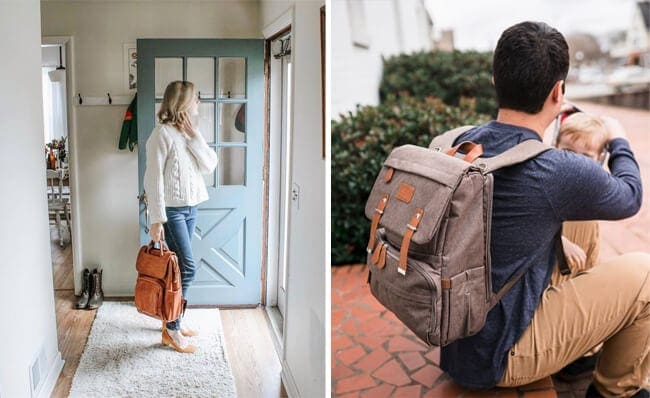 Citi Babies Functional Features Include: 
– Waterproof materials
– 10-12 organized pockets
– Changing pad
– Wet pockets
– Insulated bottle holders fit most bottles
– Stay open top
– Laptop compartment – Up to 13"
– Stroller clips
– Anti-theft pocket

What moms had to say: "I tote this diaper bag with me everywhere I go. It's so versatile and stylish, I wouldn't want to carry anything else! Rarely do I go out and not receive several compliments on this bag, and the best part is that hardly anyone ever even suspects it's a diaper bag!"
19. Bodomint
We all know being busy comes with the territory of being a mom. That means you need products that deliver on function. But who says you have to sacrifice fashion in the process? Not us.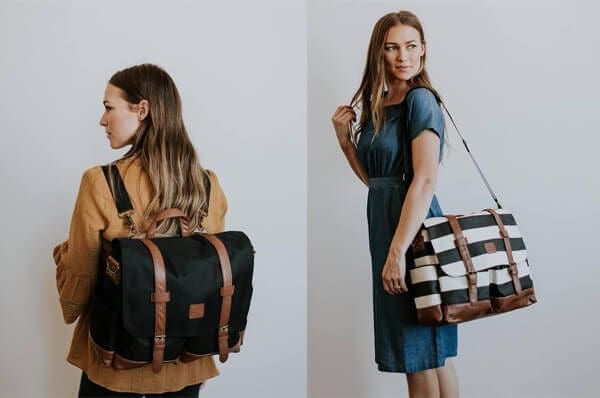 Bodomint delivers all the essential features you need in a diaper bag – and then some – and incorporates them into the most stylish of designs. Y'all, we cannot get enough of these convertible bags, which can be worn on your back like a traditional backpack, or messenger style!
From changing pads to water resistant interiors, Bodomint bags have Mamas thoroughly covered, so you can tote all your mom stuff in the utmost style.
Bodomint's Functional Features Include:
• Diaper changing pad
• 6 interior and 5 exterior pockets
• Hidden magnetic closures and zip top closure
• Water resistant cotton canvas exterior
• Faux leather trim with black nylon lining
• 2-way convertible: messenger or backpack style. Stroller clips sold separately
• Comes in Striped, Olive Green, Grey, Black, and now Vintage Leather!
20. Don't break the Bank
Several mamas we talked to were adamant about BORROWING baby items either for the duration of time you need them for, or simply to see how baby responds to different products. So many of today's products are only designed for a short season of baby's life, but cost a literal arm and a leg. Take advantage of mommy swaps, craigslist, and trusted friends who have been there, and put your limited budget toward products that will last.