'Tis the season to be thankful! While we know that Thanksgiving is about way more than just turkey and sweet potatoes (and perhaps, football), that might not be immediately obvious to our kids. Around here, we like to take advantage of all the teachable moments that the holidays offer. We also like to take advantage of all the craft ideas Pinterest has to offer. That's why we cruised around Pinterest for some of the sweetest, easiest thanksgiving crafts for kids that are not only make for a fun family activity, but also teach the kiddos about thankfulness. Here are some of our favorites, which express the same idea of ongoing thankfulness in three very different crafty ways.
Thanksgiving Crafts for Kids
1. Thankful Tree
We love this idea because it is so very simple, yet keeps the gratitude on display for as long as you want! It's an ongoing activity to have in your house all month long, or for as long as you want to keep counting your blessings in a purposeful way. There are many different versions to to be found, but this one from Bits of Everything really caught our eye.
2. Thankfulness Jar
If a Thankfulness Tree is a bit too large for your taste, another great crafty way to keep the "thanks" in "Thanksgiving"  is to make a Thankful Jar. You can totally make the decorating tools and supplies your own (or let the kids go wild), but the underlying idea is the same: Every day, have your kiddo list something that they are thankful for. Put a slip of paper with that written on it in the jar, and at the end of the month go through the jar and have a time of abundant thanksgiving together reading all those slips of paper aloud as a family. We found this cute version of the Thankful Jar at Creative Family Fun.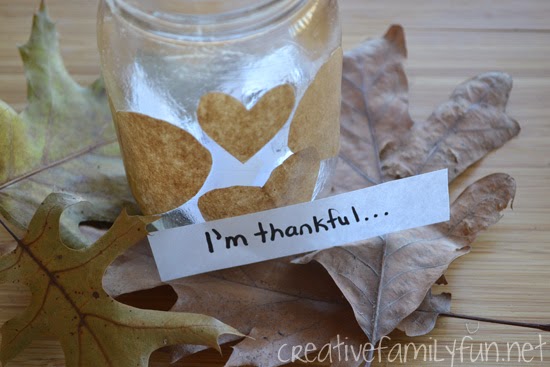 3. I Am Thankful Pumpkin Craft
If you have one too many crafts with turkey feathers  or leaves decorating your house, this I Am Thankful Pumpkin craft is an excellent way to focus on thankfulness and add a little variety to your crafting!