Being a new mom can be very isolating. It can be a real chore to get a baby ready to leave the house (mine had a knack for having a blowout 30 seconds before we needed to walk out the door!) and sometimes it's too much for a new mom to deal with. So, getting out of the house and into the world is always something to celebrate!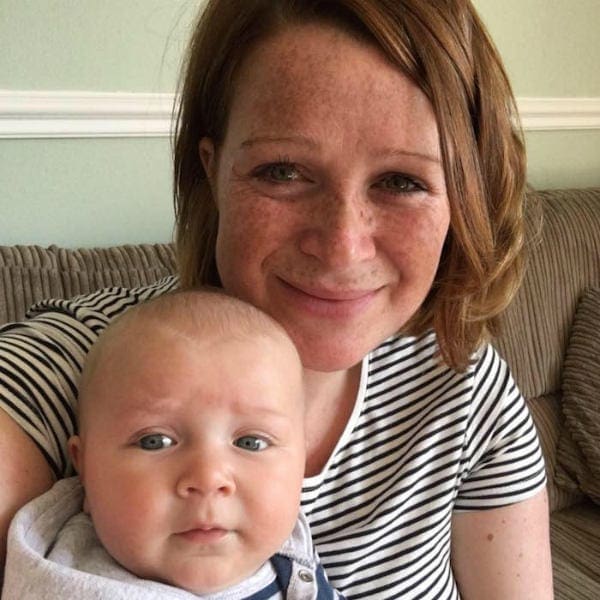 Facebook/Lucy Hatami
British mom Lucy Hatami was trying to enjoy a rare breakfast out with her 8-month old son recently when he became fussy. It's always fun to try and control your kids' behavior in public, but for Hatami, it became pretty uncomfortable when a young man nearby said: "I wish she'd shut that thing up!"
HASHTAG RUDE, Mamas!!
Before Lucy could even reply, the young man's DAD appeared to give him what he had coming. (Proving you can still tell your kid off even when they're technically an adult!) Lucy explained the whole scenario in a Facebook post that has since gone viral.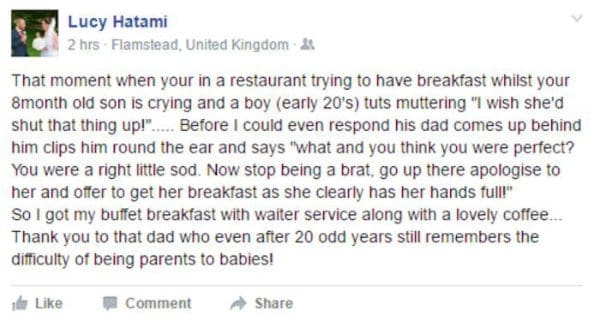 Facebook/Lucy Hatami
She says:
That moment when your in a restaurant trying to have breakfast whilst your 8month old son is crying and a boy (early 20s) tuts muttering "I wish she'd shut that thing up!"….. Before I could even respond his dad comes up behind him clips him round the ear and says "what and you think you were perfect? You were a right little sod. No stop being a brat, go up there and apologise to her and offer to get her breakfast as she clearly has her hands full!" So I got my buffet breakfast with waiter service along with a lovely coffee… thank you to that dad who even after 20 odd years still remembers the difficulty of being parents to babies!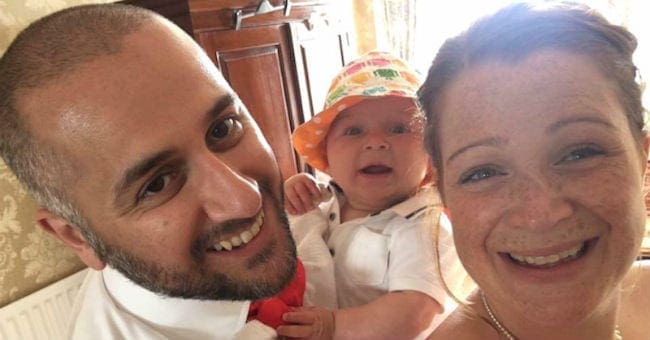 The Hatami family. Facebook/Lucy Hatami
#Boom! Thanks to this awesome dad for teaching his son how to show RESPECT and patience to moms and babies (and to not be a brat!)
And remember: you're never too old to get hit upside the head by your dad for being a jerk in public.
Lucy, I hope your next outing with your darling kiddo is far less eventful!