Hey Mama Friends! This is Jenny, and I did you a huuuuuge favor today and found some worthy and fun news that moms need to know. We are all extremely busy and sometimes miss some good-to-know stuff going on around us. Especially things like Target Same Day Home Delivery, yes PLEASE sign me up!!!
Here goes, your top stories for Thursday, December 14, 2017.
1. Target's about to start SAME DAY HOME DELIVERY
Deep breaths, Mamas. Your wildest dreams are about to come true. Your very favorite retail store just purchased the grocery delivery service Shipt for $550 million!! That's right, your favorite brock and mortar store, Target, is now competing with your favorite online retailer, Amazon, for your delivered-to-your-door business. Yes, we all love to go browse the aisles at Target for hours on end, but on the days that you don't have time for that, starting in early 2018 you'll be able to get same-day delivery. Shipt's Personal shoppers want to go to target pick up the items you want and drive them over to your house. Who's EXCITED?? Moms, that's who! I can't wait til this comes to my area!
2. Joe Biden Comforts Meghan McCain on The View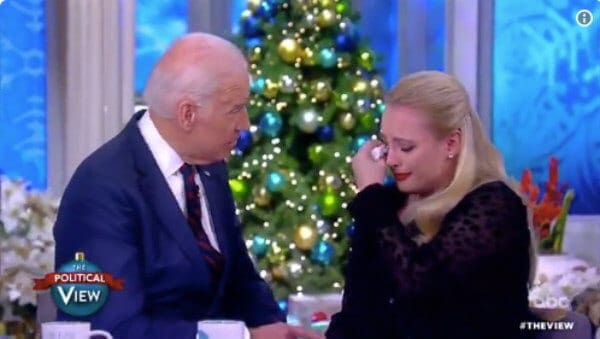 The View is notoriously political, so it was heartwarming as well as tear-jerking to see guest former Vice President Joe Biden and host Meghan McCain (Senator John McCain's daughter) share tender moments on yesterday's show. Meghan's dad has the same kind of brain cancer that Biden's son Beau died from in 2015. As Meghan tried to ask him questions about dealing with this illness in a family member, Biden got out of his seat, went over to the tearful young woman, and gave her the pep talk of a lifetime. He praised her dad, who although he is a political enemy, is a long time close friend, and gave the young woman HOPE. And I CRIED. So nice to see in this age of extreme partisanship. Give it a watch below, and bring your tissues!
In an emotional moment, Joe Biden consoles Meghan McCain, whose father was diagnosed with the same cancer as Biden's late son Beau: "There is hope. And if anybody can make it, your dad [can]." pic.twitter.com/5IyS0qAgws

— The View (@TheView) December 13, 2017
3. Uncle Jesse, I mean John Stamos, is FINALLY becoming a dad at 54
Full (and Fuller) House's John Stamos is joining George Clooney in the ranks of "actors who become first-time dads in their 50's." He announced this week to PEOPLE that he and his fiancée Caitlin McHugh are expecting their first child. (I am going to go ahead and guess that McHugh is NOT in her 50's.) I have to admit, not having followed Uncle Jesse's personal life too closely, I was shocked to know that one of America's favorite TV Uncles/Dads (he has 3 kids on Fuller House) didn't already have kids of his own. His previous marriage to Rebecca Romijn in the late 90s/early 2000s ended sans kids. And so, we'll see a new little Stamos soon. I bet that kid has GREAT hair.