Every new or expecting mama has the same question: What are your must-have baby registry items? A girlfriend of mine racked up over 155 comments on that question when she posted it on Facebook last week!
With so many different baby registry items out there, you could be up to your neck in recalls, safety features and malfunctions. Throw in a myriad of different budgets, it's hard to know what the must-have baby registry items are.
And while every motherhood experience is different from another, you can bet that there are some mom-approved products out there that are ACTUAL lifesavers for bringing home baby.
We asked our community of moms what their go-to baby registry items were, and this is what they had to say! 
Baby Loungers
Now that the Fisher-Price Rock 'n Play has been recalled, we have a few other options for getting baby to sleep soundly in between feedings.
1. HALO Bassinest Swivel Sleeper Premiere Series Bassinet
HALO Bassinest Swivel Sleeper Premier Series features lowering beside walls and Soothing Center. It rotates and swivels 360 making getting in and out of bed hassle-free, and its stable 4-point base is adjustable to fit most bed heights (24 to 34 inches). The Soothing Center includes nightlight, 3 soothing sounds, 3 lullabies, a back to bed reminder and vibration – ALL with 30 minute auto shutoff.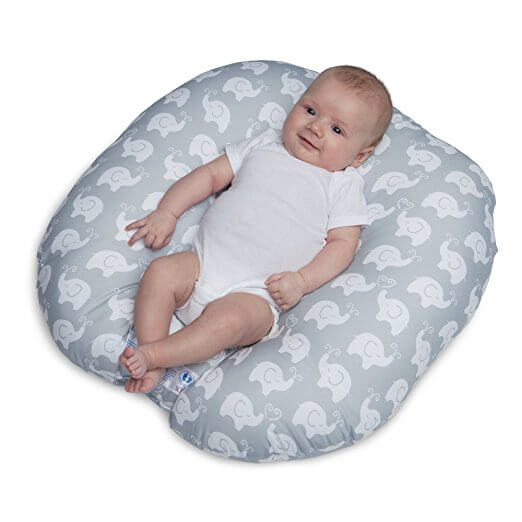 Different from the Boppy Nursing Pillow, the Boppy lounger is designed with your baby in mind. Intended for baby's "awake time," the Boppy Lounger is the perfect "little nest" for your little one to hang out in a controlled environment while giving you a "hands free moment."
Whether you use it in the crib, on the floor or somewhere in between, the Snuggle Me Organic gently cradles your baby while holding them snug in place and providing the soothing comfort of a hug.
From the Manufacturer: Smartly designed to hug your baby. Patented design pulls in to hug your sweet babe. This hugging sensation calms baby and, with its tight fit, helps wedge them into place. Because of its light-weight design, the Snuggle Me Organic makes the perfect lounger, rest spot, tummy time aid and travel mat.
What moms had to say: "My son lives in this cushion–napping, couch lounging, cosleeping! It arrived when he was 3 weeks old, and now he is 6 weeks old and I cannot rave enough about it. I use the Snuggle Me for co-sleeping in our room in his bassinet next to my bedside. It fits perfectly into the bassinet. At this point he sleeps 3 hours overnight in the bassinet, and recently did 5 1/2 hours for the first time. I like having him fall asleep in my arms after breastfeeding, and once he is asleep I transfer him into the Snuggle Me without him waking up or startling. His daytime naps only last 20mins to 1hr, but what I love is that during the daytime, I know that I have a SAFE place to set him down if I need free hands, and that is absolutely invaluable."
Swaddles
Swaddling has been shown to promote better sleep patterns, improve rest and cycle regulations for your baby. SwaddleMes are sold in three different stages — the pod, the original swaddle, and the love sack — each designed to grow with your baby and their sleep pattern.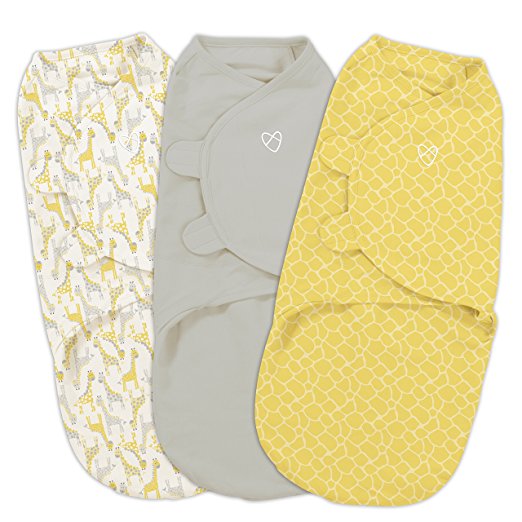 From the Manufacturer: The secure design creates a cozy, womb-like feeling for baby and prevents startle reflex that can wake your infant. 
What moms had to say: "Something random that I never would have thought of but appreciated was to only buy zipper sleepers, not ones with snaps. Those snaps can be killer to have to figure out in the middle of the night when you're on the fourth diaper change of the night. Ain't nobody got time for that!"
You may think all swaddles are the same: Something like a receiving blanket, tucked tightly around your babe, and used to promote better sleep. But all swaddles are not the same. The Ollie Swaddle is designed with safety and convenience in mind. Not only does it have a unique shape and wrapping material, but its elastic loop sets the Ollie Swaddle apart from others in that it provides easy access for diaper changes without unswaddling your baby.
Lynette Damir, RN is the founder of SwaddleDesigns and the mom who helped popularize the Swaddle Blanket with her stylish prints and helpful 1-2-3 Swaddle label. Lynette has shipped millions of blankets with the 1-2-3 Swaddle label to help provide safe sleep information for busy new parents. After years of research, SwaddleDesigns was born with the introduction of the Three Stage Safe Sleepwear Guide.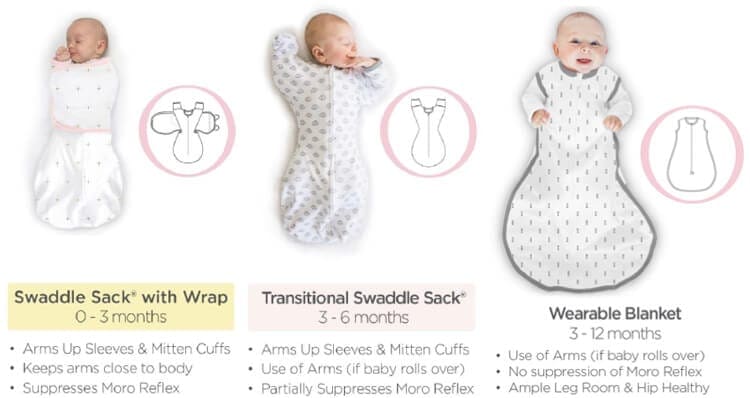 Lynette observed that parents were swaddling beyond three months, which is unsafe, and in some cases, parents were struggling when their baby was having trouble sleeping, because many 3-4-month old babies do not sleep well in a classic wearable blanket. To help parents bridge the gap from swaddling to a wearable blanket, she designed the Transitional Swaddle Sack, a safer solution that reduces the risk that parents will make unsafe choices related to SIDS and suffocation.
Daily Essentials
With a brand new baby comes a never-ending cycle of diaper changes. But have no fear, the Ubbi Diaper Pail is here to make discarding nasty diapers easier than ever. Unlike the typical diaper disposals, the Ubbi Pail uses standard trash bags, and steel lock technology to keep diapers where they belong, and your nursery smelling fresh.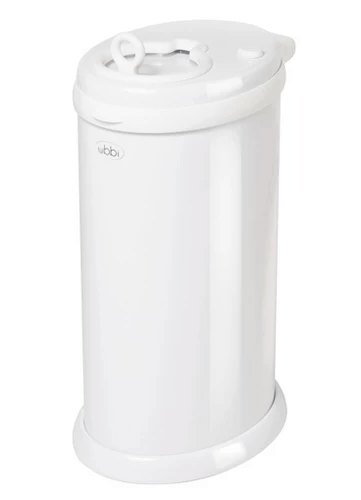 From the Manufacturer: Hide stinky diapers in the sleek Ubbi Diaper Pail. This steel diaper pail seals tight to prevent any odors from escaping. The childproof lid keeps your curious little one from releasing odors or getting their hands on old stinky diapers. This diaper pail uses standard trash bags so you don't have to make a special trip to the store for refills.
What moms had to say: "We have the Ubbi diaper pail that really has kept the diaper stink under control. We liked it much better than the diaper genie, and you can also use regular garbage bags in the Ubbi so that's nice too."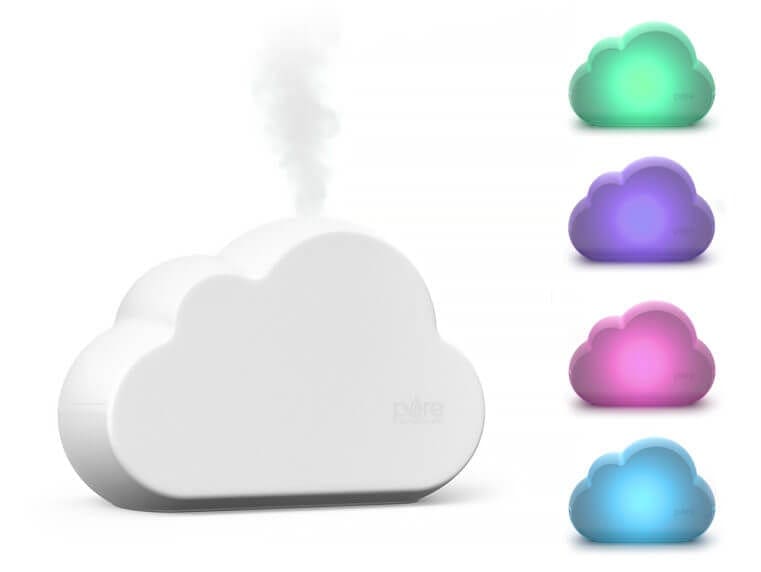 This compact little cloud is not your mother's humidifier!
Help your child breathe easier and get a more restful night's sleep with the MistAire Cloud Ultrasonic Cool Mist Humidifier & Night Light from Pure Enrichment. Designed with a large 1.8-liter water tank, it quietly and effectively moisturizes any room for up to 24 hours on the low setting before needing a refill. The fun, cloud-shaped design is ideal for a child or teen's bedroom, playroom, or a nursery. It also doubles as a soothing night light that either rotates between 8 soft glow colors or allows you to choose your favorite color using Color Choice Technology.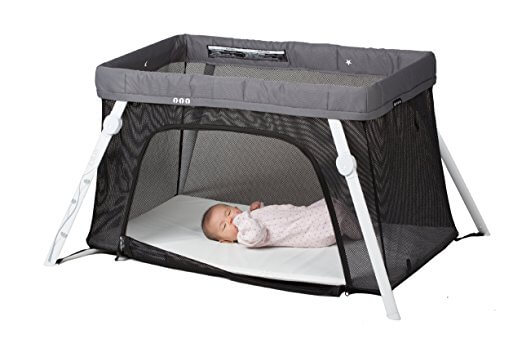 Kiss the pack and play goodbye, and say hello to the Guava Family Lotus Everywhere Travel Crib. No more hauling around bulky play areas. The Lotus Everywhere Travel Crib folds up compact and even has straps to transport it like a backpack!