Last night, the nation mourned as we learned of the passing of former First Lady Barbara Bush. She alone with Abigail Adams is the only woman to have been both the wife and mother of a United State President, but she was also so much more than that. Barbara Bush was also an advocate for so many, especially children and families. She was a lover and pursuer of literacy for her fellow citizens, and has been described as the glue that held her family of six children together. Though she never discussed it much, Barbara Bush was also the grieving mom of a child gone too soon. Her daughter Robin died of Leukemia in 1953 just before her 4th birthday. It was at this time in her life that Bush's hair began to turn prematurely and famously white.
Screenshot:
CBS News/YouTube
Barbara Bush's marriage to our 41st president George H.W. Bush, at 73 years, is the longest Presidential marriage in our country's history. Their love letters to each other over the decades are just about the sweetest thing you will ever read. Theirs was a true love match. My heart aches for the man who had to spend his first night without his sweetheart last night.
Barbara Pierce Bush's legacy will not soon be forgotten, in part because she left behind many powerful quotes about family to be remembered by. In a tribute on her Facebook page last night, her granddaughter Jenna Bush Hager, a TODAY show correspondent, said
I already miss this FORCE of a woman— the "enforcer" because she was the glue that held our family together. She taught me to use my voice but also to value the opinions of others. She adored her friends and family; her loyalty was unwavering. Humor helps, she often said and it does, Gans, but I will miss your laugh terribly. She adored my Gampy, the first man she ever kissed; their love story is so engrained in the history of our family. Thinking of my Gampy tonight —no doubt missing his beloved desperately. Gans, people stopped me all the time to tell me how much they loved you. I didn't mind sharing you with them. I love you more than tongue can tell, my Ganny.
Could there be any sweeter words to say about your family's matriarch?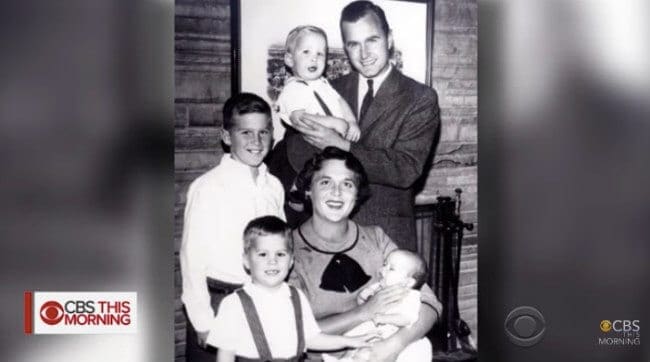 Screenshot: CBS News/YouTube
But now it's time, even after her death, to let Barbara Bush quotes speak to what she valued.
Barbara Bush quotes we'll always remember:
1) Giving frees us from the familiar territory of our own needs by opening our mind to the unexplained worlds occupied by the needs of others.
2) You just don't luck into things as much as you'd like to think you do. You build step by step, whether it's friendships or opportunities.
3) You get nothing done if you don't listen to each other.
4) You know, sit with your arm around a little kid and read. It not only teaches them to read but it keeps the family strong.
5) And who knows? Somewhere out there in this audience may even be someone who will one day follow my footsteps, and preside over the White House as the president's spouse. I wish him well!