I don't know about you, but whenever I have house guests, I FREAK THE HECK OUT about getting my house clean enough! I am hosting Thanksgiving at my house for the first time ever this year, and I see a LOT of panic-cleaning in my future!
In light of that, Ohio mom Michele Keylor recently became my HERO for planning WAY ahead for her holiday houseguest cleaning. She cleaned her living room from top to bottom in preparation for Thanksgiving, and then COMPLETELY sealed it off, barring her family from entering!! When her son Nick Denbow tweeted about it, it quickly went viral. Turns out, the Internet this mom is BRILLIANT!
Nick Denbow on Twitter
Here's a closer look at the EPIC note she left her family: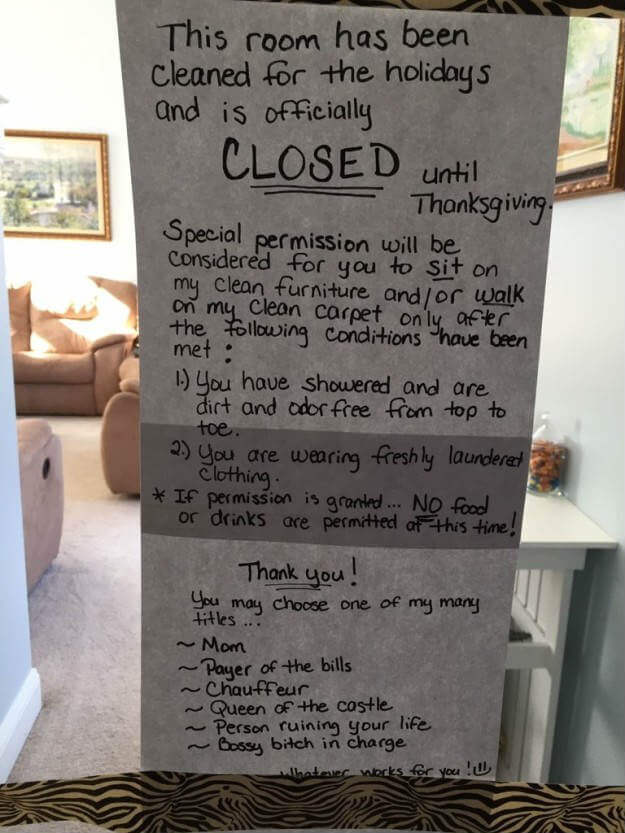 Nick Denbow on Twitter
In an interview with BuzzFeed News, Nick Denbow said his mom put up the sign because she was tired of repeatedly cleaning "my and mostly my brother's messes" in the living room.