Infant loss is a tragedy that is hard for moms to even think about, to glance sideways at. If I'm being honest, it hurts my heart to even *begin* to imagine what it would feel like to give birth to a child who would be born sleeping or die shortly after birth. Yet, it is a grief that some moms come face to face with every single day. One of those is my friend Jenny Lake, whose son Oliver Wyatt never took a breath in this world. He was born and died August 7, 2015, living 35 minutes without ever taking a breath, and his life has impacted mine in ways I had no idea would be possible. Jenny allowed us to share Oliver's story here on ForEveryMom shortly after his birth and I know it touched hundreds of thousands of people. I didn't even know Jenny when she allowed me to share Oliver's story, and now we are good friends…so that is just one way Oliver changed my life.
Jenny, Oliver, and Josh Lake. Courtesy Lake family.
One day last week, Jenny messaged me on Facebook, telling me she had just come back from meeting with a complete stranger…a stranger who had just given birth to a stillborn child. So to Jenny, even though the were strangers, they were also sisters. Jenny had gone to meet her to show her that a mama who has suffered such a loss can indeed somehow go on. Jenny told me that after she lost Oliver, another total stranger had done the same for her.
"I remember a sister of a friend coming to our house after Oliver because I was so desperate to physically see another mom survive the grief," she said. "I needed to see that it was possible to build a life around my grief. If Oliver and I can do that for another mom then I am honored! My boy has a legacy and can bring comfort to others."
The sister-mom Jenny met and comforted that day's is Lauren Herman, who gave birth to her first child, Lincoln Matthew, born sleeping on April 13, 2018. Even before she met Jenny, however, Lauren was already being supported by yet another mom of a baby born sleeping, Taylor Felker. Felker, who is from Indiana, lost her daughter, Hadley Janae Felker-Sanders, in 2016 when she was stillborn. In Hadley's memory, Felker donated a Caring Cradle to a local hospital in Dayton, Ohio where Lincoln was born. The Caring Cradle is a cooling unit that keeps the baby's temperature low to allow grieving parents to have more time with their child before he or she needs to be buried.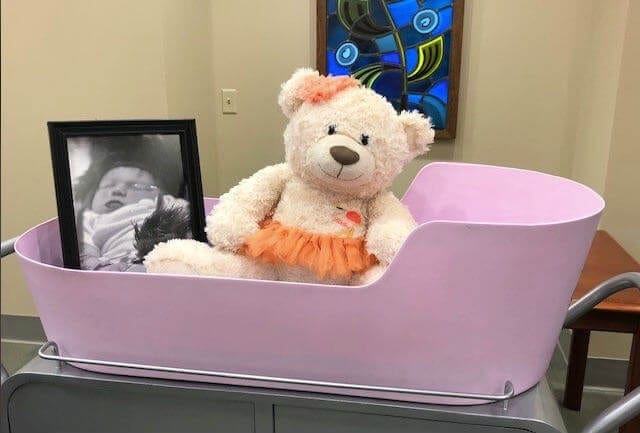 Caring Cradle with Hadley's photo, donated by her mother Taylor Felker, that Lauren Herman used to have more time with son Lincoln. Photo: WKEF/WRGT
The Caring Cradle is an expensive item, but valuable in so many more ways than monetarily. It allowed Lauren Herman and her husband David three days with their son Lincoln, instead of just mere hours. As Taylor Felker had the same experience with Hadley, she wanted to give this gift of time to another family. Now, Lauren and David Herman want to do the same in Lincoln's memory.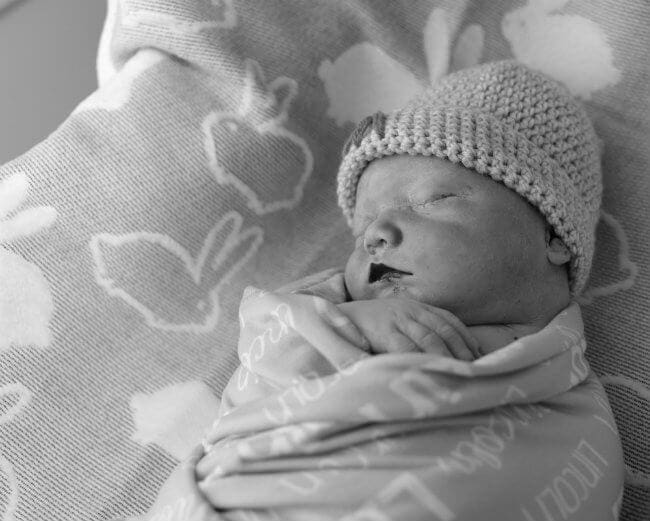 Lincoln Matthew Herman
Family and friends of the Hermans have set up a GoFundMe page in Lincoln's memory, partially to raise funds for extended time off work for his parents as they grieve, and partially to raise funds so that they can purchase yet another Caring Cradle and give the gift of time with their stillborn to a grieving family. The fundraiser has amassed over $14,000 in just 25 days! The GoFundMe page says,
"It is also important to the family to be able to donate a Caring Cradle to the hospital. This device allowed David and Lauren to have baby Lincoln in the room with them. Without it, mom and dad wouldn't have had as much time with Lincoln as they did. They would love to be able to provide another machine for any future families that might have to endure the same experience. Any contribution is greatly appreciated and makes a tremendous difference."
As I said when I started this article, this type of loss is so very hard for me to look at head-on…but I'm glad I did. Because in this story I don't only see grief and loss. I see three little lives that matter very much, who are touching others even from heaven. I see three moms who are giving and giving to others even through their pain, and refusing to allow their children's lives to be only spoken of in pained whispers. I see strength and resilience that is hard to fathom, and in these Caring Cradle gifts, I see human kindness at it's finest.
God bless the sweet mamas of Oliver, Hadley, and Lincoln…and all babies gone too soon. Your children are wonders, all, and I'm so glad to be able to tell the world about them.